Barley Apple Walnut Salad is a beautiful and unique salad that you are going to want to eat. Just look at how lovely this salad looks. It's simple to make, too.

Barley Apple Walnut Salad is filling and so good.
This delicious Barley Apple Walnut Salad recipe is based on a recipe by Amrita Sondhi, found in her cookbook The Tastes of Ayurveda. It is comprised of arugula, a bitter lettuce that I truly love, fresh apples, walnuts and cooked barley, and topped with a wonderful Olive Oil Lemon Honey Vinaigrette. Sondhi's cookbook is filled with helpful nutrition information, and I look to it often.
Although I follow a gluten-free diet, I do seem to be able to eat barley. Of course, I don't eat it often and that might be the reason I can tolerate it. But it makes me happy because I really like it, and this recipe is scrumptious.
Methodology and Nutrition Tips
The recipe calls for you to soak the barley overnight, and also soak the walnuts. However, if you prefer, you can simply cook the barley without soaking it, but it takes longer (about 30-45 minutes) and you will need about 3 cups of water. Soaking walnuts also makes them more digestable and enhances the natural enzymes to make them more beneficial to you. Rinse the nuts after soaking and use immediately or store in the refrigerator for 2-3 days.
What You Need
For this recipe, you need knives, a cutting board, some good cooking pans, bowls, a colander, and measuring cups and spoons. A salad spinner would be helpful, too.
Barley Salad with Apples & Walnuts Recipe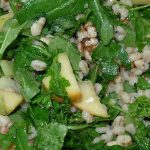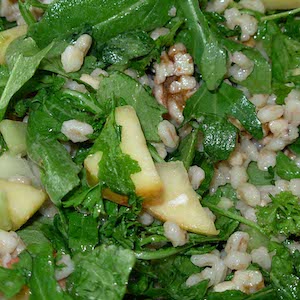 Barley Apple Walnut Salad
A delicious mix of crunchy and chewy ingredients makes this salad SO good.
Soaking Time (optional)
7
hours
Total Time
7
hours
25
minutes
Ingredients
Salad Ingredients
1/2

cup

barley

1 1/2

cups

water for soaking

1 1/4

cups

water for cooking

6

cups

loosely packed baby arugula leaves

1/4

cup

sliced celery

1

Gala apple

(cored and cut into small cubes; leave skin on)

1/4

cup

chopped parsley

1/4

cup

walnuts

(soaked in water for 1 hour, rinsed and drained*)

1/3

cup

Dressing (ingredients below)
Dressing Ingredients
2

tablespoons

olive oil

2

tablespoons

lemon juice

2

tablespoons

honey

(for vegan, use Agave Nectar instead of honey)

1/2

teaspoon

sea salt

(or to taste)

1/16 to 1/8

teaspoon

cayenne

(or hot paprika)
Instructions
Salad Instructions
Soak the barley in 1 1/2 cups water overnight to make it more digestible and bring out its natural enzymes.

Rinse the barley after soaking and cook it in 1 1/4 cups water.

Bring the water to a boil.

Reduce the heat to low, cover and simmer unti barley is tender, about 15 minutes.

Drain and cool.

In a large bowl, combine the barley with the celery, apple, parsley and walnuts.

Add the arugula to the barley mixture, toss with dressing and serve.
Dressing Instructions
In a 2-cup measuring cup or bowl, add the olive oil, lemon juice, honey (or agave), salt and cayene.
https://recipeideashop.com/barley-apple-walnut-salad/
Affiliate Disclosure: This website may contain affiliate marketing links, which means we may get paid commission on sales of those products or services we write about, including Amazon. Editorial content is not influenced by advertisers or affiliate partnerships. This disclosure is provided in accordance with the Federal Trade Commission's 16 CFR § 255.5: Guides Concerning the Use of Endorsements and Testimonials in Advertising.
Recipe Nutrition Information
This recipe is DF, SF, EF, CF, V, VG*
The information shown is an estimate provided by an online nutrition calculator. It should not be considered a substitute for a professional nutritionist's advice.
You May Also Like These Recipes From Recipe Idea Shop
SUBSCRIBE FOR MORE RECIPES YOU LOVE & FREE GIFTS
Trust me, you're gonna love our recipes. Up your recipe repertoire. Add this recipe to your collection. But don't stop there…subscribe to our email newsletter and get a free cookbook and a printable grocery shopping list.
RATE, PIN & SHARE!
Please Rate our recipes, and Pin and Share them on social media. Comments are welcome, too!
*Allergen Key
GF = Gluten free | DF = Dairy free | NF = Nut free | SF = Soy free | EF = Egg free | CF = Corn free | V = Vegetarian | VG = Vegan
Note: If you have serious allergies or sensitivities, to be considered free of these allergens, you need to use products specifically marked "gluten free," etc. There can be cross-contamination in facilities. 
This recipe was originally posted on Recipe Idea Shop Sep. 25, 2019 and updated October 16, 2020.