Baked Rice, it's the easiest way to make rice. You're gonna love me for this one. Baking rice works well for white or brown rice. It's a cinch.
Baked Rice is perfect every time.
No stirring. No adding more water. Really. Making Baked Rice couldn't be simpler. And it's perfect every time. It works the same way for brown rice or white rice. But there's a trick, actually two, that I'll tell you about soon.
With this crazy pandemic happening right now, I suggest you make sure you have lots of rice in your house to cook. It's filling and has protein, carbs and other good nutrients. It's the staple food of many cultures around the world. You won't go hungry if you can't get to the store. And there's so much you can do with it.
What's the Trick?
I'll tell you in just a minute. Here's how you make it. Select a casserole dish that is big enough to hold 4 times the amount of rice you are cooking. A cup of dry rice becomes 3-4 cups when cooked. So your pot has to be big enough to hold it.
White rice has a lot of starch. If you are using white rice, it's best to rinse it to prevent it from becoming a sticky glob. Dump your rice into a colander and rinse it with running water until the water runs clear. If you are using brown rice, there's no need to rinse it.
The tricks are you have to add boiling water to your rice and you need to cover the pot. Measuring is simple. One cup of dry rice + 2 cups of boiling water = about 4 cups fluffy rice. I also add a tablespoon of butter, and a bit of salt and pepper. Then bake in a 375F degree oven. Bake white rice for 25 minutes and brown rice for one hour. Simple, eh?
What You Need
You'll need measuring cups and a covered casserole dish (affiliate link). If you are making white rice, you need a colander.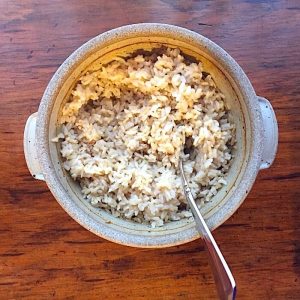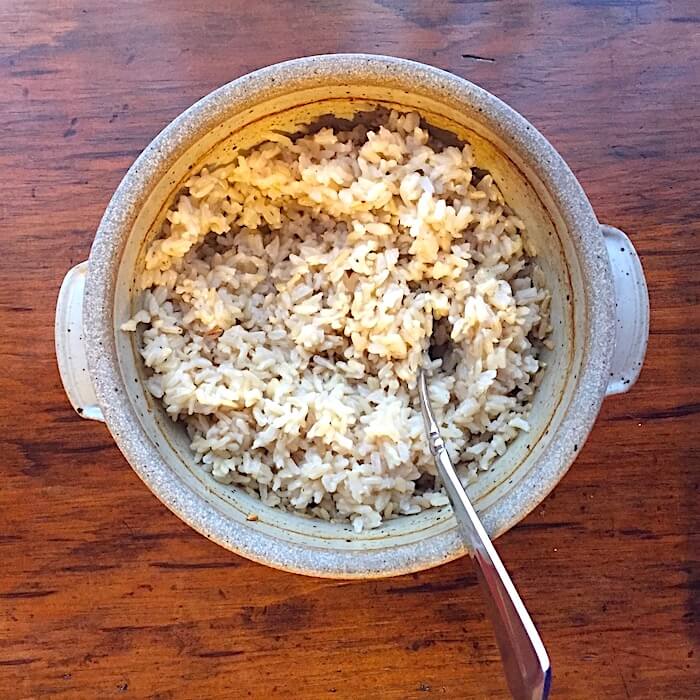 Baked Rice Recipe
Simple recipe for oven baked rice.
Ingredients
2

cups

boiling water

1

cup

brown rice

or white rice

½

teaspoon

salt

¼

teaspoon

pepper

1

tablespoon

butter

optional
Instructions
Preheat oven to 375F degrees.

Boil the water either on top of the stove or in the microwave. For 1 cup of rice, I put my water in a 2-cup measuring cup and heat it in the microwave on high for 3-4 minutes until boiling.

While the water is heating, rinse your white rice by putting it in a colander and running it under cold water until the water runs clear. (If using brown rice, skip this step.)

Pour the rice into a pot that is big enough to hold 4x the amount of rice you use.

Add the salt, pepper, and butter to the rice.

Pour the boiling water into the rice and give the rice a stir.

Cover the rice with a well fitted cover or tightly with aluminum foil.

Bake at 375F degrees for 1 hour for brown rice or 25 minutes for white rice.

Remove the cover and fluff the rice. Serve hot.
Notes
NOTE: To double the recipe, simply double the ingredients and bake it for the same amount of time (don't double the time). Be sure that the pot you choose can accommodate 4x the amount of dry rice you cook.
Nutrition
Calories:
175
kcal
Carbohydrates:
36
g
Protein:
4
g
Fat:
1
g
Saturated Fat:
0.3
g
Polyunsaturated Fat:
0.5
g
Monounsaturated Fat:
0.5
g
Cholesterol:
0.4
mg
Sodium:
302
mg
Potassium:
134
mg
Fiber:
2
g
Sugar:
0.2
g
Vitamin A:
7
IU
Calcium:
24
mg
Iron:
1
mg
More Rice Recipes To Try