Southern Green Bean Casserole is one of the best-loved side dishes at any holiday meal. Crisp green beans and oozy, yummy cheese combine for a redolent goodness everyone loves. Sweet, savory, and crunchy. Makes my mouth water! And it's a make-ahead dish that only takes 15 minutes to prep and 45 minutes in the oven.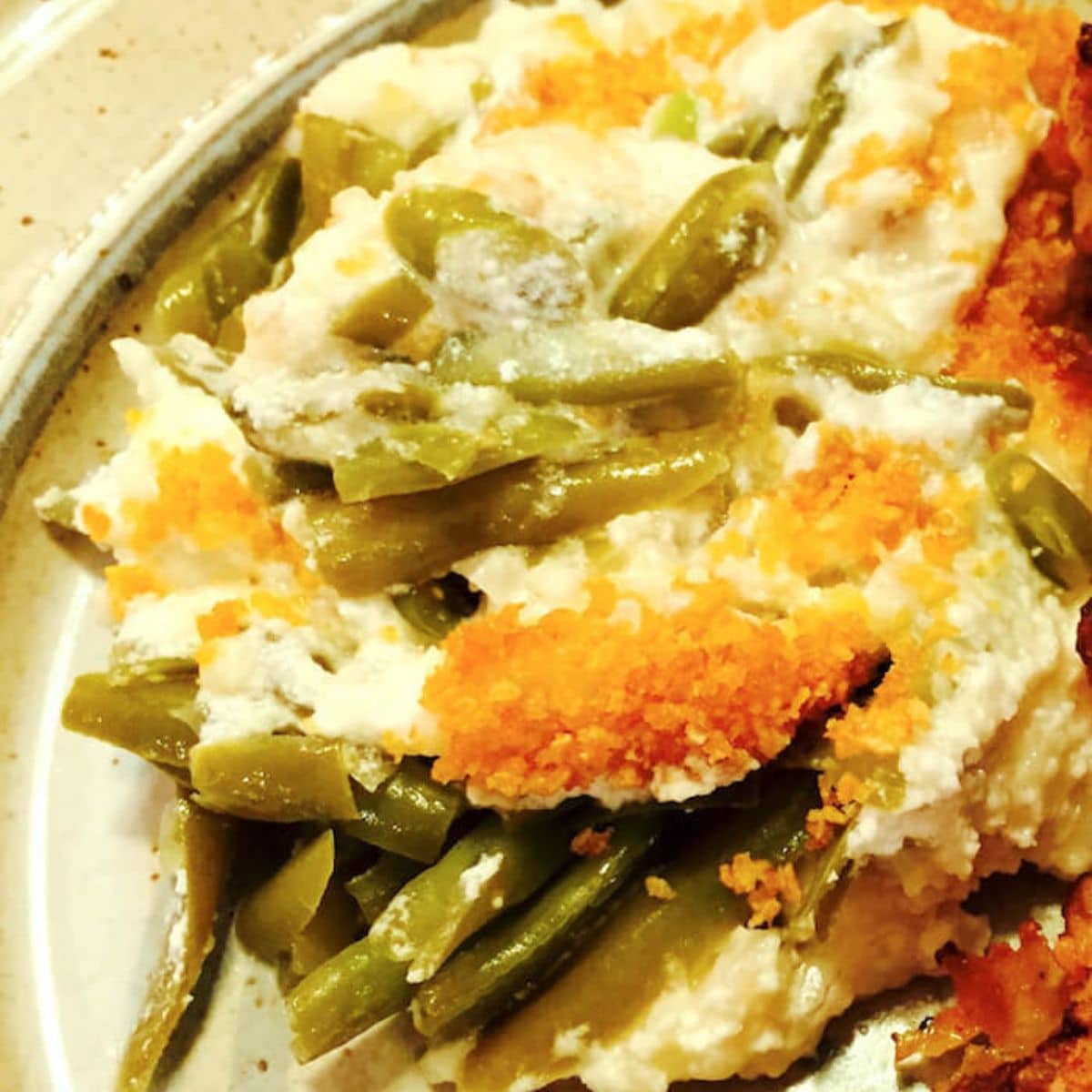 Southern grandmas for the win! How do you know it's a recipe from the South? Sugar. Fat. Cheese. And generally sour cream or mayonnaise. This one has sour cream. (Some have both!)
Jump to:
Why You'll Love This Recipe
Seriously, who wouldn't love this recipe? Sugar, cheese, and sour cream, combined with French-style green beans and onions make a deliciously creamy, sweet yet savory, casserole.
Easy to make. The recipe calls for only 9 ingredients and is simple to make. Just grate the onions and cheese. Saute the flour, sugar, salt, and onions to make a paste. Add the cheese and sour cream.
Thaw and drain the green beans. And then it's a simple 3-layer process. All told, 15 minutes prep. You can make it a few days ahead and refrigerate it.
Then pop it in the oven with your other sides on the day of your meal, and bake it for just 45 minutes.
Beautiful. Southern Green Bean Casserole is an elegant dish fit for any Thanksgiving, Christmas, or holiday table. Brown and crispy on the top, with bubbling cheese and green beans underneath. So pretty. Put it in a lovely baking dish and watch people dig in.
Enticing flavor! Sweet, a bit tangy, and pure yum.
What Goes Into This Recipe
green beans
butter
flour
sugar
onions
sour cream
Swiss cheese
cornflake crumb
The ingredients are generally easy to find. Occasionally, it is hard to find the most delicious ingredient, Kellogg's Corn Flakes Crumbs. They are sprinkled over the top of the casserole to provide a wonderful, brown topping.
French-style green beans are the best green beans for this recipe. They look amazing, stay crisp, and are so tasty.
There's no need to buy fresh beans and cut them. The frozen ones work great.
Swiss Cheese. Swiss cheese has a little tang to it. It melts wonderfully. The flavor blends well with the sour cream and onions and will make the cheese sauce super tasty.
Substitutions and Variations
Flour. If you want this recipe to be gluten-free, substitute an equal amount of gluten-free flour for the wheat flour. My favorite gluten-free flour is Bob's Red Mill 1-to-1 Baking Flour, but any gluten-free flour will work.
Corn Flake Crumbs. If you can't find Kellogg's Cornflake Crumbs, make your own using regular corn flakes and simply crush them.
Try Bread Crumbs. If you are allergic to corn, sprinkle breadcrumbs on top of the casserole instead of the cornflake crumbs.
You can even use Italian-seasoned breadcrumbs as a delicious option. It will create an even deeper flavor burst.
Cheese. Swiss is best, but you can use Gouda, Pecorino Romano, or Parmesan if you prefer.
Beans. If you don't have French-cut green beans, you can use any style of green bean. If you use fresh beans, you will need to parboil them.
How To Make This Recipe
There are 4 basic steps to making this casserole.
Prepare the ingredients
Grate the onion. You want the onions to be tiny pieces. I'm lazy. I do this in my mini food processor.
Grate the cheese. The cheese does not have to be small. Make it the size you would put on tacos.
Thaw and pat dry the frozen green beans.
Make a paste
Saute butter, flour, sugar, salt, and onions. This will be a thick, gooey mess when finished.
When it looks like a thick, not-too-wet concoction, add the sour cream and cheese and mix to combine.
Layer. Make sure the dish is large enough to put the casserole together and leave about ½ inch at the top of the dish. Otherwise, it might overflow when baking. Butter or oil your casserole dish before making three layers consisting of green beans, cheesy paste mixture, and cornflake crumbs.
Bake and serve. 45 minutes in a 350F degree oven. The top will be nicely browned and the cheese mixture will drip down through the green beans. Serve hot. So amazing!
How To Store This Casserole
If there is any leftover, simply let it cool. Then cover with plastic wrap and refrigerate for up to one week.
Recipe FAQs
Can I make this recipe ahead and bake it a few days later?
Yes! You can make this green bean casserole up to a week ahead of time, cover it, and refrigerate it. However, wait to put the cornflake crumbs on top until just before you bake it. Just pull it out of the fridge, remove the cover/plastic wrap, sprinkle the cornflake crumbs, and bake at 350F degrees for 45 minutes until done.
Do I have to cook the beans before I put them in the casserole?
Not if you use frozen green beans. When using frozen green beans, you simply thaw, drain, and pat them dry. If you are using fresh green beans, you will need to clean and steam them first.
Does the depth of the baking dish matter?
No, but you might have to bake it for a different length of time. A deeper dish may bake a little slower than a shallow dish, so you will have to keep an eye on it when cooking.

You may need more crumbs for the topping if the top surface is larger. Make sure the entire top of the casserole has a nice, thin layer of cornflake crumbs on it.
More Thanksgiving Side Dishes To Try
Did you try this recipe? You can leave a star rating ⭐️⭐️⭐️⭐️⭐️ in the recipe card or a review down in the comments section. I always appreciate your feedback!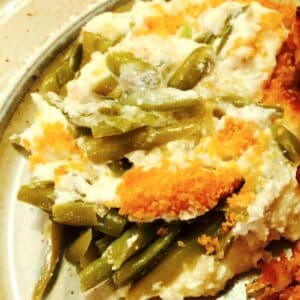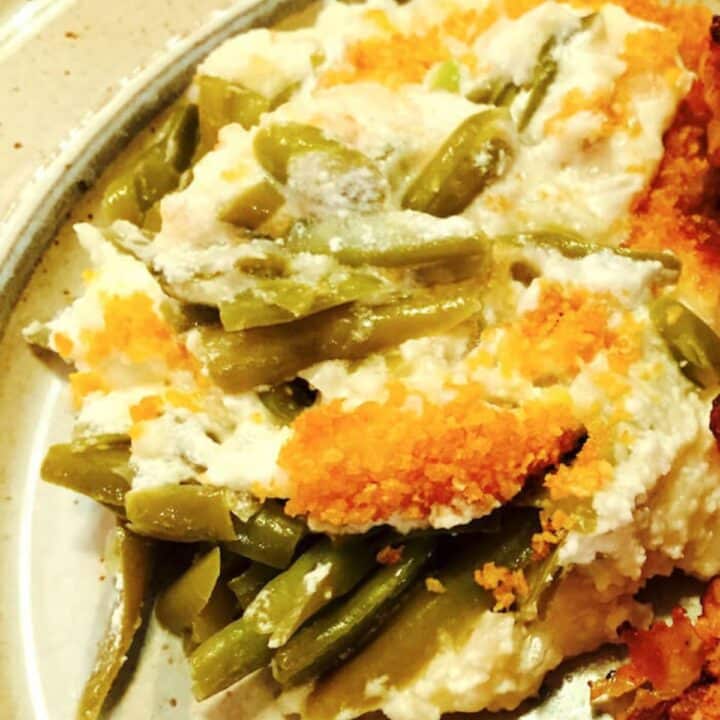 Southern Green Bean Casserole
Slightly sweet, deliciously cheesy green bean casserole.
Ingredients
One bag of frozen

or 2 cans French style green beans, drained

1½

Tablespoons

butter

1½

Tablespoons

flour

1

Tablespoons

sugar

2

small onions

about 1 cup grated

½

teaspoon

salt

½

pint

of sour cream

8

ounces

Swiss cheese

1

cup

corn flake crumbs
Instructions
Grate the onion into a small bowl (or chop using a food processor) and set aside.

Grate the Swiss cheese and set aside.

In a small skillet, melt the butter over low heat and make a paste of the flour, sugar, salt and grated onion.

Remove from heat and add the sour cream and Swiss cheese.

Thaw, drain and pat dry the green beans and spread them evenly in a shallow baking dish, about 1½ quart size.

Spread the paste over the green beans and cover with a thin layer of corn flake crumbs

Bake at 350F degrees for about 45 minutes until hot. The casserole will be bubbly and the corn flake crumbs slightly browned.
Notes
You know it's a Southern American recipe because it has sugar and sour cream in it!
Nutrition
Calories:
299
kcal
Carbohydrates:
32
g
Protein:
11
g
Fat:
15
g
Saturated Fat:
8
g
Polyunsaturated Fat:
1
g
Monounsaturated Fat:
3
g
Cholesterol:
44
mg
Sodium:
427
mg
Potassium:
152
mg
Fiber:
1
g
Sugar:
7
g
Vitamin A:
953
IU
Vitamin C:
9
mg
Calcium:
294
mg
Iron:
9
mg
Southern Green Bean Casserole is one of our best-loved recipes. It goes well with a full Thanksgiving dinner or as a side dish for any meal. It's terrific warmed up as a leftover, too! Will this be one of your sides at your holiday meal?