Barley with Green Beans Parmesan. Vegetarian delight. Less than an hour to make this filling, scrumptious meal.
Barley with Green Beans Parmesan—a diabetic friendly meal.
Hi. It's Lois at Recipe Idea Shop. letting you in on a little secret while also giving you a delicious recipe for Barley with Green Beans Parmesan.
I am a Type 2 Diabetic. I've discovered that if I eat mostly vegetarian meals, I can better maintain my blood sugar. Who knew? Over the weekend I did some research into the Eat Right for Your Blood Type diet. I am blood type A (which should eat mostly vegetarian meals); my husband is blood type O (and he needs to eat beef).
The recommendations for my blood type do not often overlap Don's blood type recommendations. But since he is very healthy and has no health issues, my needs supersede his. 🙂 Type O should not eat barley, but Type A can eat barley, and this is a grain that I really like.
So sometimes I make Barley with Green Beans Parmesan to accompany grilled salmon. I am not supposed to eat cheese, but I put it in anyway. I use Pecorino Romano, which is a stronger flavored, sheep's cheese similar to Parmesan. The meal was very tasty and satisfying.
This recipe is from my Superfoods cookbook by Dolores Riccio. I love this cookbook. The recipes in it are always delicious. This one was no exception. Barley with Green Beans Parmesan is a Blood Type A recipe only if you eliminate the cheese, though. And that would make it vegan.
What You Need
For this recipe you need knives, a cutting board, measuring cups and spoons, and a set of good pots. Buy the best you can afford and you'll never be sorry. If you can include the cheese, I highly recommend Pecorino Romano cheese. Yum!
Barley with Green Beans Parmesan Recipe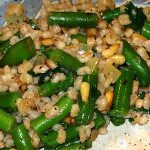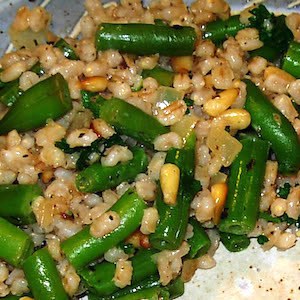 Barley with Green Beans Parmesan
Barley with Green Beans Parmesan is an excellent side dish or main dish that is chewy and crunchy. So satisfying.
Ingredients
1/2

cup

pearl barley

(rinsed and drained)

1

pinch

salt

1

tablespoon

olive oil

1

small onion

(chopped)

10

ounces

fresh or frozen green beans

(trimmed, sliced and steamed to tender crisp)

1/4

teaspoon

dried oregano

1/4

teaspoon

dried basil

1/4

teaspoon

black pepper

2

tablespoons

grated Parmesan cheese or Pecorino Romano cheese

1

tablespoon

minced fresh parsley

2

tablespoons

pine nuts

(toasted)
Instructions
In a medium pot, add 1 quart of water and the salt.

Bring the water to a boil and add the barley.

Reduce the heat to medium high and continue to boil the barley until the grains are tender but not mushy (about 35 minutes).

Drain, but reserve a few tablespoons of the liquid in case you need to add it at the end to reheat the dish.

Heat the oil in a skillet or saucepan.

Sauté the onion in the oil until softened.

Add the spices (oregano, basil, pepper) and stir.

Add the green beans and barley and stir to combine.

Toast the pine nuts under your broiler or in a dry skillet on the stove. Watch them carefully and remove them when they first start to turn a little brown. They burn easily!

Add the parsley, toasted pine nuts and cheese to the casserole and stir to combine.

Heat over medium heat a minute or two and serve hot immediately.[
https://recipeideashop.com/barley-with-green-beans-parmesan/
Affiliate Disclosure: Many of the links included throughout Recipe Idea Shop are affiliate links, which means if you follow them and you buy something, we will get a small commission. It doesn't cost you a penny more, and you can still use your Amazon Prime account to buy. Don and I love our Amazon Prime account. This posting includes affiliate links.
Recipe Nutrition Information
The information shown is an estimate provided by an online nutrition calculator. It should not be considered a substitute for a professional nutritionist's advice.
WHAT'S NOT TO LOVE?
Trust me, you're gonna love this recipe. Up your recipe repertoire. Add this recipe to your collection. But don't stop there…subscribe to our email newsletter and get a free cookbook and a printable grocery shopping list.
RATE, PIN & SHARE!
Please Rate our recipes, and Pin and Share them on social media. Comments are welcome, too!
You May Also Like These Recipes From Recipe Idea Shop
BEFORE YOU GO, DID YOU GRAB YOUR FREE COOKBOOK?