Do you love butternut squash soup? Everyone in our house does! These are our favorite butternut squash soup recipes with luscious descriptions and photos, all in one place. They are all amazing and easy to make. Listed as a countdown, you'll want to try them all!
Rich, creamy, and nutritious this Savory Butternut Squash Soup (with thyme, basil, oregano, and sage) is such a flavorful, scrumptious soup! It takes about 40 minutes to make. Top it with a little candied ginger for an amazing flavor. Garlic, onions, a potato, and milk (or a milk alternative) make this soup delectable and bursting with flavor. I like to blend the soup so that it is a little lumpy instead of completely smooth to give it added texture. If you like a smooth soup, blend until smooth.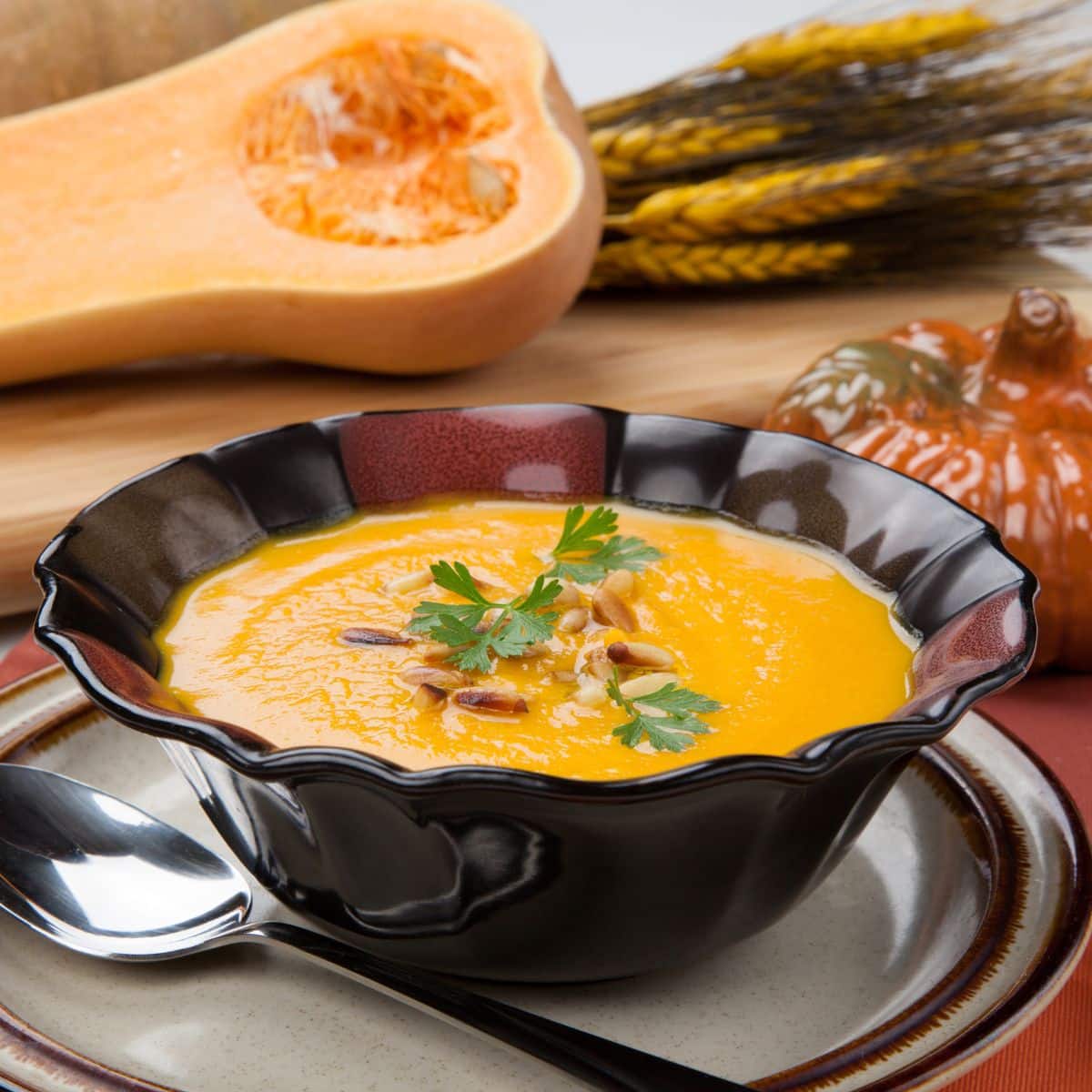 Jump to:
Tips For Making Butternut Squash Soup
Making soup with butternut squash is easy peasy. And with these tips, it can be even better.
Adding caramelized or sauteed onions to soup makes the flavor so savory. When the onions get a little brown, they start to taste sweeter.
Prep the squash in the morning or the day before you want to make your soup to reduce the time it takes all at one time to make soup.
Buy the squash already cubed if it makes your life easy. It's a little more expensive, but worth the convenience. You can store the peeled, cubed squash in a sealed container for up to three days before cooking.
Or, toss the cubes in some olive oil and roast them before using them in a recipe. Cooked butternut squash will keep in the refrigerator for up to a week, and you can still cook it in your soup, eating as much as you want and refrigerating the leftovers for another week!
Try different seasonings to see what you like best. Italian seasoning, thyme, basil, and oregano go together. Cumin, coriander, cayenne pepper, and oregano go together. Or try Herbes de Provence for an elegant flair.
Reasons To Love These Soups
Squash is abundant and inexpensive during the fall season.
Butternut squash is a mild squash that most people like.
You can make it with different flavorings and change the whole soup.
It not only tastes good, but it also has a deep, rich, orange color that is pretty and has lots of nutritional benefits.
Like tomato soup, most kids love it.
Side Dishes To Complete The Menu
We love these soups with Aunt Pauline's Dillie Bread and a dessert of Strawberries and Peaches in Lemon with Toasted Coconut. You could add a nice Green Salad, too, if you like. What a delicious meal!
Or, check out What to Serve with Butternut Squash Soup for even more ideas.
My Favorite Butternut Squash Soup Recipes
I've ranked these soups for you. All are simply scrumptious, and I strongly suggest you try them all!
Butternut Squash Soup FAQs
How do you get kids to eat butternut squash soup?
Children are curious and love to try things that are fun. The brilliant, vivid, orange color of butternut squash lends itself to creativity. Add some stripes on top of the soup using sour cream or even whipped cream, making it look like a pumpkin or drawing a face. Let the kids add toppings such as toasted pumpkin seeds or crunchy croutons. Dig in and say, "Mmmm. This is the BEST butternut soup you're ever gonna eat!" and watch them follow your lead!
What's the best way to eat butternut squash soup?
Some butternut squash soups can be eaten hot or cold and they taste so, so good either way. I prefer hot soup most of the time. Since squash is in season in the fall, it's the perfect time for soup! But most of our recipes for butternut squash soup are excellent hot or cold. If it is hot and humid outside, eat it cold! I love my soups with Homemade Croutons, but you may like to add toasted seeds or nuts, and maybe some guacamole or sour cream. A scrumptious Gluten Free French Bread is the perfect accompaniment to any soup.
How do you make one squash soup taste different from another?
If you want a very rich, robust soup, roast the butternut squash before you proceed with making the soup. Roasting enhances the flavor. And you can roast the squash ahead of time; then blend it into the soup.
Some butternut squash soups are flavored with multiple spices that change the whole flavor. You can make it with Italian seasonings, or Indian seasonings, or simply choose a spice to add. Each of our butternut squash soups has different seasonings, so we encourage you to try them all!
How can you make butternut squash soup prep easy?
The simplest way to make prep easy is to buy your butternut squash already peeled and cut it into cubes. Or you can peel and prep the squash one day and cook it the next. I love to make roasted butternut squash as a side dish or to add to salads, and then use the rest of it for soup! Another way to prep it easily would be to cut it in half like an acorn squash and bake it in the oven at 350 degrees for about an hour, cut side down, in a little bit of water. Then scrape the flesh out and use it in your soup.
How do you store butternut squash soup?
When your butternut squash soup is done, the best way to store it is to eat it! (hahaha). Leftovers can be stored in the refrigerator in a sealed container or plastic bag (after cooling) for up to a week. Or put it in freezer containers and freeze it for up to three months. Thaw it in the refrigerator and heat it on top of the stove or in the microwave when you are ready to eat it.
Other Tasty Soups To Try
Conclusion
Butternut soup is a soup that nearly everyone likes. It's beautiful, delicious, and filling. It can be served as the first course or the main dish. You can easily alter the ingredients to fit someone's dietary restrictions. And it's quick to make. Whether you are a vegetarian or an omnivore, you will love eating butternut squash soup!