Candied Sweet Potato Casserole is a standard side dish on many tables for Thanksgiving. The kids love it, right?
Candied Sweet Potato Casserole are sweet and cinnamony.
These Candied Sweet Potatoes are frequently requested for holiday meals, especially Thanksgiving. Does your family serve them? This recipe is so simple, even a new cook can make it to rave results. The sweet potatoes are super sweet and the basic recipe has been around forever.
The Menu
We celebrate Thanksgiving dinner a week early because Roni and Nessa usually have to work on Thanksgiving and Black Friday. They like it when I make all the traditional foods: Turkey, Mashed Potatoes, Stuffing, Gravy, Fruit Cocktail Salad, and Green Bean Casserole (although one likes Momma Betty's Green Bean Casserole and the other one likes the Mushroom Soup Green Bean Casserole).
Nessa's daughter Amelia doesn't like mashed potatoes (she can't really be Nessa's daughter because Nessa LOVES mashed potatoes). Amelia said she likes sweet potatoes instead. When I asked her how she liked them—mashed or sliced—she answered sliced. She also said she likes them with cinnamon and brown sugar (which she probably learned from her great-grandmother). She couldn't remember if she liked marshmallows on the top or not so I took a chance and added them. The sweet potatoes were a hit.
I liked them a lot—better than the ones my mom made—but next time I would leave the marshmallows off. They are totally unnecessary.
What You Need
For this recipe, you need measuring cups and spoons, knives, a cutting board, a casserole dish, and a pot to boil the potatoes.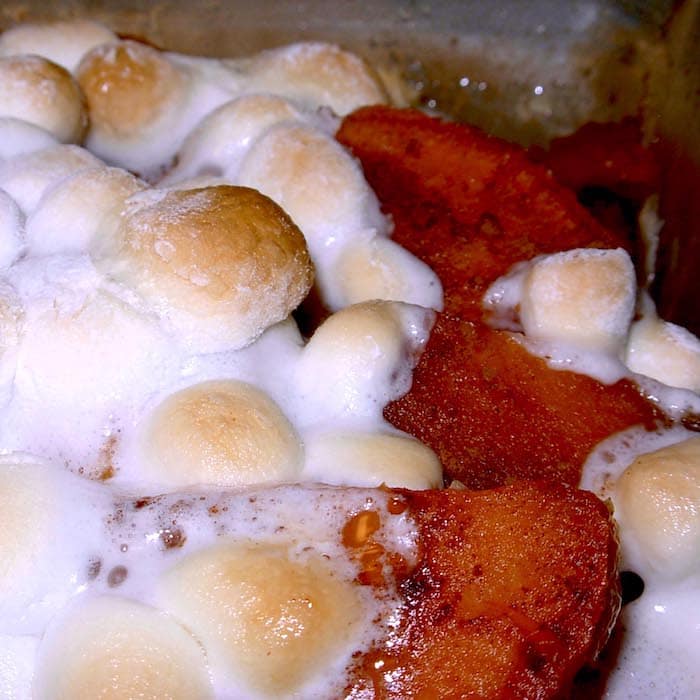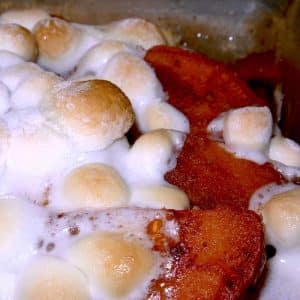 Candied Sweet Potato Casserole Recipe
Sweet and full of cinnamon, these candied sweet potatoes are tasty.
Ingredients
2

large

sweet potatoes

3

teaspoons

butter

1 ½

teaspoons

cinnamon

6

tablespoons

brown sugar

1

cup

mini marshmallows

(optional)
Instructions
If you are baking other foods, wash and poke the sweet potatoes a couple of times and bake them until they are about ¾ done (about 45 minutes). Or, you can boil them with the skins on until they are almost done (about 20-30 minutes). Let them cool until you can handle them and then peel the skins off.

Spray a casserole dish with cooking spray.

Slice the potatoes in half and then cut the halves into 1-inch slices.

Place the sweet potato slices in the casserole dish, one layer thick.

Dot with tiny bits of butter (1 teaspoon per layer), sprinkle one or two tablespoons of brown sugar over the potato layer and sprinkle with cinnamon.

Repeat layers until you have no more sweet potatoes. I made three layers in a casserole dish shaped like a bread pan. I alternated the way the sweet potatoes were placed: first and third layers went across the pan, second layer was placed in the opposite direction (lengthwise) to create some space between the sweet potato layers.

Sprinkle the marshmallows on top and bake the casserole at 350F degrees for about 20-30 minutes. Serve hot.
Nutrition
Calories:
129
kcal
Carbohydrates:
31
g
Protein:
2
g
Fat:
0.1
g
Saturated Fat:
0.1
g
Polyunsaturated Fat:
0.02
g
Monounsaturated Fat:
0.02
g
Cholesterol:
0.2
mg
Sodium:
56
mg
Potassium:
303
mg
Fiber:
3
g
Sugar:
16
g
Vitamin A:
12063
IU
Vitamin C:
2
mg
Calcium:
39
mg
Iron:
1
mg
You May Also Like These Recipes