Easy Gluten Free Chocolate Toffee Candy takes less than 20 minutes and it's amazing.
Easy Gluten Free Chocolate Toffee Candy
Hi. It's Lois in the kitchen at Recipe Idea Shop. Because it's National English Toffee Day, I'm sharing a super toffee recipe.
This Easy Gluten Free Chocolate Toffee Candy recipe was passed down to a Quaker friend of ours, Sarah Nieto, by her aunt, with the understanding that she makes a batch for her aunt every Christmas. Thankfully, Sarah shared the recipe with me.
Sarah makes Chocolate Toffee Candy with saltine crackers, but I made mine with Almond Nut-Thins so that they would be gluten free, and the toffee was absolutely divine. I brought some to  Valley Friends Meeting's Annual Candle Lighting Ceremony. Everyone loved it.
Since I made these candies last year, I have discovered the best gluten free "saltines" and I will use them in the future. Now I always have Schar Table Crackers on hand! They are delicious. In fact, I think they are the best GF crackers out there.
And, always remember…if you tell people these are gluten free, there will be more for you! And they will never know how amazing they are.
You Will Need a Cookie Sheet
I prefer the "jelly roll" type cookie sheet. What do you like?
You're gonna wanna eat this. Better hide

some or you won't get any. It will be gone that quickly.
Easy Guten Free Chocolate Toffee Candy Recipe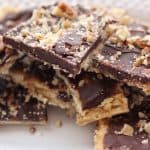 Easy Gluten Free Chocolate Toffee Candy
Easy 5-ingredient decadence. This Gluten Free Chocolate Toffee Candy takes less than 20 minutes.
Ingredients
72

Almond Nut-Thins Hint of Sea Salt crackers

(one 12-oz box)

2

sticks butter

1

cup

brown sugar

1

cup

dark chocolate chips

1/2

cup

toasted chopped pecans
Instructions
Preheat oven to 400F.

Melt butter, mix in sugar, and bring to a boil, stirring for 3 minutes. (Careful, this can burn.)

Line a cookie sheet with parchment paper.

Line the parchment paper with the Almond Nut-Thins crackers (single layer).

Pour sugar and butter mixture over crackers.

Put cookie sheet in oven for 6 minutes.

Remove from oven and sprinkle with 1 cup dark chocolate chips.

Let sit until chocolate chips become soft and shiny. (2-3 minutes)

Spread chocolate with flat knife to cover entire pan.

Sprinkle with toasted, chopped pecans. (You can substitute toasted almonds, pistachios or peanuts if desired.)

Let sit to cool (Sarah puts the tray on back porch in cool weather or in the fridge).

Break or cut into pieces and serve.
https://recipeideashop.com/chocolate-toffee-candy/
Note: Many of the links included throughout Recipe Idea Shop are affiliate links, which means if you follow them and you buy something, we will get a small commission. It doesn't cost you a penny more, and you can still use your Amazon Prime (Shop Amazon — Give the Gift of Amazon Prime) account to buy. This posting includes affiliate links. Don and I love our Amazon Prime account.
Easy Gluten Free Chocolate Toffee Candy Nutrition
Want More Recipes Like This?
If you want more delicious recipes, please sign up for our free cookbook.
Pin & Share!
Please Pin and share our recipes. And tell us what you think in the comments.
You May Also Like These Recipes From Recipe Idea Shop
BEFORE YOU GO, DID YOU GRAB YOUR FREE COOKBOOK?