RECIPE IDEA: Crispy Sausage Rice Balls
Don here, with a terrific recipe idea, Crispy Sausage Rice Balls, that I made from leftover Sticky Rice.
While Lois was out of town one time this summer, I made some Sticky Rice for myself and our dog, Pepper, who was a bit under the weather. The veterinarian said to give him a bland diet, and suggested rice. But I made too much.
What to do with leftovers?
When Lois returned, I still had some rice in the refrigerator. In truth, a couple of cups. What to do with two cups of leftover sticky rice, I pondered. I took a look at our cookbooks and found Sicilian Rice Balls in one of our Italian cookbooks (Ciao Italia by Mary Ann Esposito—it's a good one). It looked like we had all the ingredients, but of course, I took some liberties with my version of the recipe. The result was delicious. As a tasty alternative, you could use hot or sweet Italian sausage instead of breakfast sausage patties.
Parings
We ate it with Homemade Pasta Sauce and Stuffed Eggplant, a tasty recipe that Lois concocted from the vegetables we had in the refrigerator. It was an excellent combination.
Did you grab your FREE cookbook?
Tools
For this recipe, I used Ciao Italia cookbook, measuring cups, measuring spoons, a cheese grater, a cup and fork, two baking dishes (for dipping and dredging), a knife, a cutting board and a heavy bottomed pan. What would you use?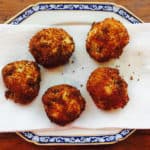 Crispy Sausage Rice Balls
Ingredients
2

cups

left over or freshly cooked rice at room temperature

2

precooked breakfast sausage patties cut into 1/4 inch cubes

leave out for vegetarian

1/2

cup

grated Pecorino Romano cheese

1/2

cup

flour or gluten free flour

2

eggs

beaten

1

cup

Panko bread crumbs

1

teaspoon

Italian seasoning

optional

2 to 3

cups

of canola oil
Instructions
Brown the sausage and let it cool.

Add the sausage and Pecorino Romano cheese to the rice and mix well.

Form the rice mixture into 2-inch diameter balls.

Roll the rice balls in flour to coat all sides.

Dip the rice balls in the beaten egg.

Mix the Italian seasoning with the Panko bread crumbs; then roll the rice balls in the bread crumb mixture, being sure to coat the rice all sides.

Refrigerate the rice balls for at least 15 minutes.

When ready to cook, heat the canola oil in a small, deep heavy bottom pan or deep fryer.

When the oil is 375 degrees, cook the rice balls one or two at a time for one to two minutes until nicely browned and heated through.

Drain the rice balls on paper towels.

Serve with a good quality pasta sauce.
https://recipeideashop.com/crispy-sausage-rice-balls/
The nutrition on this is a bit tricky. We figured each rice ball would absorb about 1 tablespoon of canola oil while cooking. However, we are only estimating because we didn't measure the amount of canola oil that remained in the pot nor the amount that drained off onto the paper towels. Since the coated rice is fried, it is much higher in fat that we usually suggest. We seldom eat fried foods, and we believe that a little extra fat once in awhile is okay. Next time, we will try baking them and see how they are. My guess is they will still be excellent. Another way to cut down on the fat, carbs, and calories would be to make the rice balls smaller or to eat only one.
SaveSave
SaveSave
SaveSave
SaveSave
SaveSave
SaveSave
SaveSave
SaveSave