The term "culinary arts dinnerware" can be used to refer to restaurant dinnerware or restaurant plates that are white. Culinarians or culinary artists are sometimes referred to as cooks or chefs. The art involves both skillfully preparing foods that are pleasing to the eye as well as enjoyable to the palate.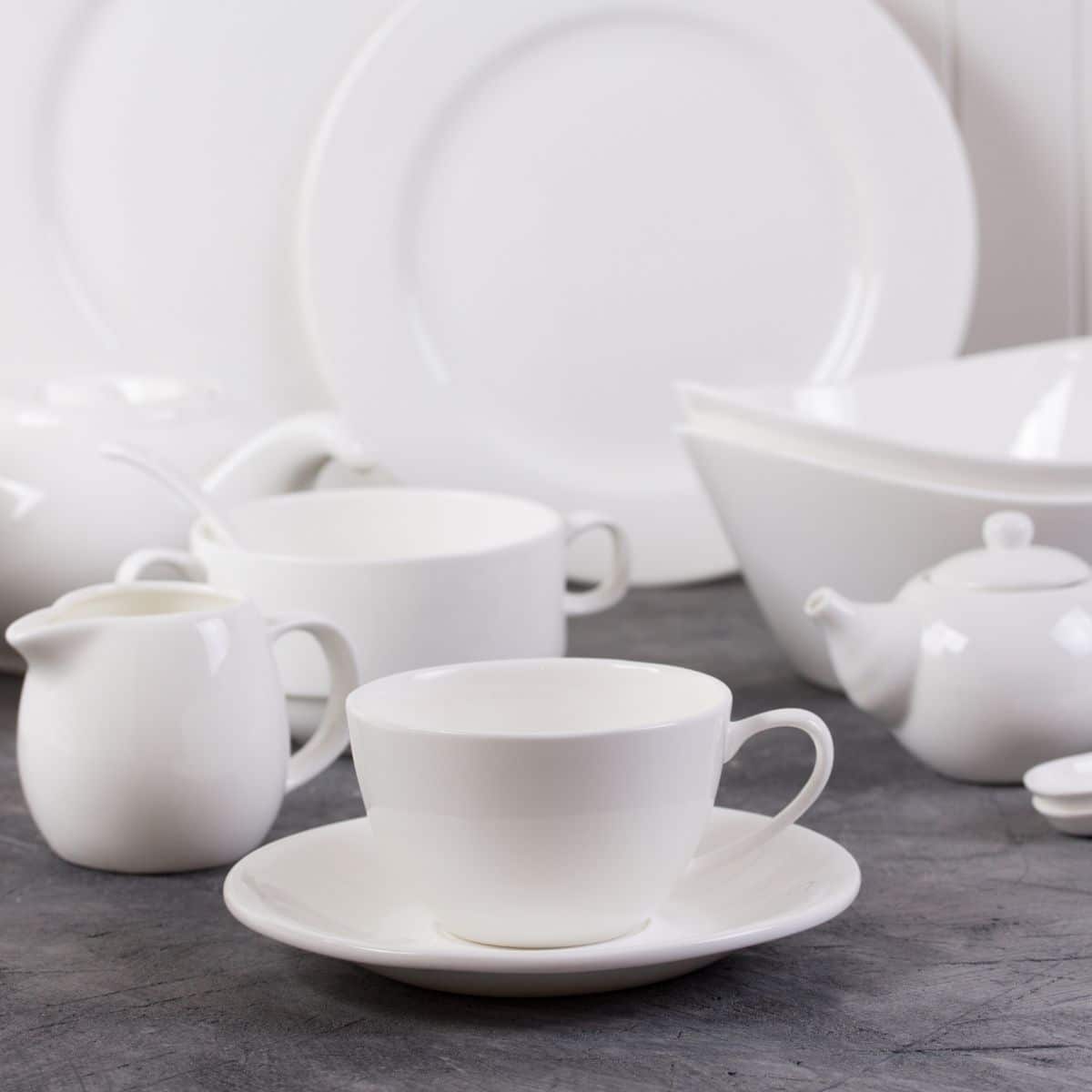 Many chefs prefer to serve on whiteware because the dishes don't compete with the aesthetics of the meals that they artfully prepare and serve. Simple patterns or solid colored dinnerware can also be considered dinnerware for culinary arts if the pattern doesn't take away from, or even enhances the visible appearance of the culinary creations; however, white dinnerware is definitely the preference.
Dinnerware for Culinary Professionals
Culinary arts dinnerware is an essential tool for any culinary professional. From chefs to culinary students, having the right kind of culinary dinnerware is essential for creating fabulous food and drinks.
Depending on the type of cuisine, culinary arts dinnerware can range from formal China in a traditional restaurant, to casual glassware for a beachside café. Glasses and carafes are used for serving water or other beverages, and dishes such as plates, saucers, bowls and platters come in various shapes and sizes.
Additionally, many culinary professionals use specialized pieces like trays or tasting spoons to present their culinary masterpieces. Whatever type of cuisine is being served, culinary arts dinnerware helps set the stage while also providing the necessary tools to make a amazing culinary experience.
Not only does good quality dinnerware add an aesthetic layer to the dining experience but it also ensures that food is served in a safe manner that meets hygiene standards. For all these reasons, culinary arts dinnerware remains an essential element for any culinary professional seeking excellence in all aspects of their culinary artistry.
Culinary Arts - The Brand
Now, let's discuss the dinnerware brand that goes by this name. Tienshan, Inc. was a Connecticut-based dinnerware manufacturer that specialized in producing stoneware and porcelain dinnerware. The products that they produced include the following brands:
Culinary Arts
Folkcraft
Stoney Hill
Tienshan
Culinary Arts Cafeware was a dinnerware pattern that was going strong in the past. The pattern is ideal for a chef who likes to artfully display meals. It is porcelain whiteware. Since then, it seems that the Tieshan associated brands has gone out of production, but you can still find the patterns if you are willing to do a little searching.
You can usually find patterns from the Culinary Arts brand of dinnerware at replacement companies or through second hand sources like internet auctions, yard sales or estate liquidations. Basically, anywhere that you might search for antique or vintage kitchenware or dinnerware is a good place to look for these pieces.
What kinds of patterns can you find from this brand?
Culinary Arts patterns
Dinnerware patterns in the Culinary Arts brand include:
Al La Carte
American Bistro
Artisan's Study
Batik
Cardinal Lane
Cherries
Corona
Emerald Leaf
Essence
Glamour
Grapes
Hollyberry
Images
Juiced
Loft
Mariachi
Matte Bands
Murano
Murano Tapestry
Pear
Petit Jardin
Plum
Prelude
Rouleau
Ruffleware
Sonora
Soleil
Spectrum Stripes
Sprawling Botanical
Tropical Pear
Vacation
Victorian Pearls
White Wicker
The dinnerware by Tienshan, Inc. was very original. Personally I love the Culinary Arts patterns, Ruffleware and the Victorian Pearl. The style is definitely unique.
I haven't been able to find out what happened to the Tienshan company or its related brands. I assume that they went out of business or altered their product line away from dinnerware. The company was founded in 1982 and seems to have perished around 2009 or 2010. While their dinnerware was in production, they made some pretty awesome patterns available.
Choosing Your Dinnerware
Whether you're an experienced culinary artist or just starting out, selecting the right dinnerware is essential for creating a pleasant and stylish dining experience. When it comes to choosing culinary arts dinnerware, there are a few things to consider.
First, think about the style of cuisine you're creating - is it formal or informal?
Second, consider how much food you'll be serving; if you're hosting a small gathering of friends and family, then a modest set might be enough to get the job done.
Third, look at the material of each piece: while ceramic plates may be perfect for everyday use, they won't do very well in the dishwasher.
Finally, pay attention to color and design; even if both sets have similar specs, one might include more elegant details that contribute to an inviting atmosphere.
After considering all of these criteria, choosing your culinary arts dinnerware will be much easier. Not only will your next dining experience look amazing, but it will make each meal that much more enjoyable!
Check out these popular dinnerware manufacturers.
Other Dinnerware You Might Like