Mikasa dinnerware comes in practical casual dinnerware sets as well as elegant fine China dinnerware. Studio Nova dinnerware is part of the Mikasa line. The company is a division of Lifetime Brands, Inc. which specializes in promoting fashionable dinnerware, stemware, barware, flatware, and decorative accessories for the home. There are so many beautiful, useful items you can get from this company for your kitchen and dining room!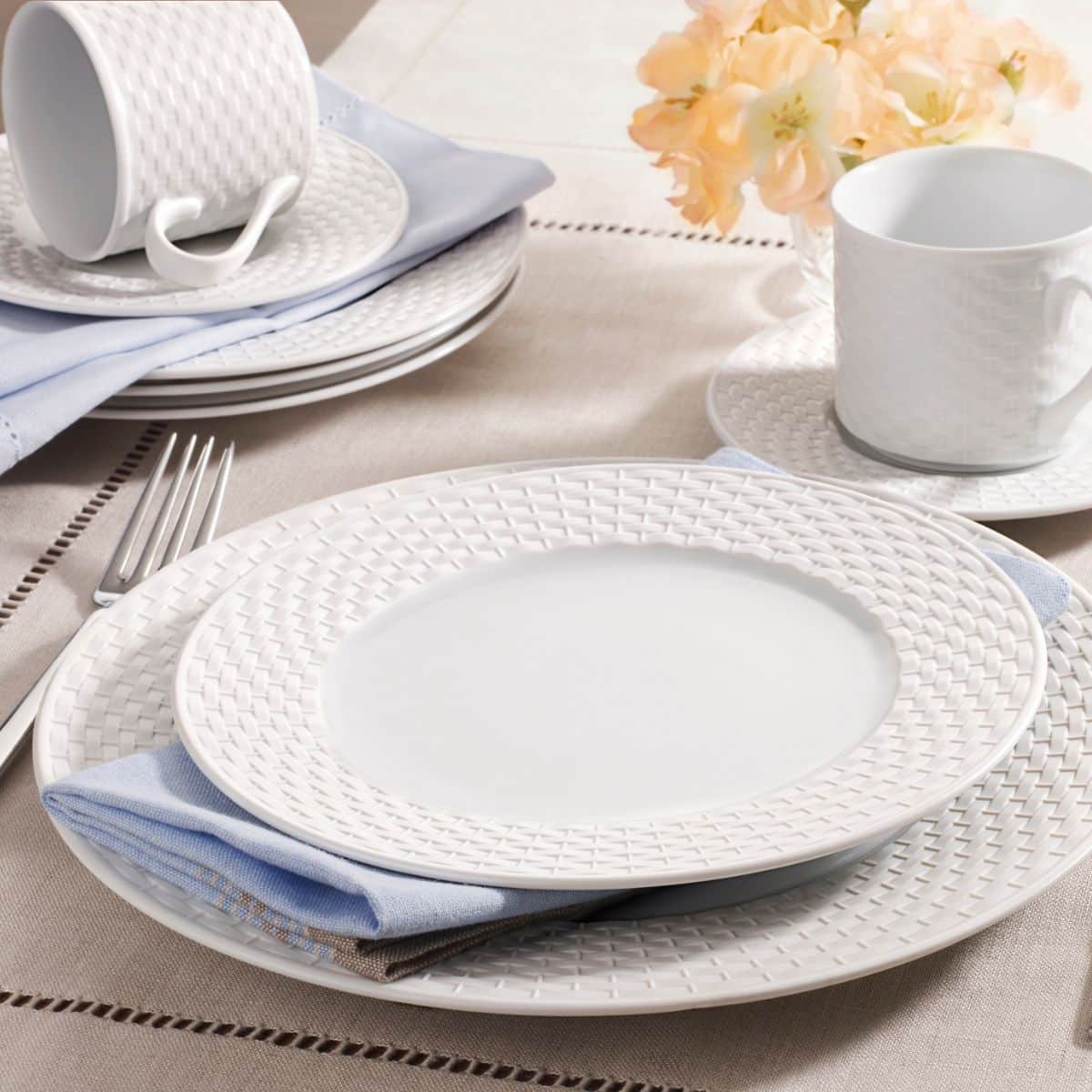 About Mikasa Dinnerware
Mikasa Dinnerware is one of the most beloved collections of fine China in the world. Mikasa has been an iconic and long-standing brand for over 100 years, renowned for its excellent craftsmanship and timeless designs.
Find your favorite Mikasa dinnerware on Etsy.
Popular Mikasa patterns
Some popular patterns from this brand include:
Casablanca
Mikasa Chloe
Mikado
Mikasa Country Classic
Metro Fine China
Mikasa Garden Club Collection and Mikasa Garden Club Day
Rosella
Stone Ridge
Mikasa Stone Manor
Mikasa Seaside Coastal (if you like sea-themed dishes, you'll love these lighthouse dish designs)
and many more
Fine China from Mikasa
Mikasa offers quite a variety of fine China and I can't possibly list them all. Here are some of the most popular patterns:
Antique White
Cheers
Black Gingko
Brushstroke
Cocoa Blossom
Confetti Platinum
Damask Copper
Daylight
Floral Mist
Floral Silhouette
Garden Toscana
Imperial Blossom
Indigo Bloom
Jazz
Loop
Platinum Matrix
Pure Red
Riverside Park Gold
Takaya
Urban Rose
Woven Cable Platinum
Casual Dinnerware Sets from Mikasa
They also have many casual dinner sets to choose from. The multiplicity of Mikasa casual dinnerware patterns, again, makes it hard to list all, but here are some of the most popular casual patterns offered by Mikasa:
Anissa
Antique Orchard
Arabella
Bamboo Black
Bamboo Reeds
Brava Paisley
Congo
Dahlia
English Countryside
French Countryside
Italian Countryside
Leopard
Modern Butterfly
Red Berries
Timber Gray
Wispy Floral
Mikasa is known for providing a large variety of patterns, so sometimes is hard to find discontinued Mikasa dinnerware, but if you set your mind to it, you most likely can find replacement pieces.
One thing that I really like about Mikasa is its Lifetime Replacement Program. If you are registered with it, you can purchase available replacements from them at 50% of the retail price. That in itself is a great reason to choose Mikasa patterns.
Discontinued Mikasa Dinnerware
There are plenty of discontinued Mikasa dinnerware patterns that collectors might want to find for their sets. If you are looking for specific pieces that have since been discontinued, don't give up. You can search Etsy or eBay for the pieces you need to complete a set.
The company has lived through many trends since its founding as a dinnerware importer in 1948 under the name, American Commercial Inc. In 1957, America was introduced to the brand name, Mikasa. Now it is a division of Lifetime Brands, Inc.
Discontinued Mikasa patterns
Unfortunately, Mikasa discontinued some of its most popular collections in recent years, which left loyal fans bereft. Mikasa Casablanca, Mikado, and French Countryside are among the collections that are sadly out of production.
While these collections can still be found on auction sites or secondhand stores, collectors may have to pay a high premium to buy them - if they can find them at all.
For those lucky enough to own Mikasa French countryside or Mikado dinnerware pieces, they can cherish knowing that they own a piece of history – even if it just decorates their kitchen shelves, never to be used at family gatherings again.
Despite its discontinuation, Mikasa Dinnerware remains one of the top choices for fine dining - proving itself an elegant and worthwhile investment in an otherwise ephemeral world.
Etsy has many discontinued Mikasa dishes, so it's worth taking a look.
Are you a dinnerware collector? Check out our dinnerware manufacturers list and these gorgeous Christmas dinnerware sets. Oh, and why not? Check out the glass dinnerware: so pretty!
How to find discontinued Mikasa dinnerware
If you're trying to find specific pieces or build a set from this discontinued dinnerware, here are a few things to know.
There are online shops and stores that still sell discontinued pieces
Many collectors will sell from their own collection
Sometimes estate sales will contain pieces
Often family members will sell off collections or pieces they no longer want
The key to finding these pieces lies in knowing where and how to search for them. Let's explore this.
Alternate search terms to find discontinued Mikasa dinnerware
A great way to find discontinued patterns is to search for the pattern name on an online auction website.
If you don't know the pattern name, you can sometimes find it by searching for vintage dinnerware or antique dinnerware.
Some sites to search:
replacements.com
ebay.com
mikasa.com (open stock site)
auction sites
When I entered "vintage Mikasa" in the search box on eBay, over 1,400 results came up and the selection was amazing. There were full dinnerware sets, discontinued pieces, dinnerware pieces, teapots, figurines, crystal goblets, decanters, sugar, and cream sets… the list goes on and on. The styles range from retro to modern.
The term "antique Mikasa" brought up fewer selections, and of course, the currently produced pattern of Mikasa Antique White came up because that is the name of the pattern. There were some selections under that term that didn't come up under vintage. The term "discontinued Mikasa" produced several results as did "retired Mikasa".
Is the discontinued Mikasa microwave safe?
When buying antique and vintage dinnerware, it's important to know that many sets are not safe to use in your microwave or dishwasher. All Mikasa plates and additional pieces that do not have gold or platinum metal accents are safe to use in your microwave and in your dishwasher, too.
This makes them practical for everyday use, unlike many other classic dinnerware pieces. Mikasa China can give you the look of elegance that a vintage set of dinnerware has, but it's easy to care for like more modern sets.
Search Replacement Company Websites
There are several replacement companies that are highly recommended. Probably the most popular is replacements.com. They have an awesome collection of discontinued dinnerware and you can register the pattern or piece that you are looking for with them and you'll receive a notification when it is available.
By typing "replacement dinnerware sites" in your browser, you can discover multiple replacement companies that might have or can help to find exactly what you are looking for.
Mikasa Italian Countryside Dinnerware
Mikasa Italian Countryside dinnerware is classical everyday dinnerware that you will just love. It is perfect for casual dining, but it can be easily dressed up for fine dining experiences. The dinnerware pattern is simple but elegant, and it is a favorite of hostesses everywhere.
The stoneware dinnerware sets are white with fluted bands and column-like detail. The pattern is very stylish, but practical as well. The dishes are dishwasher and microwave-safe dinnerware, which makes it an ideal choice for everyday use. The dinnerware sets are available with different pieces so that you can choose your preference.
This pattern is also available in square tableware making it possible to create a unique dinnerware set to fit your preferences.
The popularity of this best-selling pattern makes it a prime pattern for Mikasa to produce complementary accessories to accompany the dinnerware. This alone creates a high-in-demand pattern. Dinner hosts love dinnerware with matching serving dishes and serving accessories. It makes a table setting look spectacular.
I've posted just a few accessories that complement this pattern to give an idea of what is available. There are tons of options including holiday accessories that are perfect for making a holiday dinnerware set out of your everyday dishes.
Feel free to see the enormous array of accessories that are available in this pattern.
Mikasa also makes available Italian Countryside Platinum which is porcelain dinnerware with platinum bands on the rim of the dinnerware. The dark lines that surround the inner border with a beautiful scrolled pattern on the outer border are very graceful.
The platinum pattern is not microwave-safe dinnerware and should be washed by hand with a mild detergent. Dishwasher use will eventually destroy the pattern.
Contact Mikasa
Mikasa has excellent customer service. If you are looking for a recently discontinued pattern, check with Mikasa to see if they have it. If they don't, they might have some suggestions for where to find it.
FAQs About Mikasa Dinnerware
Some questions people have when looking for these discontinued pieces are:
Does vintage Mikasa dinnerware contain lead?
Modern Mikasa does not contain lead. Some older vintage pieces may contain lead. It's best to look up the exact piece you have to check or use vintage Mikasa just for collecting and displaying not for eating.
What is the most durable dinnerware material?
Ceramic is more durable than porcelain. Bone China is lightweight and thin but is typically considered the most durable ceramic dinnerware.
Does fine China go up in value?
The value depends on the brand, condition, age, and other factors. However, in general, China does up in value over time. This makes it a great investment.