Recipe Idea: Don's Eggplant Parmesan
Hi, it's Lois at Recipe Idea Shop, telling you about Don's Eggplant Parmesan. Don made us some fabulous Eggplant Parmesan last night. It's one of his favorite dishes to order in a restaurant. I seldom order it in a restaurant because most versions are so soggy in the middle and I don't like the texture. But Don got it just right last night. We paired it with a good salad, some gluten free pasta and our wonderful Homemade Red Sauce.
I sliced the small eggplants in long strips for him and salted it to pull out the moisture. Don would have preferred that I peel the eggplant, but I like the extra fiber so I don't generally peel it. He says the breading doesn't stick to the skin, so you should peel it.



He used some gluten free Italian breadcrumbs and a beaten egg yolk for the coating. Then he fried it until crisp, layered it with shredded Pecorino Romano (Parmesan made from sheep's milk), about three layers, with sauce over the second and third layers. The last step is to bake it for about 25 minutes until hot and bubbly. And it was worth the wait! Yum.
Trust me, you're gonna wanna eat this.
BUT FIRST, DID YOU GRAB YOUR FREE COOKBOOK?
[mc4wp_form id="5109″]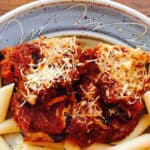 Don's Eggplant Parmesan
Ingredients
2

small or 1 large eggplant

about a pound, peeled and sliced lengthwise 1/2-inch thick

1

teaspoon

salt

1 to 2

cups

Italian bread crumbs

(gluten free, if possible)

2

eggs

beaten

1/4

cup

canola or olive oil

1

cup

shredded Pecorino Romano or Parmesan cheese

1

pint

Homemade Red Sauce
Instructions
Lay the sliced eggplants on paper towels in a single layer. Sprinkle with salt and let sit for about a half hour.

Dab the salted eggplant slices with a paper towel to remove the salt and moisture.

In a sauté pan, heat the oil to hot.

Dip both sides of the eggplant slices in the beaten egg and then in the gluten free bread crumbs.

Put the coated eggplant slices in the hot oil (turn the temperature to medium) and cook until browned. Flip the slices over and brown the other side.

Place 1/3 of the browned eggplant in an oblong baking dish in a single layer.

Sprinkle 1/3 of the cheese over the top of the eggplant.

Layer another 1/3 of the browned eggplant over the previous layers.

Sprinkle 1/3 of the cheese over the top of the eggplant.

Spoon 1/3 of the Red Sauce over the layers.

Add another layer of browned eggplant, followed by cheese.

Top with the remaining sauce and bake in a 350F degree oven for 20-25 minutes, until hot and bubbly. Serve with pasta.
https://recipeideashop.com/dons-eggplant-parmesan/
Note: Many of the links included throughout Recipe Idea Shop are affiliate links, which means if you follow them and you buy something, we will get a small commission. It doesn't cost you a penny more, and you can still use your Amazon Prime (Shop Amazon – Give the Gift of Amazon Prime) account to buy. This posting includes affiliate links. 
SaveSave