Don's Homemade Caramels. Chewy. Chocolately. Caramels. Positively mouth-watering.
Homemade Caramels are the best.
Don here. March 19 is National Chocolate Caramel Day so I'm reposting my Homemade Caramels recipe.
These caramels are based on recipe with a long tradition. Legend has it that the Graham and Holden households (my first wife's maternal lineage) made these for generations. The original recipe came from Dorothy Salem, who may have been related many generations ago.
Wooden Spoon Ready For New Candymaker
The first Christmas after my daughter Abbi was born we quit traveling to extended family gatherings and began having Christmas at our home.
That's when the baton was passed via a note in the mail and a well-worn copy of the recipe. The note said: "Now that you are not traveling at Christmas, you will have time to make the caramels. PS: They ship well!" So for the past 40-plus years I've been stirring up at least one batch in the Christmas season.
I usually make these candies in December and give them away for Christmas. All the kids expect my Homemade Caramels for Christmas. I'd hate to disappoint them, but it's now time to pass it on again. Which one of our kids will take it up? We'll see.
Homemade Caramels Keep, But They Don't Last
Don's Homemade Caramels will keep about a month at room temperature, if they last that long. Send them to family and friends any time of the year in small gift boxes, holiday candy bags or drop into stockings on Christmas eve for a Christmas morning treat.
You will need a candy thermometer for this recipe.
The Process
Don't Forget Yourself
What You Need
You absolutely need a heavy bottomed pan and a candy thermometer, but what you really want is a great cuppa coffee to go with your candy, right?
Don's Homemade Caramels Recipe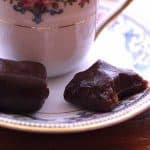 Don's Homemade Caramels
Chocolate and Caramel. Chewy. Mouth-watering deliciousness.
Total Time
1
hour
10
minutes
Ingredients
2

cups

sugar

1

cup

brown sugar

1

cup

light corn syrup

12

ounces

Condensed Milk

(1 can)

1/2

cup

butter

(1 stick)

2

teaspoons

vanilla

4

ounces

baker's unsweetened (100% cocoa) chocolate

(cut or broken into small pieces)
Instructions
FIRST, A WORD OF CAUTION: As the mixture heats, the bubbling becomes more violent throwing off bits of hot caramel. A long handle wooden spoon works well to stir the mixture as it cooks. It takes me about 40 minutes to an hour from the time heat is applied until I dump the mixture into the pan to cool.
Ready the Baking Dish
Butter a 5" x 7" shallow baking pan and set aside.
Melt, Stir & Cook
Add all the ingredients except the vanilla to a heavy bottom 2-quart sauce pan.

Stir to mix well.

Begin cooking at medium high heat, but as soon as the mixture begins to boil, reduce the heat to medium.

As the mixtures cooks, it will thicken and the bubbles will become larger.

Reduce the heat a bit as the temperature climbs above 212F degrees (100C) to keep the mixture boiling but also reduce the likelihood of a gob of hot chocolate landing on your fingers. (I still have scars from my first attempt to make these in a hurry.)

Reduce the heat to medium and bring to 240F, stirring constantly.

Immediately upon reaching 240F, remove from heat and stir in the vanilla.
Pour into Baking Dish
Place the buttered baking dish on a level, heat-resistant surface and pour the mixture into it.

Spread mixture evenly.
Cool
Let cool. I usually leave the caramels at room temperature overnight to cool.

DO NOT cool in the refrigerator. They will be too hard to cut.
Cut, Wrap & Store
Dump the candy out of the pan and cut into small (1" x 1") squares—or larger squares, your preference.

Wrap the caramel squares in waxed paper.

Store at room temperature.
https://recipeideashop.com/dons-homemade-caramels/
Affiliate Disclosure: Many of the links included throughout Recipe Idea Shop are affiliate links, which means if you follow them and you buy something, we will get a small commission. It doesn't cost you a penny more, and you can still use your Amazon Prime account to buy. Don and I love our Amazon Prime account. This posting includes affiliate links.
Recipe Nutrition Information
The information shown is an estimate provided by an online nutrition calculator. It should not be considered a substitute for a professional nutritionist's advice.
WHAT'S NOT TO LOVE?
Trust me, you're gonna love this recipe. But don't stop there…subscribe to our email newsletter and get a free cookbook.
RATE, PIN & SHARE!
Please Rate our recipes, and Pin and Share them on social media. Comments are welcome, too!
You May Also Like These Recipes From Recipe Idea Shop
BEFORE YOU GO, DID YOU GRAB YOUR FREE COOKBOOK?