Epoch dinnerware features decorative patterns that fit into various decor themes, from vintage to contemporary. Made by Noritake, the Epoch Collection offers a casual line of dinnerware. Today, you can find mostly vintage Epoch patterns that accentuate kitchen or dining room decor in places like Etsy and Replacements.com.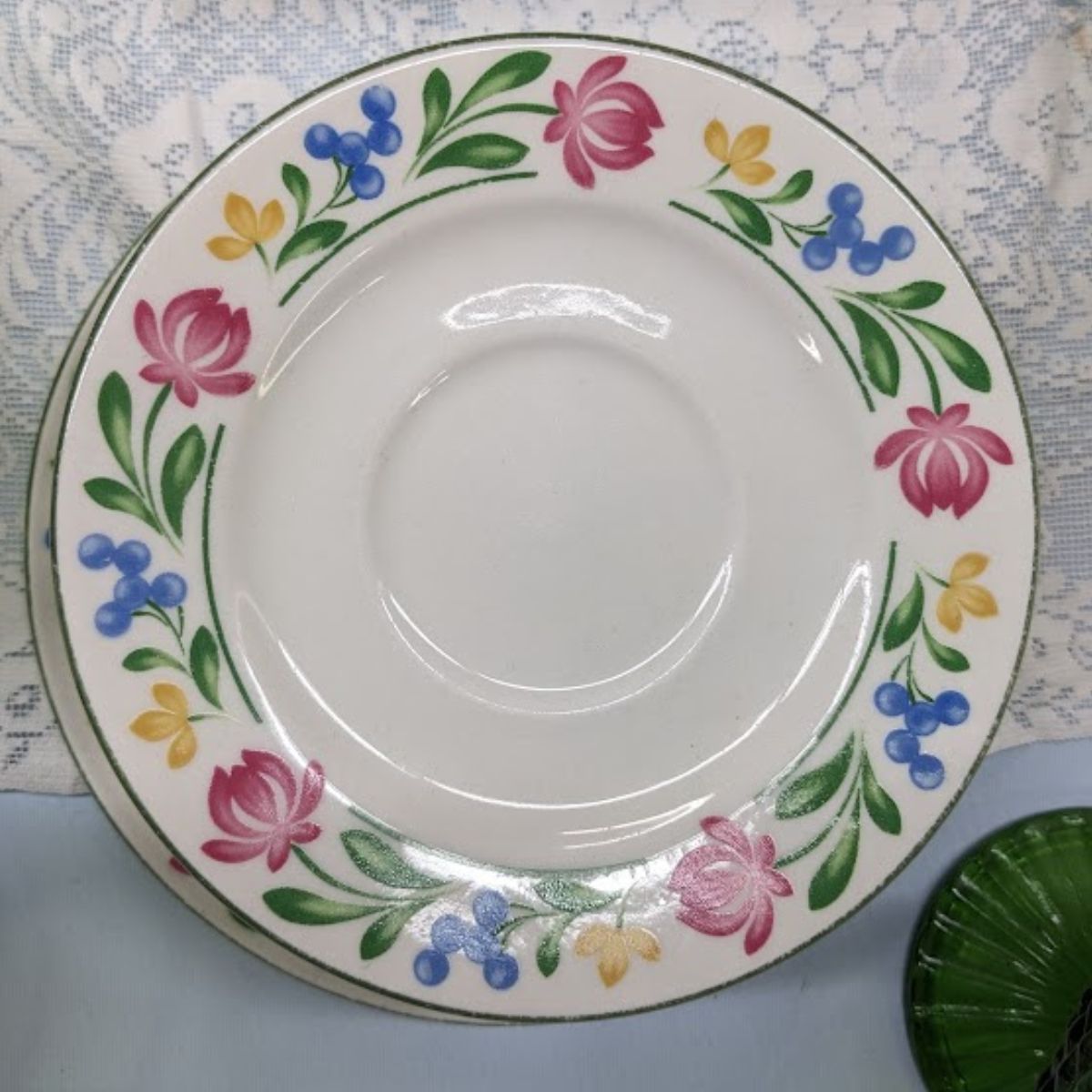 Whatever you call them - dishes, plates, dinnerware, etc. - these place settings set the stage for a beautiful dinner. They can also be a great way to showcase your style.
The Epoch patterns include solid-colored dinnerware, two-tone versions, floral dinnerware, fruit patterns, embossed dinnerware, country patterns, abstract designs, tropical dinnerware, and Tuscany-style dinnerware, just to name a few. They are fun and unique, especially compared to other, more traditional dinnerware brands. This decorative dinnerware makes a great selection to complement everyday kitchens with casual dinnerware.
About Epoch
Epoch Dinnerware has long been a favorite among elegant dinner-partiers. The signature line of Epoch's dinnerware collection offers an extensive selection of both modern and traditional styles that are perfect for any occasion and different styles and tastes. They have colorful dinnerware and some of them are even dishwasher safe.
Not only are Epoch's dinner plates, soup bowls and teacups highly attractive and beautifully crafted, they are also made with durability in mind. Epoch takes pride in their products' construction, ensuring that each piece is made with resilient materials that won't easily chip or crack when washing or dropped on the floor by accident.
These pieces are designed to be used for years without losing their charming good looks. Every Epoch set can be personalized with decorative touches that bring out the uniqueness of each piece. With Epoch dinnerware at your table, you can rest assured knowing your dinner parties will look as impressive as the wonderful food being served up!
What Comes in a Dinnerware Set?
Epoch sets usually include plates, cups, bowls and mugs in a variety of sizes—everything you need on the table for entertaining guests or everyday meal times.
China sets typically come in four or five-piece sets. A four-piece set will typically have:
dinner plate
salad/dessert plate
soup/cereal bowl
mug
And the five-piece set will typically have:
dinner plate
salad/dessert plate
bread plate
cup
saucer
Which you get will often depend on the pattern that you choose. However, you can also choose to mix and match your set pieces, if you want to. It really depends on how traditional you want to be and which patterns you are using.
If you see the term "open stock", this refers to dinnerware that is being sold piece-by-piece. This is a great way to get replacement pieces for a set, or to build your own set.
Epoch Dinnerware Patterns
Patterns featured in the current Epoch Collection offered by Noritake include:
Autumn Fruits
Baroque White
Fleur de Provence
Floral Bay
Le Restaurant
Orchard Valley
Rhapsody Blue
The Le Restaurant pattern is so cute. It features a comic-like setting of French bistros. Furthermore, it would definitely look good in a modern, fun-filled kitchen.
Epoch dinnerware patterns that you might find attractive in your kitchen include:
Aerobic
Aische
Aizome
Ajo
Alpine Mist
American Chintz
American Decoy
American Heritage
Amigo
Ani
Antique Bouquet
Apple Blossom
Apple Magic
Apple Orchard
April Garden
April Song
Art
Asiana
Asti
Autumn Breeze
Autumn Harvest
Bali
Baroque White
Beachside
Beauty
Belair
Bennington
Berry Grove
Birch
Biscayne
Blue Baskets
Blue Bell
Blue Chintz
Blue Desert
Blue Fruits
Blue Knight
Blue Note
Blue Plaid
Blue Rain
Blue Sky
Blue Sonata
Blue Tango
Blue Tapestry
Blueberry
Blush
Bolero
Bountiful
Brown Delight
Budding Berries
Café
Calypso
Cape Cod
Cape Town
Capri
Caprice
Carrousel
Casbah
Celeste
Centerbrook
Century Gold
Century Platinum
Checkers
Chesterfield
Circus Bear
Cirque
Citrus
Climbing Ivy
College
Constellation
Cool Sea
Cornucopia
Costa Mesa
Cottage Burgundy
Cottage Court
Cottage Forest
Country Crewel
Country Gingham
Country Ridge
Cranbrook
Crete
Cruising
Custard
Daisies
Delphi
Desert Sky
Dixie Floral
Dunewood
Duo
Durango
Dusty Meadow
Dynasty
Early Blossom
Early Morn
Echoes
Embossed White
Emily
Encore
Eppingham
Etruscan
Evening Blossom
Fantasy
Fashion Blue
Fleur de Provence
Floral Bay
Florentine
Forget-Me-Not
Foxcraft
Freestyle
French Mulberry
Frosty Blue
Frosty Gray
Fruit Punch
Fruitmania
Frutta
Galaxy
Game Cock
Garden Bloom
Garden Delight
Garden Gate
Garden Grove
Garden Impressions
Garden Mosaic
Garden Palette
Garden Walk
Garland Dance
Glastonbury
Glory
Go Fish
Golden Pond
Good Morning
Hampton
Harbor Blue
Harmony
Harvest Eve
Haverhill
Heather Rose
Hillcrest
Holiday Bears
Holiday Joy
Holland
Honeydew
Hunter Green
Ian
Ina
Indigo Garden
Infinity
Interlude
Italian Garden
Jessica
Jetty
Jubilee
Kasba
Kirkland
Knife and Fork
Kokutan
Lakeland
Largo

Laser
Laurel
Lava
Le Bar
Le Restaurant
Le Restaurant Christmas
Lehigh
Leilani
Lily Dance
Lisbon
Little Ducklings
Little House
Lucy
Malta
Manor Court
Market Day
Markings
Marseilles
Maui
Maverick
Mayflower
Meadow Glen
Meadow Sweet
Medici
Melissa
Melody
Melon
Melton
Mica
Millennium
Mist
Misty Grey
Montana
Montbard
Montego
Morlaix
Morning Rose
Morning Song
Mr. Snowman
My Alphabet
New Julianne
New Pollo
New Stockholm
New Sweet Dreams
New Trellis
Night Spring
Normandy
Northridge
Norway
Nouveau
Nyons
Oahu
Oak Manor
Oakbrook
Odyssey
Orchard Valley
Orchid
Palette
Panama
Park Manor
Parquet
Pegasus
Petal
Picnic Time
Pin Wheel
Pioneer Bay
Pizzazz
Polar Party
Pollo
Pop
Potter's Art
Potter's Wheel
Prism
Promenade
Pronto
Provence
Rain Forest
Rainbow
Rajah
Ravinia
Red Rock
Red Rooster
Regatta
Riviera
Romance
Rosabell
Rose Sonata
Rosette
Rustica
Sage
Sarasota
Sea Breeze
Sea Foam
Seashells
Seminole
Service Plates
Shudei
Simplicity White
Snowdrop
Soho
Somerville
Song of Spring
Sonja
Sonora
Sovereign
Spice Blossoms
Spice Pavilion
Spinners
Spring Basket
Spring Bouquet
Springdale
Still Life
Stockholm
Stockton
Strawberry Time
Summer Bouquet
Summer Day
Summer Hill
Summer Meadow
Summer Ramble
Summerdance
Summertime
Sun Forest
Sun Up
Sunlite
Sweet Dreams
Swing
Taffy
Tarantella
Tempo
Thanksgiving
Tiber
Tiki
Touchdown
Trattoria
Trellis
Tropical Berries
Trout Fly's
Tudor Court
Tulip Time
Tulip Tune
Tunis
Tuscany
Twas The Night Before Christmas
Vanilla
Vector
Waverly
Westlake
Whipped Cream
White Chapel
White Expressions
Wholesome
Windswept
Winter Garden
Woodsway
Yuma
Zoom
This features a plethora of designs that, without a doubt, offers dinnerware that will fit into your kitchen decor. There truly is something for everyone, which is part of the appeal of this particular line of dinnerware.
Furthermore, Epoch pieces are also capable of retaining heat and cold longer than many other types of dinnerware material, ensuring that food will remain at its optimum temperature for longer and tasting delicious every time. So not only do Epoch dishes add beauty and sophistication to a dining table setting, but they also offer unrivaled performance that brings ease and comfort to every mealtime experience.
Epoch dinnerware has been around for many years and is sure to be enjoyed for many more well into the future!