Recipe Idea: Flourless Chocolate Cake with Raspberry Sauce
Don here. I thought this Flourless Chocolate Cake with Raspberry Sauce would be a wonderful dessert for Superbowl Sunday. It came from Sharon O'Connors Menus & Music Productions, Bistro: Swinging French Jazz. I gave it a try, but I baked it too long, I guess, because it was quite dry. The directions said to bake it until when tested with a toothpick the toothpick comes out clean. Mine never came out clean and yet it was too dry. I baked it for about one hour. Next time I will try 45 minutes! On the other hand, the Raspberry Sauce was amazing, and it was very simple.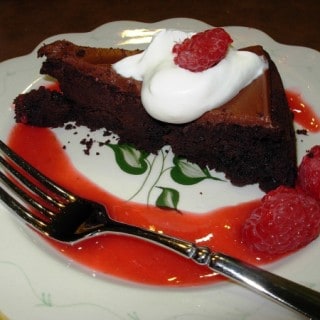 Flourless Chocolate Cake with Raspberry Sauce
Ingredients
Cake
1

pound

Baker's

bittersweet chocolate

½ cup unsalted butter

5

large eggs

separated

1

tablespoon

vanilla extract

3

tablespoons

granulated sugar

1

cup

heavy cream

whipped to soft peaks, for serving (optional)

Fresh raspberries for garnish

optional
Raspberry Sauce
2

cups

fresh or thawed frozen raspberries

¼

cup

sugar

¼

cup

water
Instructions
Cake
Preheat the oven to 300°F.

Butter the bottom and sides of a 9-inch round cake pan and line the bottom with parchment paper. Butter the parchment paper, too. (I used Canola oil.)

If you are impatient, like I am, put the Baker's chocolate and butter in a bowl and microwave it until it it completely melted, about 3-5 minutes. You can micro it on high for about 2-3 minutes, take it out and stir it, and then return it to the microwave. Micro it for about 30 seconds (do this repeatedly until it is melted). With this method, you have to be very careful because it can easily burn. When it is still a bit lumpy, take it out and mix it until it is melted throughout.

Or you can use a double boiler:

Grate the chocolate and cut the butter into bits.

Then, in a double boiler over simmering water, melt the chocolate and butter, stirring until smooth. Remove from heat and let cool a bit.

In a large bowl, whisk the egg yolks and vanilla together.

Add this mixture to the chocolate mixture and stir until blended.

In a large bowl, beat the egg whites and 1 tablespoon of the granulated sugar with a electric mixer at high speed until soft peaks form.

Add the remaining sugar and continue beating until stiff, glossy peaks form (meringue).

Fold the meringue into the chocolate mixture until blended.

Pour mixture into the prepared pan, smooth the top, and bake for 50 minutes to 1 hour, or until a toothpick inserted in the center comes out clean.

Let cool in the pan.

Run a knife around the edges of the pan and unmold; discard the paper.

To serve, cut the cake into thin wedges.
Raspberry Sauce
In a food processor, purée all the ingredients.

Strain through a fine-meshed sieve into a bowl, pressing the purée through with the back of a large spoon.
To Serve
Spoon a pool of

Raspberry Sauce

in the center of each plate and top with a slice of cake.

Top with whipped cream and a few fresh raspberries, if you wish.