When it comes to French dinnerware, the name Leonard Bernardaud comes to mind for many of us. In the 1900s, this man acquired a French company that manufactured Limoges Porcelain, French porcelain dinnerware.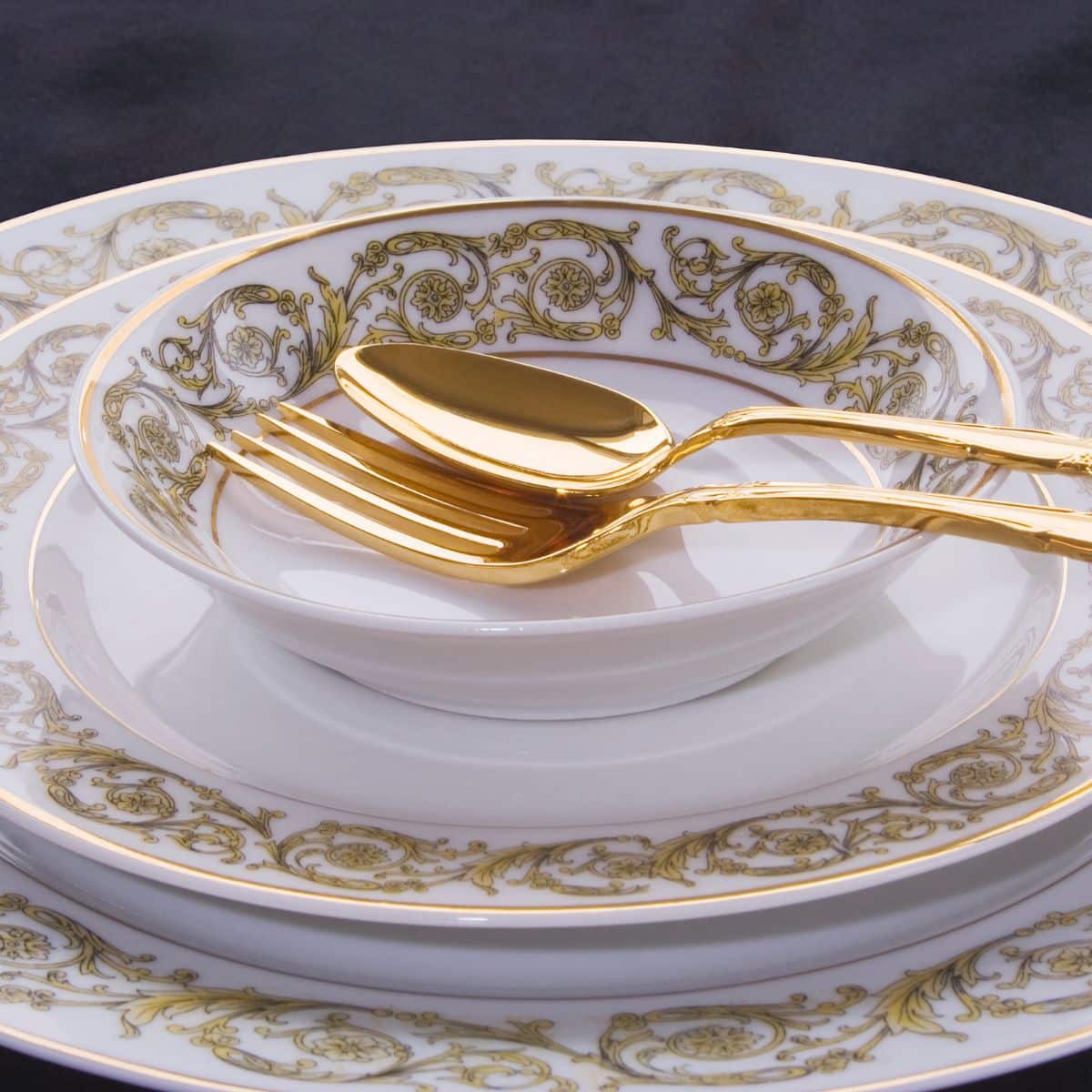 His efforts increased the amount of dinnerware that was produced and created new markets. The products were sought after in the United States. Bernardaud's company was eventually succeeded by the ownership of his sons and passed on to future generations.
We can't talk about French dish sets without also talking about Bernardaud Dinnerware patterns. Anyone who was anybody having a dinner party back in the day wanted to have these fine plates on their dinner table.
Bernardaud Dinnerware Patterns
Bernardaud Dinnerware patterns consist of several patterns of whiteware along with fine China dinnerware made of porcelain that is quite elegant. These dinnerware selections are perfect for serving your favorite French dish. They have several beautiful designs.
Bernardaud Louvre White dinnerware set is a favorite. It is simple, but stunning and ideal for French country dinnerware for a French Country Kitchen.
Bernardaud produces several traditional patterns with metallic trim which is common in fine China and adds that extra elegant touch. Bernardaud Athena Gold and Bernardaud Athena Platinum are beautiful patterns that go with just about any kind of décor.
Bringing in some colors
To add more color to the table, you might enjoy the Bernardaud Frivole pattern. Hervé Van der Straeten designed this pattern and it is quite original.
The Bernardaud Chateaubriand Blue pattern is amazing. Its floral embellishments are colorful but subtle. I usually am not too crazy about floral patterns, but I find this design to be beautiful.
For a formal occasion, the Bernardaud Constance dinnerware pattern will make a quite a statement.
I'm into heart-shaped dishes, so I can't help but mention the particular piece that I'd love to get my hands on: the Bernardaud Louvre Heart Dish. Sadly, I couldn't find a picture to show you. If you have one, please reach and I'll share it here with everyone.
Modern French Dinnerware Patterns
There are several dinnerware manufacturers who make French designs today, many of which can be found in stores like Macy's and Bloomingdale's. Some of them include:
Villeroy & Boch
Some French patterns I love from this brand are the French Garden and French Garden Green Line patterns. They also have a French Garden Modern Fruit collection that is just beautiful.
Lenox
Another brand with a lot of options is Lenox. They have the French Perle collection which comes as a 12-piece dinnerware set in white with gold trim. It has such a classic look and feel to it that screams elegance. It comes in a light blue color as well.
Then they have the French Perle Groove collection and the French Perle Scallop collection. All are very beautiful.
Juliska
Juliska has a Berry and Thread French Panel Dinnerware collection that I love. It mixes modern appeal with the classics of a French design perfectly, for a look that is timeless. For something simple but classic, consider the Puro 5-piece place setting as well.
Another great set from this manufacturer is the Le Panier. It comes as a full 16-piece dinnerware set that would look lovely on any dinner table.
Philippe Deshoulieres
Philippe Deshoulieres, founded in 1826, is a leading Limoges porcelain manufacturer and another great option for French dishes. Their Vignes dinnerware line has a beautiful vibrant blue color in its pattern, with shimmering gold vine details. It's absolutely stunning!
Bernardaud
And finally, the already-mentioned Bernardaud is a classic in French dishes, but they are still making new patterns today, too. Consider their Lourve dinner set or their Jardin Indien dinnerware collection.
Choosing French Dinnerware
French dinnerware is a popular choice for many people, and it's easy to see why. Not only are these dishes stylish, but they're also durable and easy to care for. When choosing your French dishes, there are a few things to keep in mind.
First, consider the style of your home and your personal taste. French dishes come in a variety of styles, from classic and elegant to modern and funky.
Second, think about how you'll be using the dinnerware. If you entertain often, you'll want to choose a set that includes serving pieces.
Finally, consider your budget. All dinnerware can be found at a wide range of prices, so it's important to set a realistic budget before you start shopping.
Do You Have a Favorite Dinnerware Pattern?
There are many styles of fancy dinnerware and French styles and patterns are at the top of my list. I love the way it looks elegant and sophisticated, yet still has a bit of whimsy to it. The colors are usually muted and subdued, which I find incredibly calming.
I also appreciate the attention to detail that goes into French dinnerware. Each piece is carefully crafted and designed to create a cohesive set. When I use French dinnerware, I feel like I'm dining in a luxurious restaurant, even if I'm just eating a simple meal at home. It's definitely my go-to choice when entertaining guests.
What is your favorite dinnerware pattern, and why?
A popular favorite in French designs is the French Country patterns. There are different styles and color combinations but there is something similar to each French country design that makes it fit in this category.
French Porcelain Dinnerware
We can't talk about French dinner sets without talking about classic porcelain plates and dinnerware. French porcelain is also known for being durable and chip-resistant, making it a good investment for those who entertain often.
While there are many different brands of French porcelain dinnerware available on the market, some of the most respected names include Bernardaud, Jérôme LaGasse, and Sèvres. Whether you're looking for a simple white set or something more elaborate, French porcelain dinnerware is sure to add beauty and style to your dining experience.
French Dinnerware on eBay
If you're shopping for French dinnerware, you might want to check eBay, especially if you're looking for discontinued and expired patterns.
When shopping for French dinnerware on eBay, be sure to consider the material, pattern, and style of the dishes you're interested in. With so many wonderful options to choose from, you're sure to find the perfect French dinnerware for your home. Bon appetit!
You may also look on Etsy for some unique French dinnerware.
More Dinnerware Sets You Might Like