Glass dinnerware can be quite elegant for fine dining or entertainment, or even for a casual meal at home. If you've never used glass plates before, then you are in for a treat. In past decades, it was more popular, then we saw it go out of trend for a while, and now we're seeing it make a comeback. Glassware is also preferred by many for everyday use and chefs love it too. There are actually several great dinnerware manufacturers who make great glass sets for you to choose from. And of course, you can always shop around for vintage sets, too, if you prefer.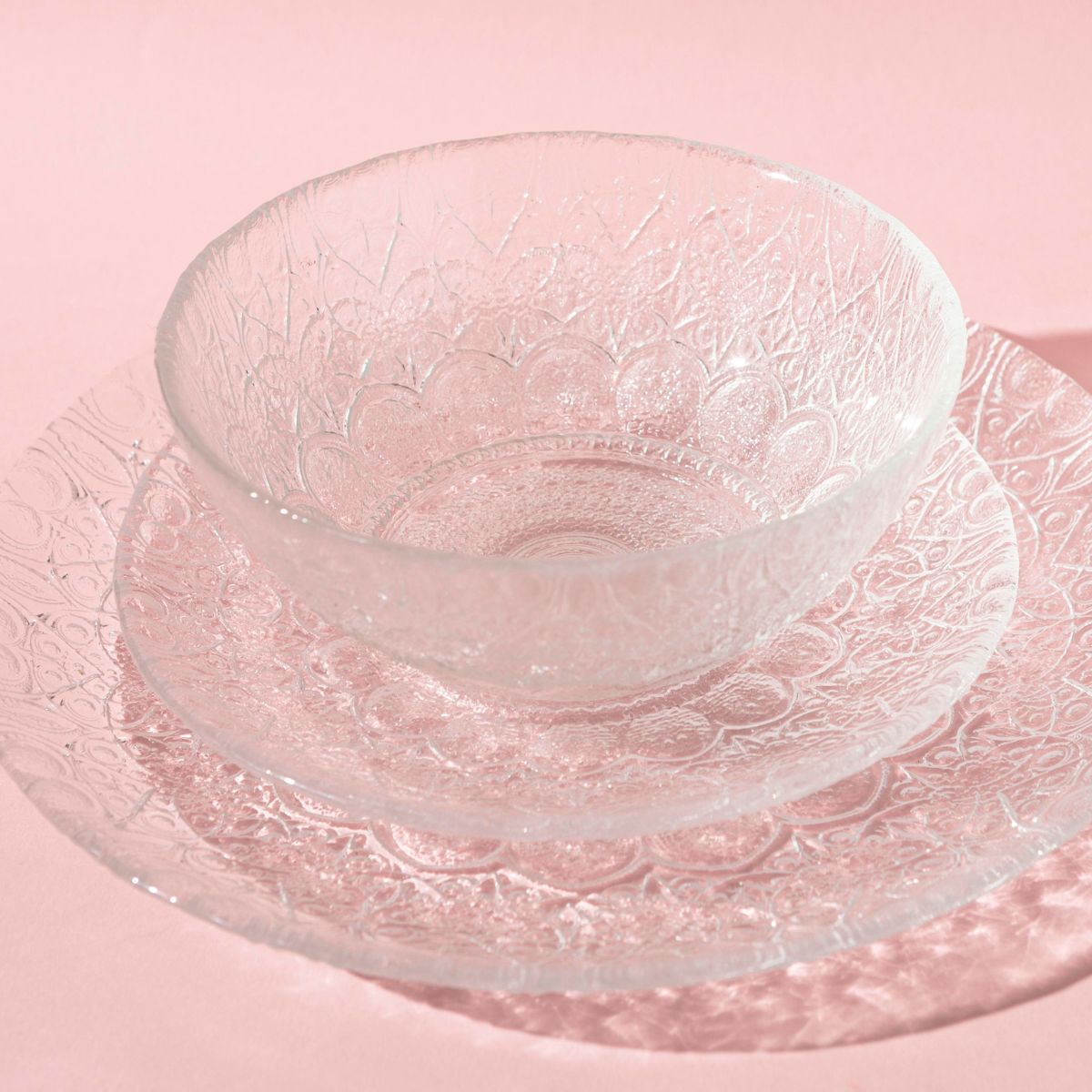 Arcoroc dinnerware is one great brand that produces dinnerware, glassware, and flatware. Williams Sonoma also has glass sets. Finnish glassware by Iittala is very unique. There are several other modern and vintage companies of glass, opal glass, tempered glass, and more. Let's explore the concept of glass plates and table settings.
Formal Dining and Entertainment
Glass table settings are often used for formal dining and entertainment settings. Colin Cowie is a world-wide renowned wedding and event planner who often chooses glassware for celebrations. He makes lovely table settings, many of which are highlighted by beautiful glass pieces. His gold-trimmed textured glass set is simply stunning, for example.
Engraved wine glasses are also great for formal dining experiences. They make wonderful gifts as well and can be personalized for added appeal. From fancy cocktail glasses to durable glass bowls, your dessert glass, or even colorful glass plates, glass dishes make a bold statement. Whether you have a formal event to decorate for, or just want your home dinner to have an extra special touch, you can consider glass dishes.
Vintage dinnerware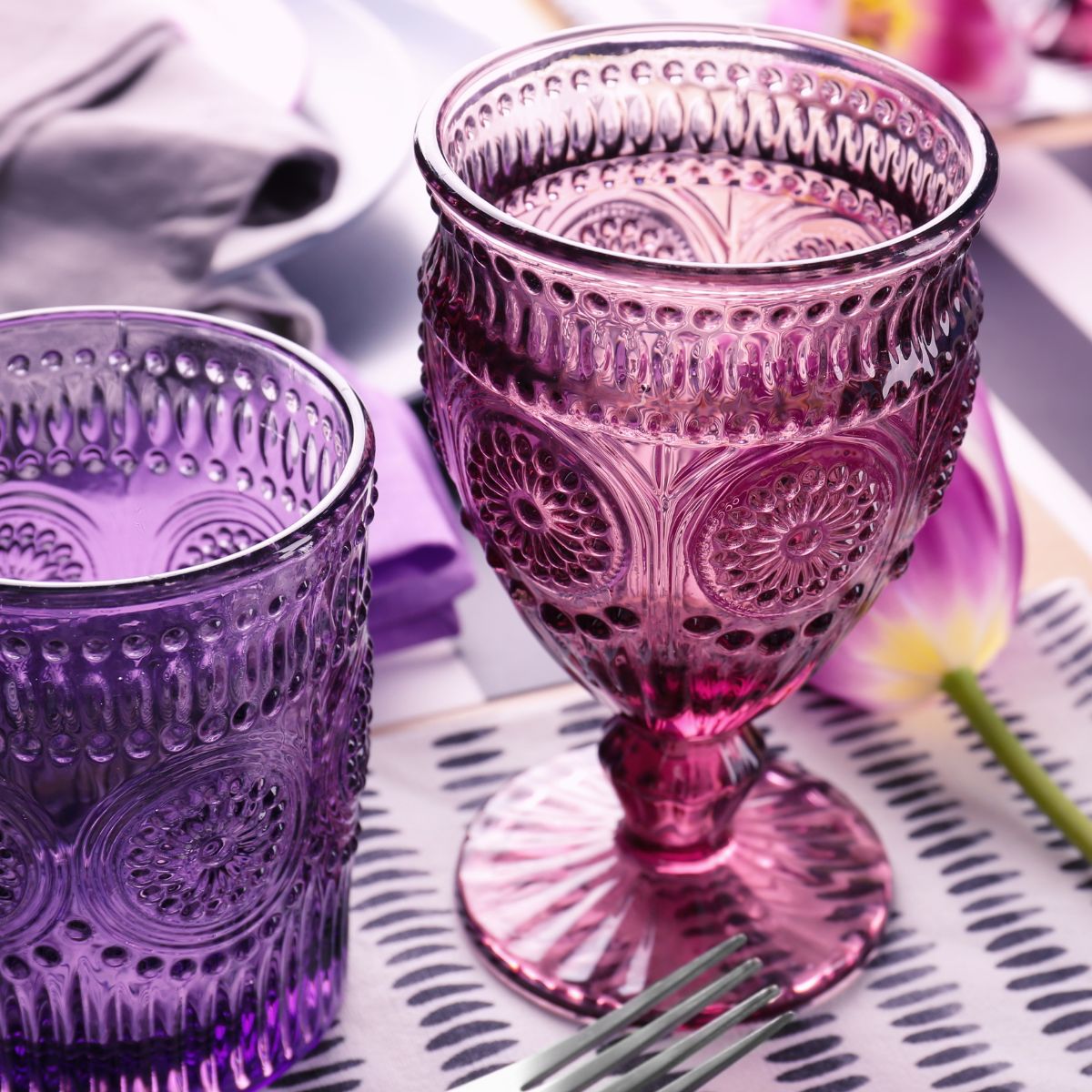 A lot of vintage dinnerware featured colored dinnerware made from glass. The Fire King brand made by Anchor-Hocking has to be my favorite. Jade-ite Restaurant Ware is without a doubt the most popular among collectors. Personally, I like the Peach Lustre dinnerware. The Rainbow pattern is also appealing.
Federal Glass Company is another producer of vintage dinnerware including depression glass which is also popular for collectors of glassware. If you are a collector, you may enjoy looking for vintage glass pieces or trying to collect complete vintage sets.
Vintage or antique glass dishware is very popular, even today. Depression glass and colored glassware are simply beautiful.
Everyday glassware
For everyday use, clear dinnerware is very trendy. Libbey Dinnerware is pretty awesome for day-to-day serving. The company manufactures both round and square dinnerware sets.
I like clear glass because it is very versatile when it comes to decorating and making seasonal table settings. You can add color to the table by using colored serve ware, a centerpiece, and a tablecloth or placemat.
Many chefs prefer white dinnerware or clear dinnerware because it doesn't compete with the food on the plate.
Corelle Dinnerware is ideal for everyday use. It is made of layers of glass that are thermally bonded and glazed for strength and durability.
Glass Dinnerware Sets
There are loads of patterns of glass dinnerware sets. For centuries, glass producers have honed in on the dinnerware industry. A lot of the patterns are collectible, especially when it comes to vintage or antique dinnerware.
Clear glass dinnerware sets
Clear glass is always a good choice because it coordinates well with other table décor without taking away from food presentation.
Colored glass sets
Colored glass dinnerware can also make a lovely table setting. Primary colors are often used in glassware to accent table settings in tableware accessories or serveware.
Modern dinnerware companies are sometimes producing dinnerware using recycled glass which fits into the trend of eco-friendly housewares.
Anchor Hocking makes the Annapolis pattern. It is a simple, but attractive pattern, and the dinnerware is made in the United States. The sets include six each of the dinnerware plates, the salad plate, and the bowl, which makes up an awesome dinnerware set that serves six.
If colored glass is your preferred choice, you should check out the dinnerware from Viva Terra. They produce some dazzling dinnerware sets of colored glass as well as sea glass dinner sets. This is a modern company that concentrates on using recycled materials in producing its products.
You can also find glass dinner sets from many companies including Gibson dinnerware, Corelle dinnerware, and Libbey.
For vintage or antique dinnerware, shopping at online auctions is your best bet. Occasionally a full set of dinnerware shows up and that is always a good find.
There are several other manufacturers that I'm sure you would love to learn about if you are looking for vintage or antique glass dinnerware sets. One of my favorite places to find vintage glassware is Etsy.
Clear Glass Dinnerware
Clear glass dinnerware is a reasonable choice to coordinate with any kitchen or dining room décor. It is versatile and can be dressed up for formal dining, or dressed down for a casual setting.
What I like about a glass dining set is that you can coordinate it with any décor to make a stunning table setting by simply changing accessories. This makes it ideal for everyday use and special dining occasions. It can also be doubled as serving dishes without taking away from the rest of the table décor.
There are many companies that produce this type of dinnerware. Libbey is probably the most popular, but you can also find amazing sets from Gibson Dinnerware, Farberware Dinnerware, and Arc International. Viva Terra is an upcoming manufacturer that produces dinnerware made from recycled glass. Their patterns are simply gorgeous.
Once upon a time, I had my kitchen decorated with kitchen accessories featuring the Pillsbury Doughboy. I could have easily gone with a blue dinnerware set, a blue and white dinnerware, or white ware, but I chose glass dinnerware because of its versatility.
I used it for everyday dinnerware and for special occasions. It was also used as holiday dinnerware. For Christmas, the table setting consisted of clear dinnerware with accessories like red glassware, green and red cloth napkins, and a holly and poinsettia centerpiece.
If you want a versatile dinnerware set, clear glass might be at the top of your choices. It can be used for casual or formal dining as well as being used for serving dishes. Pretty amazing.
Colored Glass Dinnerware
Colored glass dinnerware ranges from antique dinnerware to contemporary dinnerware, with a lot of vintage dinnerware in between. They make lovely accessories to any type of décor and can create awesome table settings. These colorful dinnerware selections from time to time become collectibles.
Collectible Glassware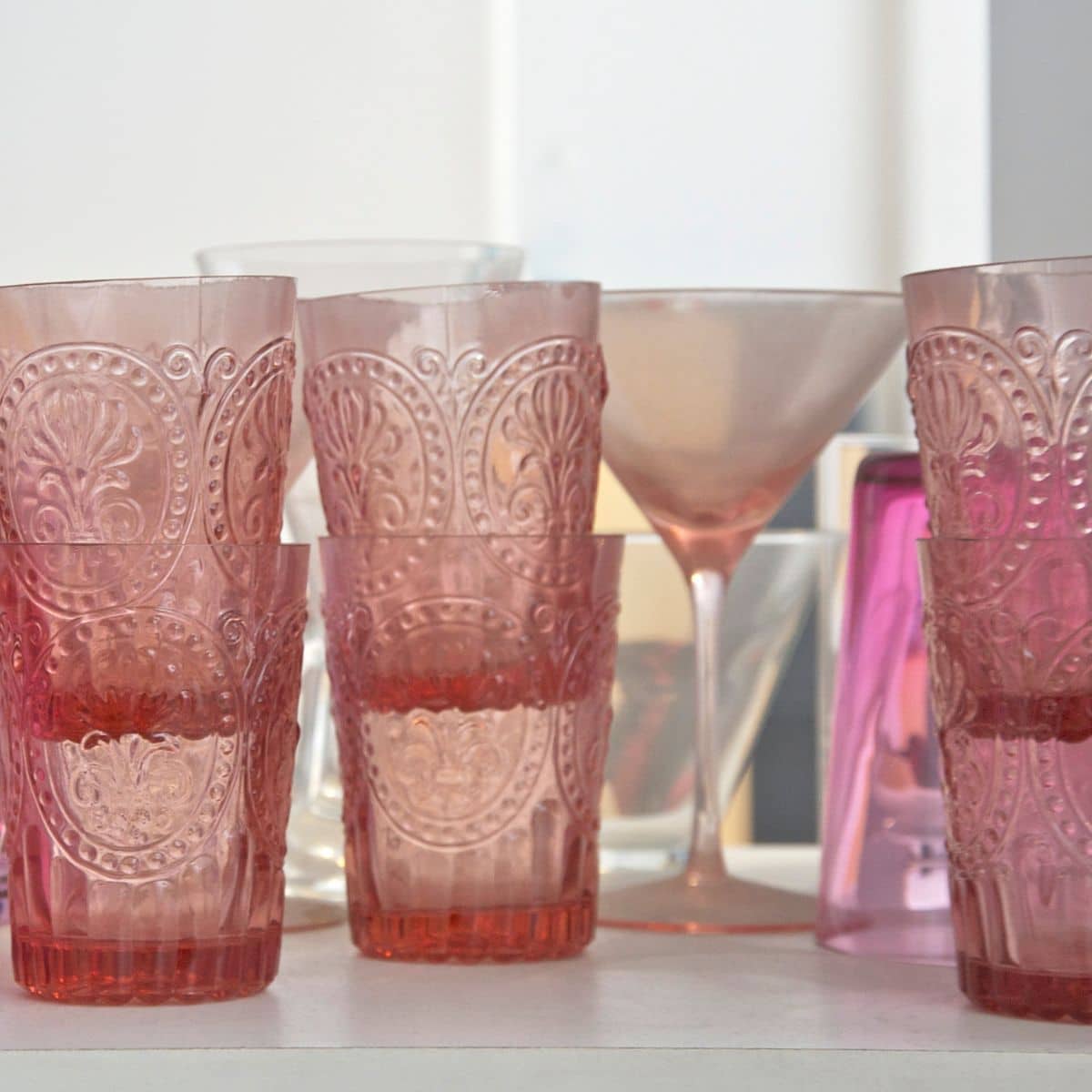 If you are interested in collecting colored or clear glass dinnerware, it is always useful to have a guide to consult for identification and value. Here are a couple of guides that can be helpful for the collector…
Some of the most popular types of collectible glassware include:
Manufacturers and/or brands of collectible glassware include:
Federal Glass Company
Fenton Glass Company
Fire King
L E Smith Glass Company
Lancaster Glass
Libbey Glassware
Macbeth Evans Glass Company
McGee Glass Company
Morgantown Glass
Paden City Glass
Tiffin Glass Company
US Glass Company
Colored glass dinnerware favorites amongst collectors include:
Amber Glassware
Amethyst Glassware
Clear Glass Dinnerware
Cobalt Blue Glassware
Green Glassware
Pink Glassware
Red Glassware
All of these get a lot of attention when it comes to antique glass dinnerware or vintage glass.
Contemporary Dinnerware
Viva Terra is an upcoming leading producer of colorful dinnerware made of recycled glass or sea glass. Their dedication to using sustainable resources in producing beautiful new products is inspiring. If you are looking for practical dinnerware sets made of colored glass, this company is well worth looking into. The choices of colors and shapes are amazing and the designs and coordinating accessories are quite unique.
Whether you are into antique glass dinnerware, vintage dinnerware, or contemporary dinnerware made of glass, I'm sure you will find these suggestions to be helpful. Personally, I love glassware as much as I love dinnerware and I have several pieces. I haven't dedicated myself to collecting one type. My house is adorned with crystal, milk glass, and Depression glass. Most of it doesn't 'match' but it is all beautiful. Some of it I use and some serve as simple decorative accessories.
Recycled Glass
If you are interested in unique dinnerware made from recycled glass, I suggest you check into the products distributed by Viva Terra. Their vision is to produce earth-friendly products using passionate artisans. The result is exceptional dinnerware that you just don't see everywhere. I think it is totally amazing.