Homemade Pizza. With sausage. Nothing better. Love, love, love this recipe. And I give you a terrific option for a gluten free crust.

Make Some Homemade Pizza on National Pizza Day (or any day).
Homemade Pizza is not as hard as it looks. It does take longer than a frozen pizza, of course, but it's so much tastier. I like pizza just about any day, don't you? February 9 is National Pizza Day. Who knew?
If you are interested in making the crust gluten free, there are two tricks to a good GF crust. I'll tell you in a minute.
Favorite Pizza Recipe
I have made this recipe many times and it is amazing every time. It's also very easy. I prefer sausage on my pizza and I use Italian sausage links. I partially freeze the sausages and then cut them into chunks when slightly frozen. It makes them easier to cut. Then I brown them in a skillet and remove the casings as I cook.
FYI, National Sausage Pizza Day is October 11 so there's your excuse to eat it that day,  but you don't need an excuse, do you?
The original recipe came from Betty Crocker's International Cookbook. If you can get your hands on one, do buy it. All the recipes are absolutely scrumptious.
Gluten Free Crust Secrets
Secret No. 1: I use my Gluten Free Dairy Free White Bread to make the crust. It is a single rise, super easy recipe, but you do need a good electric mixer. I whip it up exactly as I would for bread, spread it evenly across the oiled pan, and then let it raise for about 20-30 minutes.
Secret No. 2: It requires baking BEFORE you put your toppings on it. Fully bake it at 375°F until it is brown on the top. Take it out of the oven, add your toppings and bake it again according to the recipe below (about 18 minutes).
What You Need
For this recipe, you need measuring cups and spoons, knives, a cutting board, a big bowl, a skillet, and some kind of pan for baking the pizza. I use a jelly roll pan, but a pizza stone works well. In fact, a pizza stone is a terrific addition to any kitchen. The one below can be used on the outdoor grill, too.
.
Homemade Pizza Recipe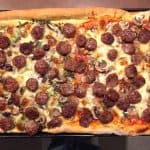 Homemade Pizza
Thick crust, sausage pizza. So tasty. Easy, but it takes about an hour to make.
Dough Rising Time
20
minutes
Ingredients
Sauce
1

15-oz can

tomato sauce

1/2

teaspoon

dried oregano

1/2

teaspoon

dried basil

1/4

teaspoon

pepper

1

medium onion

(chopped)

2

cloves

garlic

(minced)

1/2

green pepper

(chopped)
Toppings
4

Italian sausage links

(sweet)

1/2

pound

fresh button mushrooms

(sliced or 1 small can sliced mushrooms, drained and sautéd)

2

cups

shredded mozzarella cheese

1/4

cup

grated Parmesan cheese
Dough
1

package

active dry yeast

(2 1/2 teaspoons)

3/4

cup

warm water

(105 to 115F degrees)

1/2

teaspoon

sugar

1/4

teaspoon

salt

2

tablespoons

olive oil

2

cups

all-purpose flour
Instructions
Sauce
In a medium saucepan, combine onion, garlic, green pepper, basil, oregano, pepper and tomato sauce. Stir to combine.
Toppings
Slice the Italian sausages into 1/4-inch round slices. Tip: To make the sausage easier to slice, freeze it for an hour or two before slicing.

Fry the sausage coins until they are cooked through and browned on both sides. Then remove them to a separate bowl or platter.

Fry the mushrooms until browned. If using canned mushrooms, drain and dry them before frying.
Pizza Dough (See Notes for Gluten Free)
Dissolve yeast in warm water.

When it starts to bubble, add sugar, salt, oil and 1 & 3/4 cups flour (a little at a time).

Spread the remaining 1/4 cup flour onto the counter. Mix and knead the dough on this surface until smooth and elastic, about 5 minutes.

Spread dough on a greased pizza pan or jelly roll pan. (I always use a 13 x 9 jelly roll pan.)

Let the dough sit (rise) for about 20 minutes.
Putting it Together/Baking
Top the dough with the prepared sauce, followed by the sausages, mushrooms and the two cheeses. Spread everything evenly over the dough.

 Bake at 425°F until cheese is bubbly and starting to brown, and the crust is brown, about 15 to 20 minutes.
https://recipeideashop.com/homemade-pizza
Recipe Notes
Note: Substitute a gluten-free crust for the dough, and pre-bake the crust if you are using gluten free crust. Use this recipe: https://recipeideashop.com/gluten-free-white-bread/
Affiliate Disclosure: This website may contain affiliate marketing links, which means we may get paid commission on sales of those products or services we write about, including Amazon. Editorial content is not influenced by advertisers or affiliate partnerships. This disclosure is provided in accordance with the Federal Trade Commission's 16 CFR § 255.5: Guides Concerning the Use of Endorsements and Testimonials in Advertising.
Recipe Nutrition Information
This recipe is GF (optional), NF, SF*
The information shown is an estimate provided by an online nutrition calculator. It should not be considered a substitute for a professional nutritionist's advice.
You May Like These Recipes & Posts From Recipe Idea Shop
SIGN UP FOR UPDATES TO GET TIPS, RECIPES & FREE GIFTS
Trust me, you're gonna love our recipes and tips. Sign up for our email updates to get free gifts, recipes, and tips for identifying and avoiding foods that are sabotaging your health.
RATE, PIN & SHARE!
Please Rate our recipes, and Pin and Share them on social media. Comments are welcome, too!
*Allergen Key
GF = Gluten free | DF = Dairy free | NF = Nut free | SF = Soy free | EF = Egg free | CF = Corn free | V = Vegetarian | VG = Vegan
Note: If you have serious allergies or sensitivities, to be considered free of these allergens, you need to use products specifically marked "gluten free," etc. There can be cross-contamination in facilities.
This recipe was originally posted on Recipe Idea Shop March 21, 2017 and updated February 9, 2021.