Mexican Chocolate Pound Cake. Delicious. Gluten free.
Mexican Chocolate Pound Cake
Today was one of my coworker's birthdays. Last night I made her a small Mexican Chocolate Pound Cake as a birthday cake and brought it in to work today. I made one for our house, too. The recipe makes one mini loaf, enough for 4 people to have a slice. It is terrific with Chocolate Sauce or ice cream.
I made it gluten-free because I'm testing whether getting off gluten helps with my inflammation. I have read that it does help so I've been off gluten for a couple of weeks now. So far, no change in my sciatica problem. I'll keep it up awhile to give it time to work.
This is my favorite gluten free flour:
This recipe comes from Small-Batch Baking for Chocolate Lovers by Debby Maugans. It was another winner! Her recipes are delicious.
Mexican Chocolate Pound Cake Recipe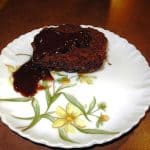 Mexican Chocolate Pound Cake
Rich, chocolate cake. Gluten free.
Ingredients
Baking spray

3

tablespoons

buttermilk

1/2

teaspoon

instant coffee

(freeze dried or espresso powder)

1/4

teaspoon

ground cinnamon

1/8

teaspoon

baking soda

1

egg

3/4

teaspoon

vanilla extract

1/3

cup

all-purpose gluten-free baking mix or flour

1

tablespoon

all-purpose gluten-free baking mix or flour

1/3

cup

sugar

1 1/2

tablespoons

unsweetened cocoa powder

1/8

teaspoon

salt

3

tablespoon

unsalted butter

(softened)

1/4

cup

sugar

1/4

cup

mini chocolate chips
https://recipeideashop.com/mexican-chocolate-pound-cake/
Instructions
Heat oven to 350F degrees.

Combine buttermilk, coffee, cinnamon, vanilla and baking soda in a small bowl. Stir well until the coffee dissolves.

Add flour, sugar, cocoa and salt and beat with a mixer on low speed about 30 seconds.

Add butter and beat for about 1 minute until everything is smooth. The mixture will be thick.

Spray a mini loaf pan (2-cup size) with baking spray. Pour the mixture into the pan and, if desired, sprinkle with sugar and mini chocolate chips.

Bake until a toothpick inserted in the center comes out clean, about 25-30 minutes.

Let cool on a rack for a few minutes and then loosen the cake from the sides and remove from pan.

Serve warm or cold. Terrific with Chocolate Sauce or ice cream.
Note: Many of the links included throughout Recipe Idea Shop are affiliate links, which means if you follow them and you buy something, we will get a small commission. It doesn't cost you a penny more, and you can still use your Amazon Prime (Shop Amazon — Give the Gift of Amazon Prime) account to buy. This posting includes affiliate links. Don and I love our Amazon Prime account.
Mexican Chocolate Pound Cake Nutrition
Want More Recipes Like This?
If you want more delicious recipes, please sign up for our free cookbook.
Pin & Share!
Please Pin and share our recipes. And tell us what you think in the comments.
You May Also Like These Recipes From Recipe Idea Shop
BEFORE YOU GO, DID YOU GRAB YOUR FREE COOKBOOK?
[mc4wp_form id="5109″]