I have a set of pinecone dinnerware and I love it. The pattern is called Pinehurst, by Narumi, a Japanese dinnerware manufacturer. It is a lovely pattern with pine cones with a hint of pink, gray pine needles, and platinum trim.
They belonged to my Grandmother and my uncle bought them for her. These fine China dishes are amazing and the matching serving dishes are very practical. I have the serving platter, the vegetable bowl, a casserole dish, the gravy boat, and the sugar bowl and cream pitcher, in addition to the standard dinnerware set pieces.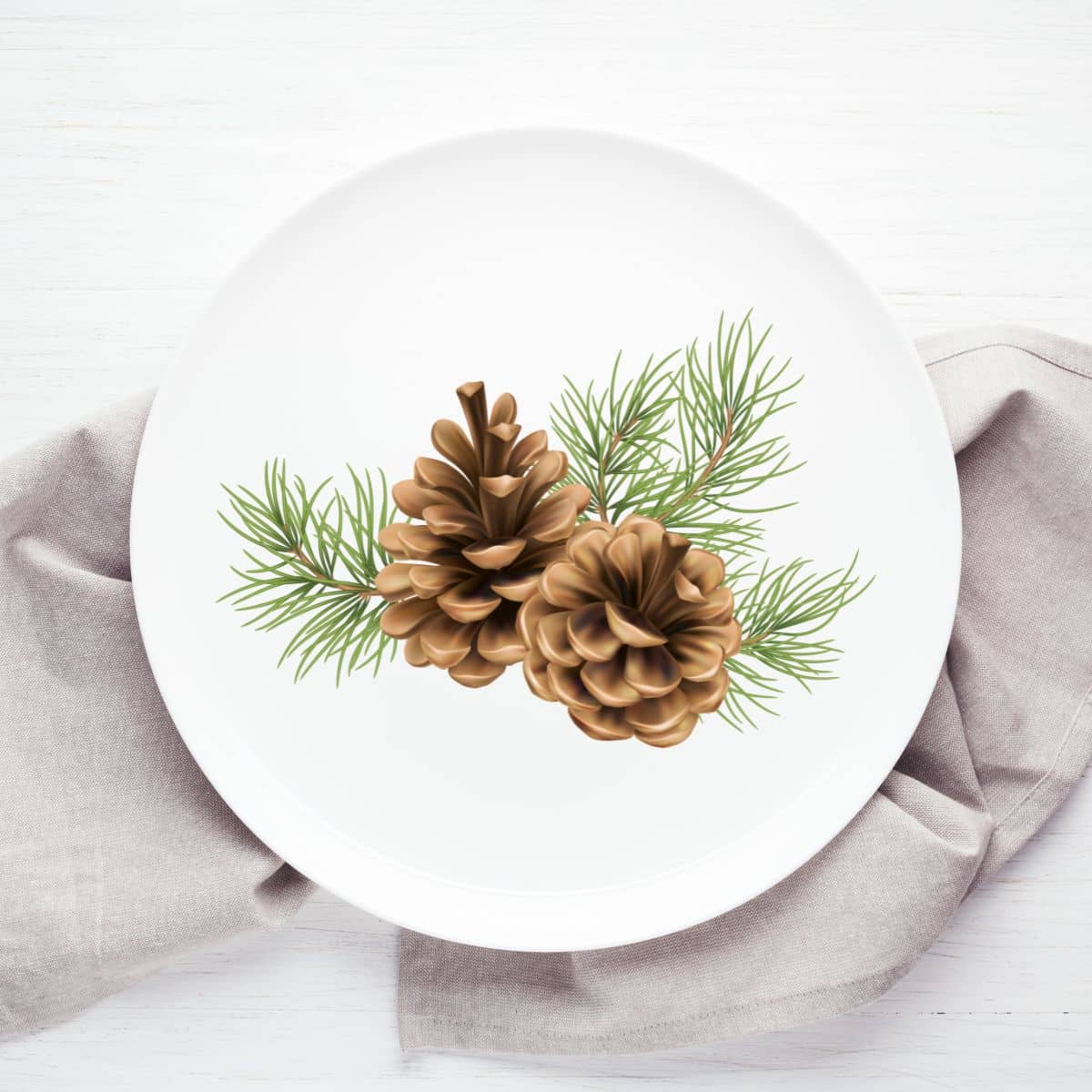 I was amazed to see that the company is still operating while researching this pattern. The company was founded in 1911 and started making western style dinnerware after World War II. Narumi has made several different patterns of pine cone dinnerware in fine China including Olympia, Pinecrest, Pinecone, Silver Pine, Monterey Pine, Shasta Pine, and Madera Pine. Personally I like Pinehurst the best, but I might be a little bit partial.
Pine Cone Dinnerware
This 16-piece dinnerware set is very nice for a lover of the outdoors. The dinnerware set consists of dinner plates, salad plates, bowls, and mugs (4 of each). The dinnerware pattern was designed by Persis Clayton Weirs, a very talented artist. It is ceramic dinnerware that is microwave and dishwasher safe.
Boston International Holiday Ceramic Salad/Serving Bowl, 9.75-Inches, Pinecones & Bells
If you're looking for pine cone bowls, this is one of my favorites. It has such a beautiful design and the bowl is large and study.
Rustic Pinecone Dinnerware Choices
If you like your dinnerware kind of rustic, you will love these selections of rustic dinnerware featuring pine cones available on Amazon right now.
Wild Wings Pinecone 16-Piece Dinnerware Set
Rustic Dinnerware Set Pinecone Ceramic 16 Piece Forest
These designs are so beautiful and the dark, rich colors make me think of winter time. The pine cones are beautiful and the whole look comes together very nicely.
12-Piece Melamine Dinnerware Set, Includes Dinner Plates, Salad Plates, Bowls, Service for 4
This full 12-piece set is made from melamine so it's very durable and won't break easy. It's a great choice for a holiday dinner when you'll have company over, especially if there are children present too. I love the beautiful design with pine cones and holly.
4-Piece 6 Inch Melamine Dessert Plates Appetizer Plates
You can also get these in just the small salad/dessert plates as a set on their own. I love these for putting cookies out for Santa for the kids during the holiday season. They're also great for using with snack trays or desserts.
Buying pinecone dinnerware
Some of the selections of dinnerware are sold in dinnerware sets, and others are sold in open stock, a piece at a time. At any rate, the links provided will take you to the retailer's site where you can view what is available. It helps if you know what you're looking for and how many pieces you need before you start. For example, if you need service for four, or six, or eight, it helps to know when you start looking. This way, you can be sure there is enough available of what you need.
Pine cone dinnerware is perfect for a country kitchen or dining area. It just goes with country and rustic decor. Most pine cone dinnerware is somewhat casual, but these precious conifer cones are used by some China manufacturers to decorate fine China.
I happen to have a set of Japanese dinnerware by Narumi called Pinehurst. It is a beautiful set of fine China with platinum trim.
Pinecone Bluff Cabin Décor
The sets of rustic dinnerware that display pinecones are adorable to me, the more rustic the better. They are ideal for use as cabin dinnerware. I can totally see a cabin in the mountains with a huge family table and a small kitchen and living area decorated with a pinecone theme.
In the kitchen, a canister set, spoon rest, utensil crock, potholders, and dish towels will make the kitchen beautiful and practical for cooking. By adding some cast iron skillets and some coordinating cookware, the cabin kitchen will be a homemakers dream.
I think this style is amazing and would be great for decorating a cabin or a country kitchen. It's rustic and charming. Here are some pine cone accessories that might work for this theme:
Pinecone Embroidered Table Runner, Farmhouse Christmas Decor
This beautiful table runner will go perfectly with your pine cone dinner set. It can really tie the whole theme together.
4 Pieces Christmas Pine Cone Flameless LED Candles
There are so many things you can do with these flame-less LED candles. I built a table centerpiece with them and it looks so great with the pine-cone dinnerware.
Pinecone Metal Sign Home Wall Décor 12'' Diameter
This beautiful metal sign can be hung in your kitchen or dining room to help tie together the whole look.
DEI Country Pinecone Toilet Paper Holder Wall Mount
This toilet paper hold will help ring in the fall and winter season and also goes great for a guest bathroom or powder room off the dining room area.
White Pumpkins Pinecones Berries Fall Foliage Garland
This foliage garland is so pretty and you can do so many things with it. I love the flexibility and creativeness. You can use it with the LED pine cones too and make a centerpiece, or you can hang it from the wall.
DII Kitchen Textile Collection, Potholder & Dishtowel Gift Set, Pine Cone Sprig, 2 Piece
This beautiful set of kitchen dish towel and pot holder will go great with your pine dishes, too.
BLACK FOREST DECOR Woodland Pinecone Paper Towel Holder
Here's a paper towel holder to bring the whole theme together in your kitchen.
Pinecone Wall Clock Welcome Wood Clock 10 Silent Non-Ticking Quart
And you'll always know if it's time to eat with this rustic pine cone clock. I love the greens and browns in it, the large numbers so it's easy to see, and the image of the pine cones and needles in the center.
If you want some more ideas, check out my other pages about rustic dinnerware, cabin dinnerware, and country dinnerware. I'm sure you will find something you like!
Other Themed Dinnerware