Pink dinnerware sets are very versatile, ranging from modest and beautiful to bright and fiery. It can help create a romantic table setting or a fun, carefree kitchen. Decorating in pink can be an awesome experience. If pink is your favorite color or a color that you enjoy, then you'll love these ideas I've put together.
Whether you prefer pink roses and lace, fun-filled pink polka dots, pink depression glass, or bright pink floral patterns, there are plates and bowls, and other dinnerware items with what you need.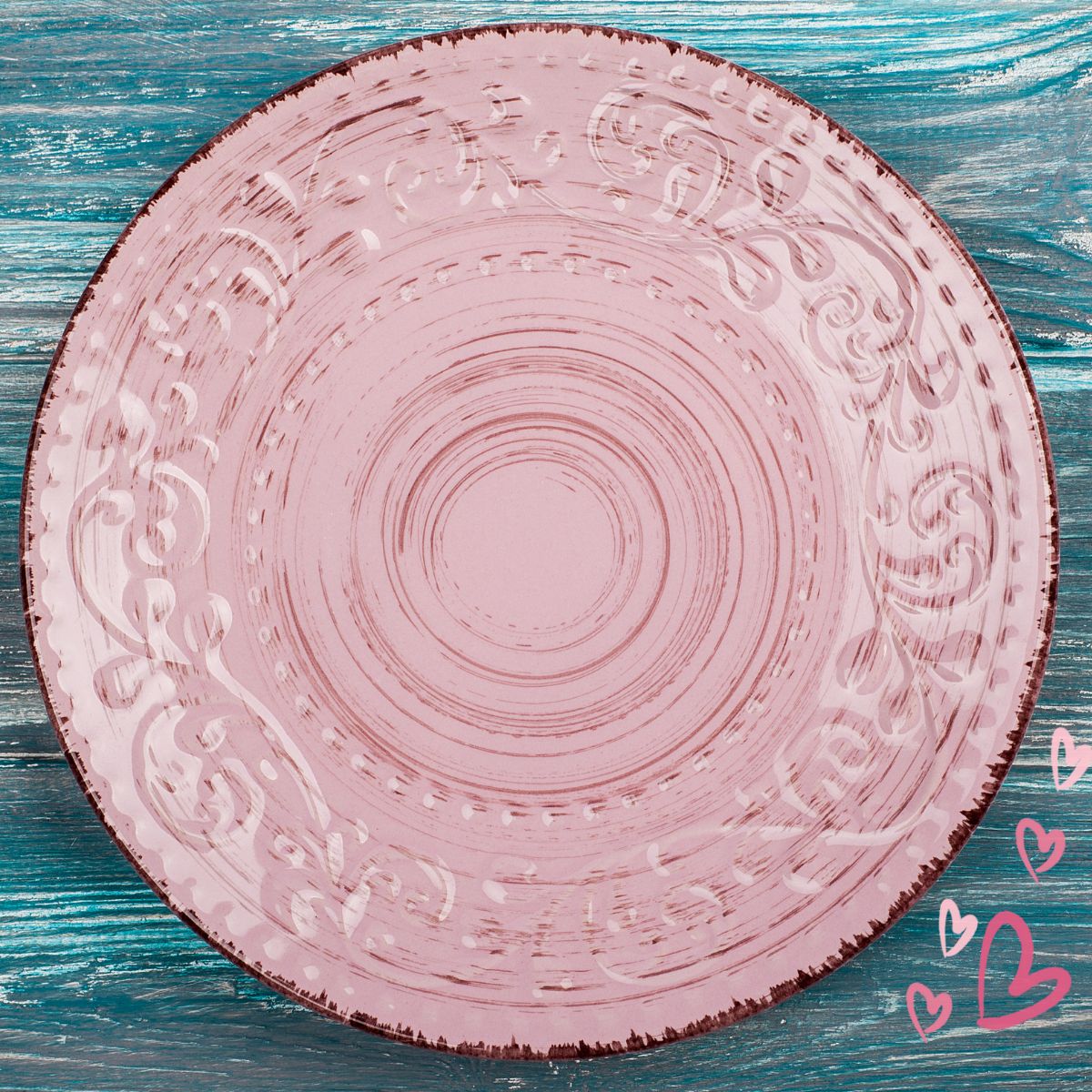 The options are endless when it comes to decorating a kitchen or dining room with pink dishes and other accessories. I have even decorated my bedroom with pink roses and found awesome antique plates, bowls, and teapots with delicate roses on them for wall hangings and dresser décor. It definitely pays to let your imagination get away with you when using pink as a décor theme.
Pink Dinnerware Sets
Whether you're hosting an afternoon tea party or a dreamy romantic dinner, pink dinnerware is the perfect way to add soft sophistication and pink power to your dining experience.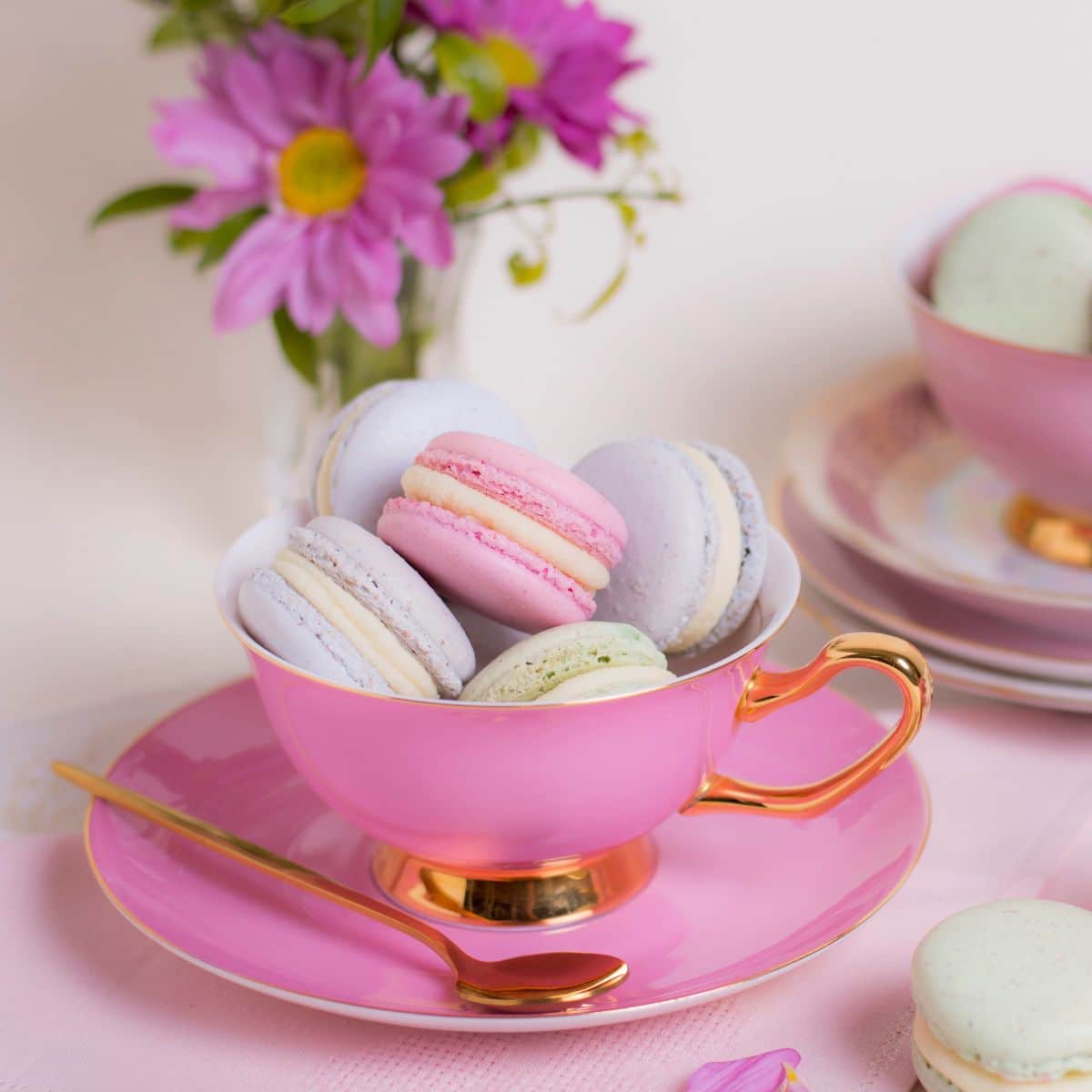 From traditional pink roses with elegant gold detailing to modern pinks swirled with chic silver, pink dinnerware can enliven any atmosphere. With both casual styles and sophisticated settings, pink dinnerware makes every meal a stylish affair.
Whether it's a small gathering of close friends or a family reunion, make your next dining affair truly exquisite by selecting pink dinnerware today!
Here are some pink dinner sets available on Amazon right now.
Royal Albert Cheeky Pink 5-Piece Place Setting
The Royal Albert Cheeky 5-Piece Setting is a stunning dinner set that exudes elegance and luxury. The design of this set is absolutely gorgeous, with a delicate floral pattern in shades of pink.
The intricate detailing of the pattern is simply breathtaking, and the gold accents on the edges add a touch of opulence and refinement to the overall aesthetic.
Gibson Home Round Stoneware Rockaway Dinnerware Set
I love Gibson and find their dinnerware sets to be affordable and durable. Whether you're looking for a plate that fits with a pink theme or simply stands out from the pack, this pink plate is here to make your table setting shine.
Check out my Gibson dinnerware page for more ideas.
Stone Lain 16 Pieces Pink Stoneware Dinnerware Set
This is a more muted shade of pink and it's made in high-quality stoneware that's made to last. This is a beautiful 16-piece set so there's plenty for everyone to enjoy.
HomeVss Stoneware Two-Tone Colors
If you like a bolder and more modern design, then you'll probably love this set as much as I do. It's two-toned - black with dark pink. Not only does the plate add vibrancy and style, but it's well-made, too.
Pearl Dots Pink Stoneware Dinnerware Set
Here's another pink set in a very nice shade, and the pearl dots add another element to it with a nice dimension. This set is perfect for everyday use, special occasions, a tea party with the ladies, and more.
Extra Large Unbreakable Pasta Plates
When you want some extra large pink plates, consider these. They are a beautiful shade of pink and a full 11 inches in size! They're made from unbreakable material, which also makes them a great investment.
6 Pack Pink Marble Ceramic Plates
This set of pink plates is not quite as large as the one above but at 10 inches, is still an impressive size. What I love about this one is the swirl pattern inside. It makes me think of strawberry cheesecake. Yum!
Pink Kitchen Accessories
Excited about getting some pink plates and dinnerware? You're probably going to want some nice accessories to match your pink plates, too. Here are some in different shades of pink that you might like.
DII Gingham Check Kitchen Collection, Pink, Dishtowel Set
This cute gingham dish towel set is perfect for pink kitchen décor. You can hang all three up or just use one at a time. They also go well with a cottage theme or a country living décor.
KitchenAid Albany Kitchen Towel 4-Pack Set, Dried Rose/White, 16"x26"
KitchenAid makes great products and I love their hand towels because they are very durable. They don't fall apart after a few washes, and I wash my kitchen towels a lot. I love the colors on this 4-pack.
Pranski Kitchen Utensils Set-12 Pieces Silicone Cooking Utensils Set
When you want a pop of pink all over your kitchen, consider this 12-piece utensil set. It comes with all the tools you use regularly in the kitchen.
Pink Salt and Pepper Shakers Set
These cute salt and pepper shakers would look great on the table with your pink dinnerware. I call this shade bubblegum pink and it's one of my favorites.
A lot of the dinnerware you find today in pink has a modern design theme. A lot of the vintage pinks had flowers and things on the patterns, too. Many of the modern designs are simpler and sleeker.
Modern Dinnerware in Pink
Pink dinnerware options are endless when it comes to modern dinnerware. There are so many patterns available that I couldn't possibly list them all. However, I have compiled some great sets for you to start with.
If any of the ones you are interested in are currently discontinued, you can shop for them online on Etsy or eBay, in collectors' groups, and also on Replacements.com.
Just to give you some ideas, when searching for dinnerware, some things that I found in pink included the following patterns:
Old Britain Castles by Johnson Brothers
Sophie Conran Pink by Portmeirion
Polka Dots by Terramoto Ceramic
Spring Pink by Corelle Dinnerware
New Country Roses by Royal Albert
Cherry Blossom by Corelle Dinnerware
Pink Garland by Caleca
Pink Cat by Kafuh
Flamingo in the Fiesta Dinnerware brand
Cherry Blossom by 222 Fifth
Butterfly Meadow by Lenox
Lady Carlyle by Royal Albert
Desert Rose by Franciscan Dinnerware
These are just a few of the patterns that you find in modern dinnerware. I see a lot of potential with the Pale Pink pattern by Pfaltzgraff. It is kind of plain in a pretty shade of pink. And of course, a lot of vintage and antique sets used these colors, too.
See more ideas from the Pfaltzgraff dinnerware collection, including this gorgeous Pink Flamingo dinnerware set.
Vintage or Antique Dinner Sets in Pink
When searching for a pink vintage or antique dinnerware I really found some awesome dishes. The choices in pink glassware were astounding. From dinnerware sets in pink depression glass to serving dishes in pink glass, I found all of the dishes to be stunning.
There were a lot of floral patterns from delicate to bold and beautiful. Back when I was decorating in pink, pink roses caught my eye.
Over the years there have been patterns that featured pink roses to choose from for antique or vintage décor.
I ended up decorating my bedroom in pink and green with tons of lace décor surrounding dishes with large and tiny pink roses on them. It was really picturesque and fitting for an awesomely decorated bedroom.
What about you? Do you have any pink dishes?