Sweet fried (or baked) plantains become Plátanos Maduros or Dulces de Plátanos so easily. These are the plantains you dream about when you go to a Cuban or Caribbean restaurant. In Costa Rica, they are often served with Tico Tipical (typical Costa Rican meal).
Here's a simple dessert idea for Valentine's Day! Plátanos Maduros. Don't they look amazing? Bananas and plantains get sweeter as they ripen. Last week I told you how to make Patacones Mini Tostadas, which are made from green plantains. (Patacones are not sweet.)
Like bananas, plantains are hard (starchy) and mostly tasteless if you eat them when they are green (unless you cook them). But very ripe plantains get soft and sweet, and the skin turns black as they ripen. The same thing happens to bananas. The flavor is enhanced and the nutrition remains the same. That's why people use bananas in smoothies.
This Plátanos Maduros recipe takes about 10 minutes and uses 3 simple ingredients. No sugar is necessary. They look beautiful on the plate and taste so deliciously sweet and good you will wish you had more.
Here's What Plantains Look Like
In the store, you will usually find green or yellow plantains. Buy them green if you want to make Patacones. Take the yellow or black ones if you are ready to make Plátanos Maduros. And if your green plantains get black, now you know what to do with them!
WHAT YOU NEED
For tools, you need a sharp knife and a nonstick frying pan. That's it. For the recipe, you need ripe plantains, a little vegetable or canola oil, and a little butter (optional if you need dairy-free). You can add cinnamon or sugar if you like a different flavor, but neither is necessary.
Plátanos Maduros Recipe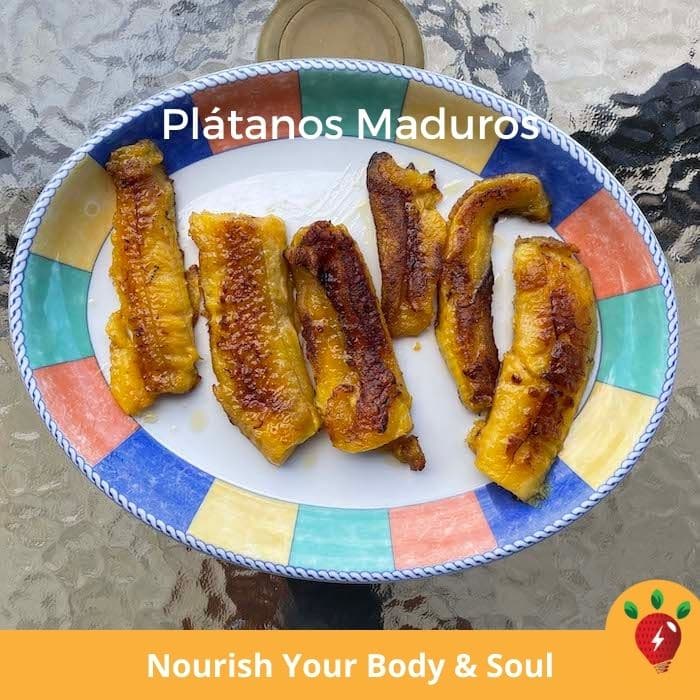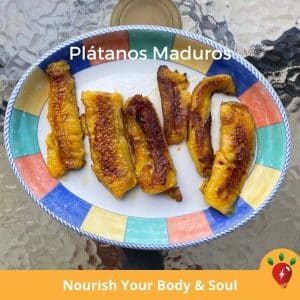 Plátanos Maduros
Sweet fried plantains make an amazingly simple dessert
Ingredients
1

large ripe plantain

1

tablespoon

canola oil

or other vegetable oil

1

tablespoon

butter
Instructions
Peel the plantain.

Slice the flesh of the plantain into strips about ⅛ inch wide and 2-3 inches long.

Heat the oil and butter over medium to medium-high heat in a nonstick skillet until hot.

Lay the plantain strips in the hot oil and cook until they are turning brown, about 3-4 minutes. Turn the strips over and continue sautéing until the second side is brown.

Serve hot or at room temperature.
Notes
Note: You can sprinkle the plantains with a little sugar and cinnamon if you like.
Recipe Nutrition Information
This recipe is GF, DF (leave out butter), NF, SF, EF, CF, V, VG (leave out butter)*
The information shown is an estimate provided by an online nutrition calculator. It should not be considered a substitute for a professional nutritionist's advice.
Nourish Your Body & Soul
I encourage you to care of yourself by eating satisfying, nourishing food that is good for your body and makes you feel healthy. Protect your spirit by living authentically, moving your body, and taking time to replenish and rest. I think you might also like these recipes & posts from Recipe Idea Shop:
Rate, Pin & Share!
Please Rate our recipes and posts, and Pin and Share them on social media. Comments are welcome, too!
*Allergen Key
GF = Gluten free | DF = Dairy free | NF = Nut free | SF = Soy free | EF = Egg free | CF = Corn free | V = Vegetarian | VG = Vegan
Note: If you have serious allergies or sensitivities, to be considered free of these allergens, you need to use products specifically marked "gluten free," etc. There can be cross-contamination in facilities.