The Poached Pears Recipe is simple, and the results are scrumptious and sexy. How can food be sexy? It's how it makes you feel.
This Poached Pears Recipe will make you feel like a chef.
Don't these Poached Pears look amazing? Who wouldn't want to eat them? I'm happy that fall is here so we can buy delicious, local pears. It's pear season. You can use Bartlett pears or Bosch pears. Both are excellent for poaching.
This recipe is just a bit more hands-on than our Baked Pears in Courvoisier Cream because you cook it on top of the stove. Both recipes are terrific. But this Poached Pears recipe is not only delicious, but it's also stunning, don't you agree? And did I mention easy? You can easily impress your dinner guests if you flambé it at the table. We don't bother with that part, but you might enjoy the dramatics.
What You Need
For this recipe, you will need a paring knife, cutting board, measuring cups and spoons, and a good, heavy-bottomed saucepan. Do yourself a favor and buy the best you can afford. You also need cinnamon sticks.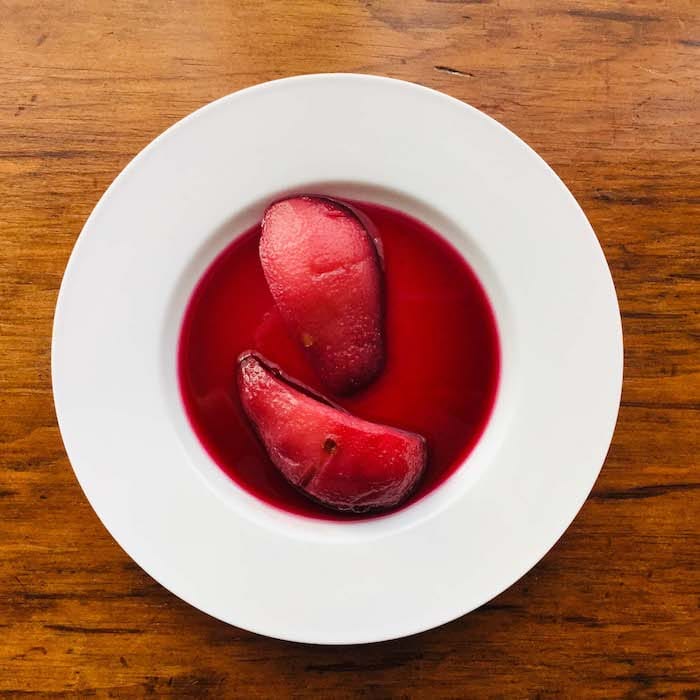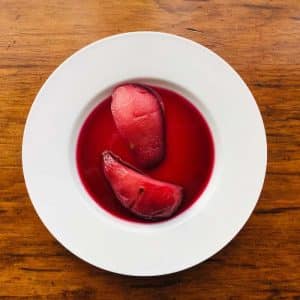 Poached Pears Recipe
Pears cooked to perfection on top of the stove in a beautiful red wine sauce.
Ingredients
2

whole

fresh pears

(ripe, but not soft)

2

teaspoons

lemon juice

1

cup

red wine

(can be dry or slightly sweet)

½

cup

sugar

1

3-inch piece

stick cinnamon

1

2-inch piece

lemon peel

2

tablespoons

rum or brandy

(optional, for flambé)
Instructions
Peel the pears and cut them in quarters. Remove the core.

Sprinkle the pears with the lemon juice to prevent browning while you make the sauce. Set them aside.

In a heavy bottomed saucepan to make the sauce, combine the wine, sugar, cinnamon stick, and lemon peel. Stir to make sure the sugar is dissolved.

Bring the sauce to a boil over medium heat, stirring constantly.

Add the pear slices a few at a time to the sauce. Cook gently until tender, about 10-15 minutes, depending on how ripe your pears are. Repeat this process until all the pears are cooked.

Remove the pears to a serving dish or to individual flat bowls and set aside.

Continue cooking the sauce until it is reduced by half of the original quantity.

When the sauce is reduced, pour the sauce over the pears and chill for at least one hour.

If you would like to create a show for your guests, when serving, pour the liquor over the pears and set it on fire (flambé) tableside. It will look spectacular and burn out quickly.
https://recipeideashop.com/poached-pears-recipe
Recipe Nutrition Information
The information shown is an estimate provided by an online nutrition calculator. It should not be considered a substitute for a professional nutritionist's advice.
This recipe is GF, DF, NF, SF, EF, CF, V, VG*
You May Also Like These Recipes
RATE, PIN & SHARE!
Please Rate our recipes, and Pin and Share them on social media. Comments are welcome, too!
*Allergen Key
GF = Gluten free | DF = Dairy free | NF = Nut free | SF = Soy free | EF = Egg free | CF = Corn free | V = Vegetarian | VG = Vegan
Note: If you have serious allergies or sensitivities, to be considered free of these allergens, you need to use products specifically marked "gluten free," etc. There can be cross-contamination in facilities.