Scalloped Potatoes with Ground Thyme. Oh, such an improvement on plain old potatoes. So delicious!
Scalloped Potatoes with Ground Thyme entices your tastebuds with a hint of thyme.
Hi. It's Lois in the kitchen with Recipe Idea Shop. Scalloped Potatoes with Thyme are very inviting in the fall or winter when the weather is cool and crisp and a warm oven makes everything better. They are a perfect side dish for the holidays or anytime (in my humble opinion). We make them on the grill in the summer, too.
So last week I was hungry for Scalloped Potatoes with Ground Thyme and I made some on Thursday. I paired them with some Cuban Pork that I froze the last time we had it. Great meal! I just discovered that I never put the Cuban Pork recipe up, so I will have to do that. There's always so much to do, isn't there?
Great Side Dish, Many Ways
I think Scalloped Potatoes with Ground Thyme is my favorite way to have Scalloped Potatoes, but I love them just about any way they are made. Some variations include caramelized onions, loads of cheddar cheese, bacon, ham, or all of these. They are all yummy.
Don likes his Scalloped Potatoes a bit soupy (thin sauce); I like the sauce to be thickened. Some recipes call for a little flour or cornstarch to thicken the sauce, but if you use really waxy potatoes, such as Yukon Gold or red potatoes, the sauce will thicken naturally. This recipe produces a somewhat thin sauce.
If You Like Caramelized Onions
Try making them in a slow cooker or Instant Pot. You can make a whole pot of them and freeze them into small packages for later use. Or use them now in French Onion Soup!
Check out the recipe…
Scalloped Potatoes with Ground Thyme Recipe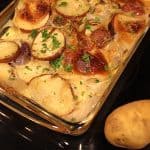 Scalloped Potatoes with Ground Thyme
Creamy potatoes with a hint of thyme.
Ingredients
1

tablespoon

softened butter

6-8

small potatoes

(Red Potatoes or Yukon Gold are best)

1

onion

2

cloves

garlic

minced

1/4

teaspoon

ground thyme

1/2

teaspoon

salt

1/8

teaspoon

pepper

1

cup

milk

1/4

cup

cream
Instructions
Distribute the butter evenly over the inside of a 9" x 13" glass baking dish.

Wash and thinly slice the potatoes and place them in the baking dish. No need to peel them.

Cut the onion in half and thinly slice them.

Put the onion over the potatoes.

Pour in the milk.

Pour in the cream.

Sprinkle the minced garlic, thyme, salt and pepper over the potato mixture.

Bake in a 350F degree oven for about one hour, or until potatoes are tender, and the top of the casserole is browning slightly.
https://recipeideashop.com/scalloped-potatoes-with-ground-thyme/
Note: Many of the links included throughout Recipe Idea Shop are affiliate links, which means if you follow them and you buy something, we will get a small commission. It doesn't cost you a penny more, and you can still use your Amazon Prime (Shop Amazon — Give the Gift of Amazon Prime) account to buy. This posting includes affiliate links. Don and I love our Amazon Prime account.
Scalloped Potatoes with Ground Thyme Nutrition
Want More Recipes Like This?
If you want more delicious recipes, please sign up for our free cookbook.
Pin & Share!
Please Pin and share our recipes. And tell us what you think in the comments.
You May Also Like These Recipes From Recipe Idea Shop
BEFORE YOU GO, DID YOU GRAB YOUR FREE COOKBOOK?
[mc4wp_form id="5109″]