Stainless steel dinnerware, tinware, and all modern enamel dinnerware are often used as outdoor dinnerware and all of the above is phenomenal for camping dinnerware. You may not think about it on the day-to-day but you won't typically take your fancy tableware with you out camping.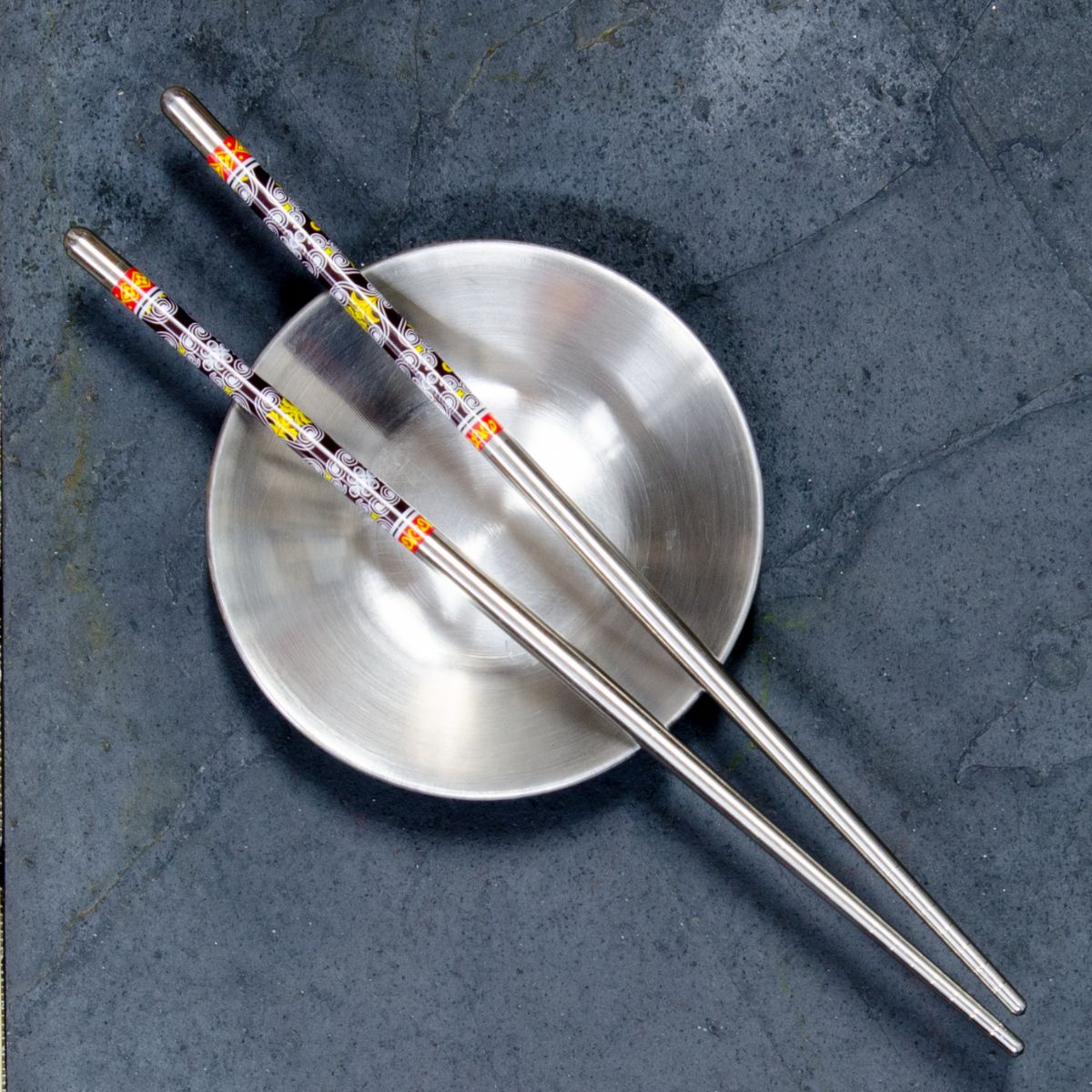 We often see these materials in mess kits for campers, soldiers, and so forth. They are ideal for campers and outdoorsy people. You can also find some fancier steel dinnerware that is used for serving "proper" meals as I have run across butter dishes and gravy boats made of this material - dishes that you would rarely use as outdoor dinnerware. Let's look into this further. Is it safe to eat on stainless steel?
Food Grade Stainless Steel
Yes, when food-grade stainless steel is used, it's perfectly safe to eat on. You may already be familiar with it if you spent a lot of time camping and outdoors. But if not, then you may have some questions about this dinnerware and how to use it.
Most people won't find a stainless steel dinnerware set to be very attractive visually. It is usually formed in divided food trays that are not decorated at all because they are intended for picnics or outdoor dining. While they may not be visually appealing, they are very practical for their intended use. They are durable, so packing them along won't be a problem. Furthermore, they are easy to clean and reuse. At one time, they were used frequently in cafeterias because of their durability and utility.
You might be able to find stainless steel plates, a stainless steel bowl, or even a full set of food-grade steel dinnerware. They've actually come a long way over the years, so there are more options now than ever before.
Looking for pretty dinnerware sets? Here are a few ideas:
Enamel Dinnerware/ Enamelware
Enamel dinnerware (i.e. enamelware) is very popular from vintage enamelware to modern camping dishes. Enamelware is basically metal dishes (usually aluminum or stainless steel) that are covered with a porcelain enamel finish.
Enamelware has been around for a long time; however, in the 1900s the recognition of its usefulness grew. These tough dishes are very versatile and can be used for serving and some cookware is even made of the material because of its great heat conductive capability.
The smoothness of enamelware makes it stain-resistant and easy to clean which is a must on a camping trip. Coleman, the leading manufacturer of camping gear, realized the quality of stainless steel and enamelware in their production of camping cookware and enamelware dinnerware.
Baby and toddler dishes
In the past, enamel dinnerware was also used to make baby plates and toddler dinnerware. You could get a matching baby cup and baby bowl, or even a full set of tableware for your baby or toddler in an unbreakable material.
Some people today worry about harmful chemicals because in the past we didn't have the same safety requirements we do today. For example, we used to not know that lead in dinnerware could be dangerous to our health.
As a result, I wouldn't recommend using vintage baby dishes with an actual baby or child, just in case. But modern dinnerware would be safe.
Tinware
Tinware is another form of unbreakable dishes that are often used in outdoor adventures. Vintage and antique tinware is also a favorite of collectors. It dates back to the 1800s in the United States, although it was available in other countries in the middle ages.
Antique dishes made of metal may be subject to rusting; however, modern production minimizes that somewhat with stainless steel being less subject to corrosion.
Aluminum and titanium also have corrosion resistance. If you are using enamelware and the coating chips, repair of the chip may be necessary to prevent corrosion and keep the dish food safe.
Shopping for Stainless Steel Dinnerware
If you're in the market for this type of dinnerware, what are some things you should know?
Well, first, know what you intend to use it for. This will greatly help you when it comes to picking the right set. If it's going to be for camping only, you may want something more compact, for example, or that is easy to travel with.
If you're using it outside at your own home, you may want larger plates, or plates with curved edges that keep food better than a regular flat plate. Again, knowing how you plan to use the dinnerware is a great first step.
You should also think about how much dinnerware you're going to need. How many people will need to eat on it at once? Will you have access to resources to wash it? These are things to consider, too.
And finally, budget is a consideration when shopping, too. When you do your shopping online, you can filter by prices, which is really helpful when you're trying to stick to a specific budget.
Stainless steel dinnerware on Amazon
One place that I love to shop for stainless steel dinnerware is Amazon. There's more selection here than I usually find in my local stores and it's easier to compare it all online in one place. Here are some great pieces and sets you can find on Amazon.
Sumerflos 304 (18/8) Stainless Steel Dinner Plates, 10" Round Salad Plates
These beautiful, large plates are perfect for dining in the backyard, and for holidays when people usually love to pile on their plates. They are easy to clean and they will last forever.
Nicesh 7.64 Inch Stainless Steel Round Plate, Dinner Plate Dish, Pack of 6
These simple, but effective, stainless steel plates are dipped at the edges so they can also be used as shallow bowls. You can eat soups or things with sauces on these, too. There's nothing fancy about the looks of them - they even remind me of pet food bowls - but they are durable, easy to clean, and affordable.
Korean Stainless Steel Divided Plates by KS&E
These remind me of meal versions of the trays we used in school. But these compartment plates are great for camping, picnics, and for feeding children who often don't like their food to touch on the plate.
COTOM Stainless Steel Camping Plates Cups and Bowls set
This is a perfect dinnerware set for camping because, well, it was made for just that! It even has a handy bag for carrying it all in. You can store your dishes when you're not using them and they will easily fit in a camping bag or backpack, too. It's all stainless steel, easy to clean, and very convenient to take with you.
Final Thoughts
Stainless steel dinnerware is not only eye-catching but also highly durable and practical. It is a great choice for busy homes since it is dishwasher-safe and designed to last for many years. Stainless steel dinnerware is perfect for the family who enjoys entertaining in style without sacrificing quality and ease of use.
Whether you are looking for sleek modern designs or classic shapes, there is something available to fit your needs and budget. Shopping for stainless steel dinnerware can turn your dining table into a work of art. It makes dinners a unique and enjoyable experience of their own!