Sunflower dinnerware can be used as a central theme or as an added touch to a country kitchen. Depending on your taste and style, you may want everything in the kitchen or dining room adorned with sunflowers. The more subtle approach uses this beautiful flower to complement the rest of the décor rather than making it 'the main event.'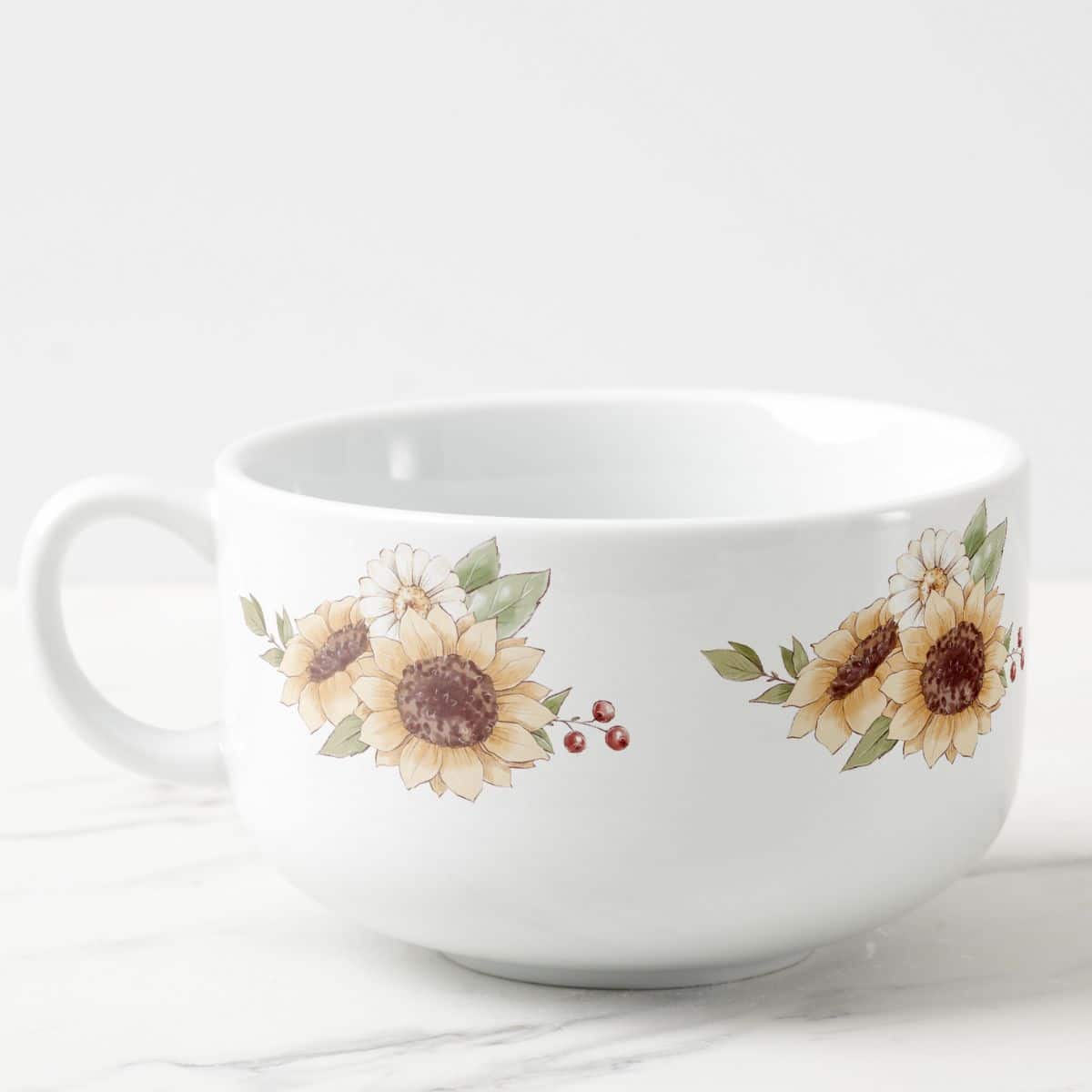 I have often seen country dinnerware that has sunflowers in the background. I like this approach because the sunflowers aren't overwhelming, but they are a lovely accent to play upon by putting a bouquet of sunflowers in a rustic tin vase or pitcher.
Sunflowers and rooster décor often go along with rustic dinnerware, which is one of my favorites, and they fit nicely into a French country kitchen.
On the other hand, some people love sunflowers and want to make them the central theme of their kitchen decor. At any rate, I'm sure you will find the selections of casual dinnerware sets adorned with sunflowers delightful.
Sunflower Dinnerware Sets
Sunflower dinnerware is a beautiful and whimsical way to enhance dining experiences throughout any season. It pairs sunflower-inspired hues with unique designs and gorgeous color combinations, creating a fun atmosphere for enjoying a meal or snack.
From plates to bowls to mugs, yellow sunflower dinnerware adds freshness and personality while being durable enough for continued use. Sunflower dinnerware is an attractive way to make any dining experience extra special, perfect for sharing stories around the table with loved ones.
If you want sunflower dishes, there are a lot of great sets to choose from that feature prints like this. Here are just a few for you to consider.
Fiesta sunflower-colored set
If the flowers are not your central theme, but you are trying to complement the decor with coordinating dinnerware, you might find a Fiesta Sunflower set to be just what you've been looking for.
The bright yellow is gorgeous and will go with sunflower themes in your kitchen.
Certified International French Sunflower 16 pc. Dinnerware Set
This is a beautiful set from Certified International with square plates. I love the dark and light combos in one set, making it unique from some of the other dinner sets I have seen.
Sunflower Fields 16-Piece Dinnerware Set
This set also has dark and light contrasting colors. The sunflowers are big and bold, and realistic, which I love.
Sunflower Fields 9" Salad/Dessert Plates
These gorgeous plates look great on the wall and for eating at the dinner table. This is just an example of the dinner plates alone. There are more pieces in this set with the same pattern if you are interested.
Sunflowers Forever 16 Piece Dinnerware Set
Something I like about this set is that while it contains sunflowers, they also look different. It has a watercolor-style design that I find unique. I also love that the bowls and plates have different designs but are complementary.
French Sunflowers Salad/Dessert Plate, 8.25-Inch
I love these because they are square and because they have a black background. It makes the sunflower pop, and I love the modern look but with classic elements. I could see myself using these in my home, too.
Sunflower decor
Using sunflower decor can be a beautiful and versatile addition to any home. Sunflowers are known for their warmth and cheery yellow color, so adding sunflower accents in the form of curtains, vases, decorative pillows, or artwork is sure to bring some sun even on the gloomiest days.
Sunflowers symbolize dedication and loyalty, evoking joy and appreciation that can light up any room. Whether you adorn your walls with sunflower wallpaper or simply accent tables and shelves with sunflower figurines, sunflowers offer a unique way to brighten your home.
Here are some lovely decorative pieces I've found on Amazon:
Cotton Towels with Pot Holders and Oven Mittens
I love the colors on these and how bright and sunny the flowers are. These would look so great in any kitchen.
Sunflower Kitchen Rugs Set of 2
I love these floor mats/ kitchen mats. They have those giant, bold sunflowers, and they also say the words "thankful," "grateful," and "blessed." This would also look great in farmhouse décor.
Sunflower Kitchen Decor Eat Signs
These signs would look great hanging on your kitchen or dining room wall. They also go well with the mats above.
Other Sunflower Dinnerware
But of course, that's not the end of the types of sunflower dinnerware you can find.
ACK Sunflower dinnerware
If gold and brown fit your color theme, the hand-painted Gold Sunflower Collection is appealing. I love the mugs that come with the 16-piece dinnerware set.
Out of Production Sunflower Dinnerware
Out-of-production sunflower dinnerware can be an especially meaningful treasure, invoking nostalgia with its warm yellow hues and cheerful motifs. On special occasions, owners can bring out these unique pieces of dinnerware for friends and family to admire, allowing sunflowers in all their electric splendor to take center stage at the gathering table!
Clay Art Tuscan Sunflower pattern
To tone it down a bit, the Clay Art Tuscan Sunflower pattern is inspirational. I like it because the sunflowers seem to be etched into the dinnerware and look like real things. The design is somewhat rustic and the colors fit my style.
The Euland China Sunflower pattern
The Euland China Sunflower pattern is lovely. It is bright, but the solid white background brings a touch of class to the sunflowers. The arrangement of the flowers is wonderful and keeps them from being overwhelming. I want this pattern in a kitchen with white walls, appliances, and tile with a bit of yellow added, perhaps with window curtains or a yellow and white checked window seat pillow.
When I was young, blue and white décor with sunflowers was popular. Back then, Corelle put out a sunflower dinnerware pattern called Sunsations. It was very lively and attractive, and it has since been retired. But, I found these Corelle Sunsations bread and butter plates.
You can look for retired sunflower patterns on Replacements.com and at eBay and Etsy, just to name a few.
Final thoughts
The sunflower is a unique and beloved flower. Its cheerful, sunny face has provided warmth and comfort to many over the years. Nursing fond memories of sunflowers and summer days, people worldwide enjoy seeking sunflower-themed items such as dinnerware. Would you use sunflower dinnerware like this?