RECIPE IDEA: Sweet Elvis Cookies (Gluten Free)
Hi. It's Lois in the kitchen at Recipe Idea Shop, telling you about Sweet Elvis Cookies. This week we celebrate National Peanut Butter Day (January 24) and National Chocolate Day (January 27). So I thought I'd tell you about our friend Norma's No Bake Sweet Elvis Cookies. These cookies are scrumptious and gluten free.
Our funny friend, Norma Cunningham, was a delightful woman, a little bit of a thing, not even 5 feet tall, filled with spunk and good humor. She made these unbaked peanut butter/chocolate oatmeal cookies that she called Elvis Cookies for some event or gathering we were attending and sent me the recipe after I expressed how much I liked them.
Most Elvis Cookies call for a banana, but this recipe does not. They are very good and I think you will like them if you like peanut butter and chocolate. Don says he can't even taste the chocolate in this version, and neither could I, and I thought they were a little too sweet.
On the other hand, our granddaughter, Taevi, thought Norma's Sweet Elvis Cookies were spectacular, and she rated this version just a smidgen better than the Chocolate Elvis Cookies I made (which I personally like much better). In that version, I cut the sugar in half, added more cocoa (Hershey's Special Dark Cocoa), and doubled the nuts.
Read on for recipe and nutrition...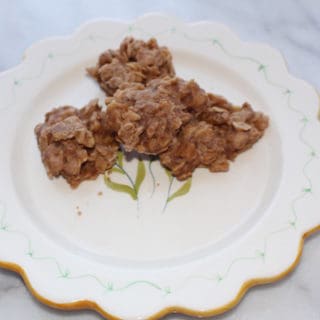 Elvis Cookies
Ingredients
2

cups

sugar

1

stick butter or margarine

1

tablespoon

Hershey's Cocoa

½

cup

milk

½

cup

peanut butter

3

cups

oatmeal

gluten free

1

teaspoon

vanilla

½

cup

chopped walnuts or pecans
Instructions
In a medium saucepan, combine the sugar, butter, cocoa, and milk and bring it to a boil over medium heat for one minute or so until the sugar completely dissolves.

Remove from stove.

Stir in vanilla, peanut butter and oats.

Add the nuts and stir well.

Drop by teaspoons onto wax paper.

Cool and store in an airtight container.

The cookies will set (harden a bit) as they cool. [