Tomato soup... there's just something about it that brings comfort and warmth to our lives, no matter the time of year. It's also good for you, which is probably why you've heard it suggested as a great soup to eat if you're feeling under the weather. I gathered 33 delicious tomato soup recipes: try a few (or all) of them over the summer, while tomatoes are abundant.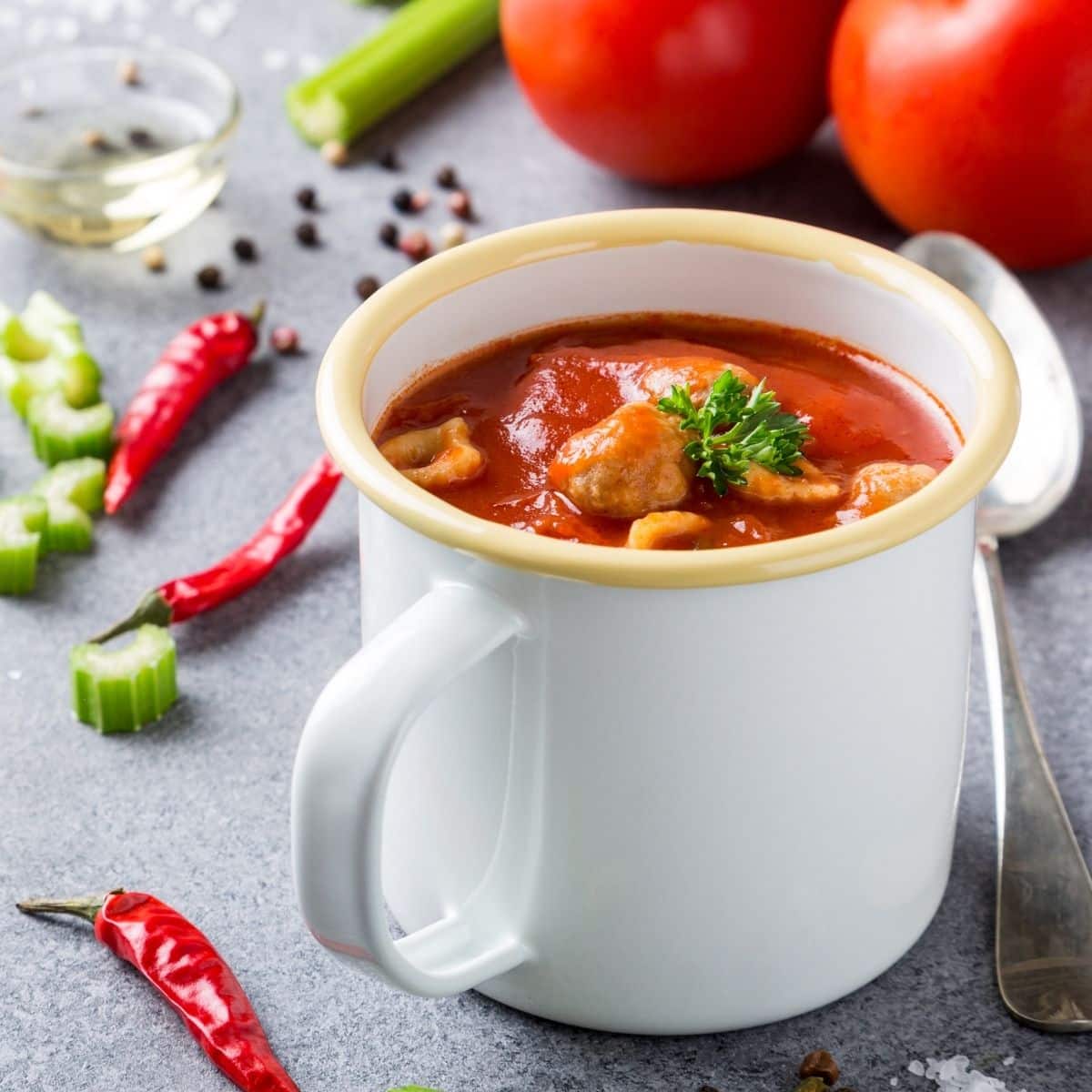 It's very rich in lycopene, potassium, fiber, vitamin A, vitamin C, and vitamin K. It is also believed to help with weight loss goals and even to prevent diabetes. It is rich in antioxidants and it's also good at reducing hunger pains, too.
If that's not enough reason to love it, tomato soup can also help strengthen the bones, improve blood circulation, and it's good for the heart!
And there is so much diversity to this soup, meaning you can enjoy it in different ways and with different flavor combinations. For example, tomato soup can be made from fresh tomatoes, roasted tomatoes, and even canned tomatoes, if you don't have a garden or in the cold season.
There are so many delicious ways to pair your tomato soup with other yummy foods like grilled cheese sandwiches, crusty bread and pesto, garlic bread, and more. No longer just a childhood favorite, here are some yummy ways to enjoy delicious tomato soup year-round.
Delicious Tomato Soup Recipes To Eat All Year
If you have a garden and grow tomatoes, you'll love having these recipes handy to use up your harvest. If you don't grow a garden, make sure to get some fresh tomatoes from your local market to try some of these delicious tomato soups and stews.
Conclusion
It's easy to see from these recipes that tomato soup is not just for kids. One drawback is that it has a lot of salt, naturally. You can counter this a bit by using unsalted butter if the recipe calls for butter. Some other things to add might be black pepper, yellow onion, some hot sauce for medium heat (or more if you love a lot of spice), or add heavy cream.
Whether you love a classic tomato soup recipe, or if you want to mix it up with your hot soups, you're sure to find something on this list that you will find delicious. You may want to experiment with the different recipes and see which flavorful soup your family likes the best. Which one do you think you want to try first?