Vegan Mexican Red Rice. So scrumptious. Easy peasy, 40-minute meal.
Vegan Mexican Red Rice (Gluten Free)
Hi. It's Lois at Recipe Idea Shop, telling you about Vegan Mexican Red Rice. It's a terrific Cinco de Mayo option. Easy. Scrumptious.
It tastes very similar to the Spanish Rice my mom used to make. She didn't, however, make it vegan. I don't think my mom ever made anything vegan on purpose! She added ground beef, and it was quite tasty.
You'll need some good cookware to enjoy your cooking at its fullest.

This recipe comes from Moosewood Restaurant New Classics, one of my favorite cookbooks. Moosewood recipes are always terrific. I have several of their cookbooks.
My mom, like many in the 1950s and 1960s, made very little that was vegetarian and would have been totally confused by vegan. Being from Wisconsin (the Dairy State), we ate a lot of cheese. You could top this rice with shredded cheddar if you want, but it's super good without it. Dairy causes inflammation in me, so I try to avoid it (except for A2 milk products).
Don and I enjoyed this Vegan Mexican Red Rice with a salad last week for supper. Delicious! I know you're gonna wanna eat this. I do.
Vegan Mexican Red Rice Recipe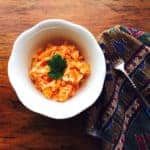 Vegan Mexican Red Rice
Ingredients
2

tablespoons

vegetable oil

1/3

cup

onions

finely chopped

1/3

cup

red bell peppers

finely chopped

1

garlic clove

minced

1

teaspoon

ground cumin

a pinch

less than 1/8 teaspoon teaspoon cayenne pepper (or spicy paprika)

1/4

teaspoon

salt

1

large tomato

1

cup

long grain white rice

1

cup

water
Instructions
In a medium saucepan, heat the oil on medium heat.

Add the onions, peppers,cumin, cayenne, and salt and sauté for about 5 minutes until onions are transparent.

Add the garlic and sauté for a minute more.

While the onions, peppers and spices are cooking, purée the tomato in your food processor to make about a cup of sauce. If it doesn't make a cup, either add more tomato or add water until you have a full cup.

Add the rice and tomato purée to the onion mixture and stir for 1-2 minutes.

Add the water and bring to a boil.

Cover tightly and reduce the heat to simmer. Simmer gently for 15 minutes.

Remove from heat and allow to sit for 5 minutes before lifting the lid.

Fluff the rice and serve.
https://recipeideashop.com/vegan-mexican-red-rice/
Note: Many of the links included throughout Recipe Idea Shop are affiliate links, which means if you follow them and you buy something, we will get a small commission. It doesn't cost you a penny more, and you can still use your Amazon Prime (Shop Amazon – Give the Gift of Amazon Prime) account to buy. This posting includes affiliate links. 
Vegan Mexican Red Rice Nutrition
Want More Recipes Like This?
If you want more delicious recipes, please sign up for our free cookbook.
Pin & Share!
Please Pin and share our recipes. And tell us what you think in the comments.
You May Also Like These Recipes From Recipe Idea Shop
BEFORE YOU GO, DID YOU GRAB YOUR FREE COOKBOOK?
SaveSave