Beautiful and tasty, this Apple Cranberry Tart is the perfect Sunday or holiday dessert.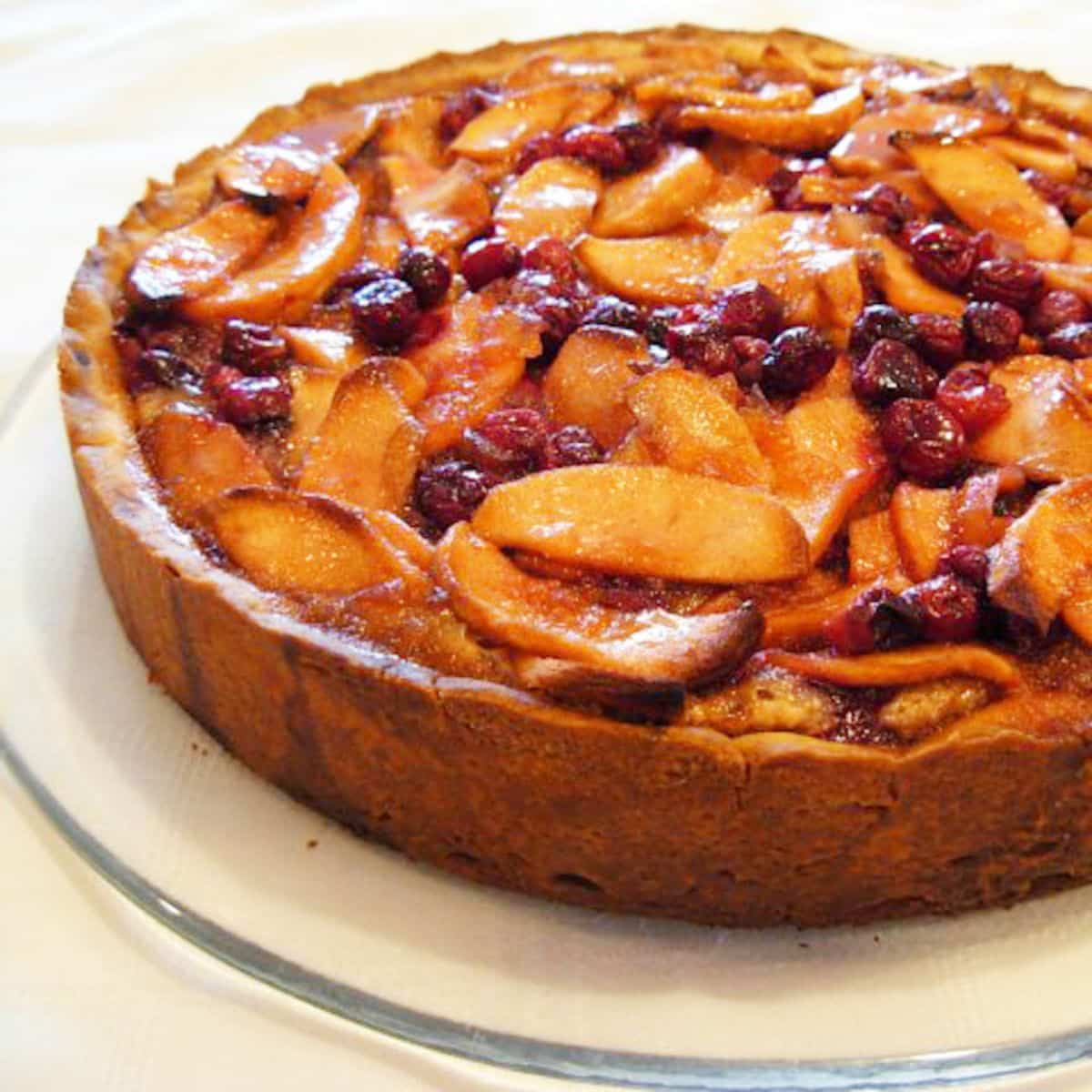 Fall Apple Cranberry Tart is a lovely Sunday dessert.
One day as I was driving home from work listening to NPR. Carla Hall was a guest talking about her Apple Cranberry Tart. It sounded delicious so when I got home I downloaded the recipe (here's the original recipe) and, of course, had to make it. And it was SO worth it. It's terrific for a special occasion.
Make Time for This Tart
The first thing to know is that it takes time, about 3 hours of prep time. The good news is you can spread that over a couple of days. Make the crust and put it in the refrigerator overnight. Same for the frangipane and fruit filling. Then on the second day roll out the crust, fill it and bake it.
What You Need
Here at Recipe Idea Shop we believe that recipes are guidelines, and creativity adds zest to cooking and baking. The first time I make a dish I usually follow the recipe closely. Here about the only major change I made was using a springform pan rather than a tart pan since we didn't have the tart pan.
I found wonderful homemade apple marmalade at our local farmer's market and used that in place of the suggested apple jelly. I used organically grown Granny Smith apples, which to my amazing joy, were even more tangy than the ones from the supermarket.
So clear off the kitchen counter, get out your food processor, rolling pin, mixing bowls, measuring spoons and cups (and tart pan, of course), and let's get cook'n. After the compliments are in, let us know how you enjoyed this Apple Cranberry Tart and what you might have changed when you created it your way.
Apple Cranberry Tart Recipe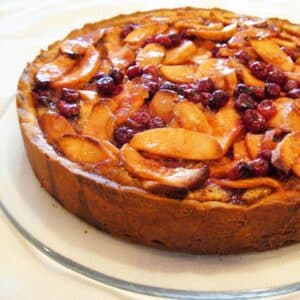 Apple Cranberry Tart
Layers of goodness make this Apple Cranberry Tart spectacular.
Ingredients
Crust
1

large egg yolk

(save the white)

2

tablespoon

heavy cream

½

teaspoon

vanilla extract

1 ½

cup

All purpose flour

¾

cup

confectioners sugar

¼

teaspoon

salt

12

tablespoons

butter

(cut into small chunks)
Frangipane
1

cup

slivered almonds

½

cup

sugar

½

teaspoon

cinnamon

⅛

teaspoon

salt

¼

cup

minced crystallized ginger

¼

cup

minced dried cranberries

1

large egg

1

large

egg white

(left from the crust making)

½

teaspoon

almond extract

½

teaspoon

vanilla extract

6

tablespoons

butter
Fruit Filling
3 or 4

apples

(peeled and sliced; reserve the juice)

2

tablespoons

butter

1 ½

cups

fresh cranberries

½

cup

brown sugar

½

teaspoon

ground cinnamon

½

teaspoon

ground ginger

1

pinch

salt

2

tablespoons

lemon juice

(optional)
Glaze
4

tablespoons

juice from the apples

¼

cup

apple jelly
Instructions
Step 1: Egg Mixture
Whisk together 1 large egg yolk (save the white), 2 tablespoons heavy cream, ½ teaspoon vanilla extract.
Step 2: Crust
In the food processor with the dough blade combine 1 ½ cup all purpose flour, ¾ cup confectioners sugar, ¼ t salt with 4 short pulses.

Add 1 ¼ sticks of butter cut into small chunks and with the food processor running, add the egg mixture until the dough comes together into a ball.

Turn the dough onto plastic wrap, press into a 6-inch disk and refrigerate for at least an hour. (If you keep it overnight, let it warm for 15 – 20 minutes before you roll it out.)
Step 3: Roll & Bake
Roll the dough out to fit your pan—either a tart pan, springform pan or pie plate. Place it in your pan.

Place pie weights (or dried beans) on the crust to keep it from bubbling up and bake at 350F degrees for about 15 minutes.

Take it out of the oven and let it cool to the touch.
Step 4: Frangipane
In food processor with sharp blade pulse 1 cup slivered almonds, ½ cup sugar, ½ teaspoon cinnamon, ⅛ teaspoon salt until very finely ground.

Add ¼ cup minced crystallized ginger and ¼ cup minced dried cranberries and pulse a couple of times to combine.

Add 1 large egg, 1 large egg white (left from the crust making), ½ teaspoon almond extract, ½ teaspoon vanilla extract and process until combined.

Add 6 tablespoons unsalted butter at room temperature cut into small pieces and process until no lumps remain. Scrape down sides and process again for about 10 seconds.

Either refrigerate the Frangipane overnight or, if you are ready to proceed, spread it over the bottom of the crust.
Step 5: Fruit Filling
Peel and cut 3 or 4 apples into small slices. Sauté in a large skillet with 2 tablespoons butter for a couple of minutes.

Add 1 ½ cups fresh cranberries, ½ cup brown sugar (more or less depending on how tart the apples taste), ½ teapot ground cinnamon, ½ teaspoon ground ginger, pinch of salt and cook until all the sugar has been dissolved.

If the mixture is too sweet, add lemon juice to adjust the flavor to your liking.

Either refrigerate overnight or let cool, separate the solids from the liquid and reserve the liquid.

Place the apples evenly over the frangipane filling.
Step 6: Bake
Bake about 45 minutes at 350F degrees.

The tart is done when the crust is a deep golden brown and the almond filling is puffed, browned and firm to the touch.
Step 7: Glaze
In a small pot combine the juice from the apples and ¼ cup apple jelly (or as I did, apple marmalade—perhaps currant jelly could work well, too) and bring to a boil.

Cook, stirring until all the jelly has melted.

Brush the glaze over the apple-cranberry mixture.

Cool the tart to room temperature.
Step 8: Serve
If you are using a tart pan or a spring-form pan remove the metal ring.

Slip a thin blade between the bottom and the crust to loosen it and slide the tart onto a serving plate. Gaze admiringly at the beautiful desert you created and smile with pride!

Serve the tart the same day it is made.
Nutrition
Calories:
467
kcal
Carbohydrates:
65
g
Protein:
5
g
Fat:
26
g
Saturated Fat:
13
g
Polyunsaturated Fat:
2
g
Monounsaturated Fat:
8
g
Trans Fat:
1
g
Cholesterol:
83
mg
Sodium:
246
mg
Potassium:
248
mg
Fiber:
5
g
Sugar:
37
g
Vitamin A:
727
IU
Vitamin C:
8
mg
Calcium:
54
mg
Iron:
1
mg
More Deserts to Try