RECIPE IDEA: Apple Walnut Coleslaw
Hi. It's Lois at Recipe Idea Shop, giving you a new kind of coleslaw recipe, Apple Walnut Coleslaw. Coleslaw with apples and walnuts added is a little sweet and a lot crunchy. The crunchiness is one of the things I love about coleslaw, don't you?
We had this Apple Walnut Coleslaw last night for supper while we were watching the Packers beat the Cowboys. The final few minutes of the football game were pretty exciting. When football's on TV, Don likes to have "football food" and a beer. Unfortunately, we were all out of beer, so he stuck with water. We paired the Apple Walnut Coleslaw with a hamburger, some Fritos chips, olives and pickles. What's a hamburger without dill pickles? (Not as good, for sure!)



This recipe is very easy, especially if you have a food processor. I used our food processor to grate the onions, cabbage and carrots. I cut up the apples and walnuts by hand, and whisked the dressing quickly. It took me about 15 minutes to make this recipe, start to finish, and then I refrigerated it for a few hours before serving.
You're gonna wanna eat this.
Did you grab your FREE cookbook?
[mc4wp_form id="5109″]
Tools I Used
To make this recipe, I used my Cuisinart food processor (you could use a box shredder), a chef's knife, a paring knife, a cutting board, a vegetable peeler, measuring cups and spoons, a wire whisk, and a serving bowl.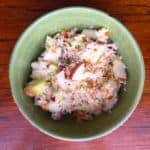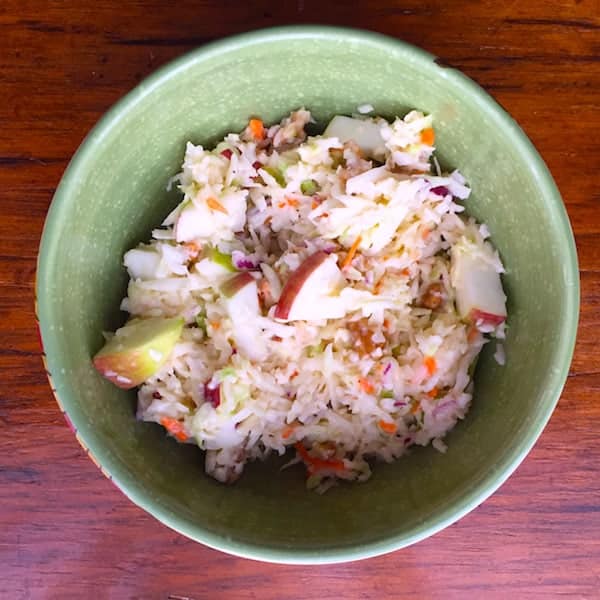 Apple Walnut Coleslaw
Ingredients
1/2

head of cabbage

1/4

small onion

2

carrots

2

small tart apples

I used MacIntosh

1

cup

walnuts

1

cup

Miracle Whip Salad Dressing

2

tablespoons

milk

2

tablespoons

sugar

1/4

teaspoon

salt

1/4

teaspoon

pepper
Instructions
In a two-cup measuring cup (or a small bowl), whisk the salad dressing, milk, sugar, salt and pepper.

Using the shredder attachment on your food processor, shredd the onions, cabbage and carrots.

Pour the cabbage mixture into a large bowl.

Core and dice the apples and add them to the cabbage.

Chop the walnuts in to small pieces and add them to the cabbage mixture.

Pour the dressing over the salad and mixt to evently coat.
https://recipeideashop.com/apple-walnut-coleslaw/
Note: Many of the links included throughout Recipe Idea Shop are affiliate links, which means if you follow them and you buy something, we will get a small commission. It doesn't cost you a penny more, and you can still use your Amazon Prime account to buy. This posting includes affiliate links. 
SaveSave
SaveSave
SaveSave
SaveSave
SaveSave
SaveSave
SaveSave
SaveSave
SaveSave
SaveSave