This is the best Carrot Cake recipe (in my opinion) and two husbands have agreed with me. There's one secret ingredient. Can you guess what it is?

My Best Carrot Cake makes a scrumptious muffin, too.
I post this recipe a couple of times a year because it is a requested birthday cake at our house. This  truly is The Best Carrot Cake I've ever had. One special ingredient makes it unique and amazing. The cake is moist, full of carrots, walnuts and (wait for it) cherries. And so tasty with or without frosting.
My daughter, Roni, loves my carrot cake and today is her birthday. Happy birthday, Roni! She asks for this cake whenever she coves to visit. My husband Don always requests the cake for his birthday cake, but his birthday is in December. He calls it his "favorite vegetable."
Freezes Well
My Best Carrot Cake freezes well, especially if you make it as cupcakes (and you can also freeze it whole or sliced into serving size pieces if you make a whole cake).
But I think cupcakes are the way to go on these. Cupcakes don't get messy and they thaw in about 15 minutes, so you can keep some in your freezer all the time, and you don't have to wait for a birthday to have them! The recipe makes 24 cupcakes or 12 slices of cake, so if you eat cupcakes, you will eat fewer calories.
The Story Behind the Cake
My first husband LOVED my carrot cakes. He shouldn't have been eating them, however, because I didn't make them gluten free at that time, and he had celiac disease. Back then, I had never heard of celiac disease, and when Hubby #1 told me about it, he led me to believe that he had grown out of it.
Of course, now we know that people don't grow out of it (and he probably knew it at the time). Hubby #1 ate tons of calories—mostly sugar—and could never gain weight. In fact, one time I bought him a case of beer; he drank it in a week and he lost 5 pounds! But that's another story.
A Cake Worth Fighting For
When Hubby #1 and I divorced, he tried to negotiate requiring me to give him 6 carrot cakes a year until he no longer had to pay child support (he had a good sense of humor).
Don (Hubby #2) loves My Best Carrot Cake just as much. I make it for him every year and he doesn't have to fight for it. I now make it gluten free and I can eat it, too. I use Bob's Red Mill Gluten Free Flour instead of wheat flour.
I seldom make it as a layer cake. Now I make cupcakes most of the time. Don is happy no matter how I make it. The best frosting for carrot cake, of course, is Cream Cheese Frosting.
What You Need
For this recipe you need a full sized food processor with a shredding blade (or you can make do with a box shredder, but it takes forever). You also need measuring cups and spoons, a knife, 3 round cake pans or cupcake pans for 24, and of course, gluten free flour. But what you really want is a good coffeemaker so you can have excellent coffee with your carrot cakes. Right?
My Best Carrot Cake Recipe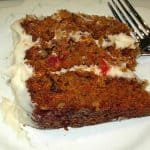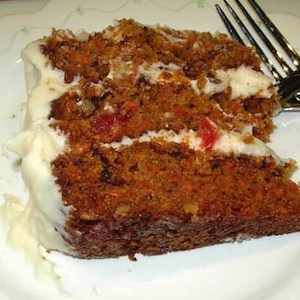 My Best Carrot Cake Recipe
Ingredients
4

eggs

2

cups

sugar

1 1/4

cups

salad oil

(canola)

2

cups

Bob's Red Mill Gluten Free Baking Mix

(flour)

1

teaspoon

Bob's Red Mill Xanthan Gum

2

teaspoons

baking powder

2

teaspoons

baking soda

2

teaspoons

ground Cinnamon

1/4

teaspoon

nutmeg

(freshly-ground)

3

cups

grated carrots

(about 1 lb.)

1

10-oz jar

maraschino cherries

(drained and cut in quarters)

1

cup

walnuts

chopped
Instructions
In a small bowl or measuring cup, mix the baking powder and baking soda with 2 tablespoons of oil until blended.

In a large mixing bowl, beat eggs, sugar, and remaining oil until blended.

Add the spices and baking powder/baking soda mixture.

Mix thoroughly.

Add the Bob's Red Mill Gluten Free Baking Mix (flour) and the Bob's Red Mill Xanthan Gum and mix.

Add carrots, cherries and nuts and mix to combine.

Grease and line the bottom of 3 round cake pans with wax paper or line 2 12-cupcake pans with cupcake papers.

Pour the cake batter into the cupcake pans or cake pans and bake at 350F degrees for 25-30 (20 minutes for cupcakes) minutes until done.

Remove from oven and let the cakes cool 5 minutes.

With a table knife, loosen the cakes from the sides and dump them out of the pans.

Carefully remove the wax paper.

When completely cool, frost with Cream Cheese Frosting.

Store the cake in the refrigerator or freeze in serving-size pieces.
https://recipeideashop.com/carrot-cake/
Affiliate Disclosure: Many of the links included throughout Recipe Idea Shop are affiliate links, which means if you follow them and you buy something, we will get a small commission. It doesn't cost you a penny more, and you can still use your Amazon Prime account to buy. Don and I love our Amazon Prime account. This posting includes affiliate links.
Recipe Nutrition Information
This recipe is GF, DF, SF, V*
The information shown is an estimate provided by an online nutrition calculator. It should not be considered a substitute for a professional nutritionist's advice.
Cream Cheese Frosting Nutrition
I have added the nutrition here because we usually eat it with Cream Cheese Frosting. Check out the recipe and enjoy (but not too often; it's very high in calories and fat)!
WHAT'S NOT TO LOVE?
Trust me, you're gonna love this recipe. Up your recipe repertoire. Add this recipe to your collection. But don't stop there…subscribe to our email newsletter and get a free cookbook and a printable grocery shopping list.
RATE, PIN & SHARE!
Please Rate our recipes, and Pin and Share them on social media. Comments are welcome, too!
*Allergen Key
GF = Gluten free | DF = Dairy free | NF = Nut free | SF = Soy free | EF = Egg free | CF = Corn free | V = Vegetarian | VG = Vegan
Note: If you have serious allergies or sensitivities, to be considered free of these allergens, you need to use products specifically marked "gluten free," etc. There can be cross-contamination in facilities.
You May Also Like These Recipes From Recipe Idea Shop