This simple, one-pan baked chicken breast with stuffing recipe will satisfy your craving for comfort food every time. The chicken is tender and juicy and the stuffing is moist and delicious. You might even feel like it's Thanksgiving when you eat it.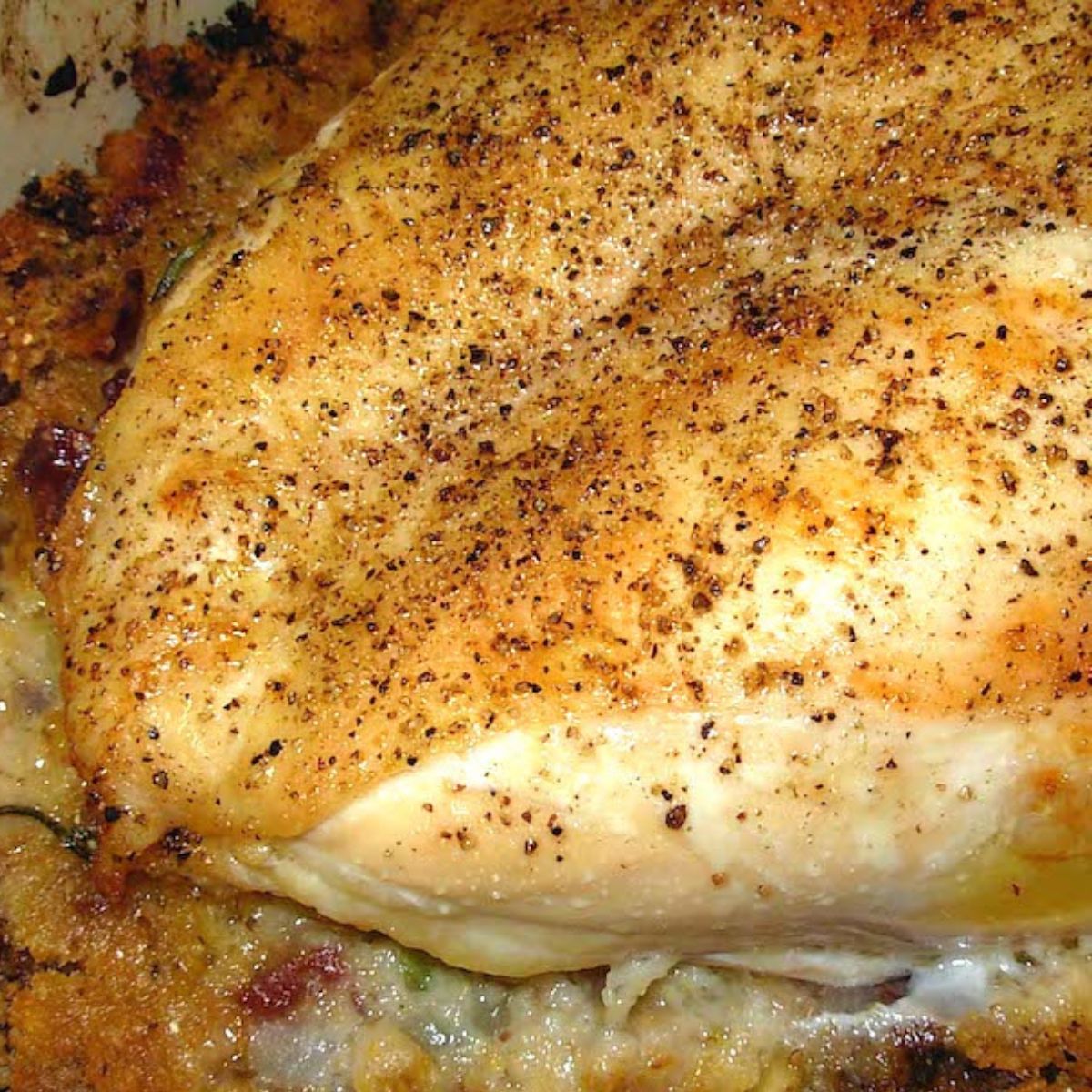 You can make this oven-baked chicken breast and stuffing for one person or many. The process is the same, whether you use a whole chicken breast or smaller, boneless chicken breasts, with one exception. Bone-in chicken breasts with skin are preferred because the skin and bones add flavor.
Boneless chicken breasts need to be marinated in oil before cooking. They also take a little less time to bake, so be sure to read the notes in the recipe.
Prep is super easy using packaged stuffing mix and bone-in chicken breasts. All you have to do is dump the stuffing mix into a bowl. Chop a little bit of onion and celery, and add these to the stuffing mix. Add the eggs, melted butter, water, and spices and mix gently until thoroughly incorporated. Place the stuffing on a sheet pan lined with parchment paper that has been sprayed with oil. Put the chicken breasts over the stuffing, season the chicken, and bake for about an hour.
Why This Recipe Works
This bone-in chicken breast and stuffing recipe is tasty, super easy, and makes your house smell amazing. It takes about 10-15 minutes to prep and then 45 minutes or an hour to bake.
While your meal is baking, you can relax, work out, or spend time with your family. I love this kind of meal. And if you use parchment paper on your sheet pan, clean-up will be easy.
Oven cooking times vary, depending on the size of your chicken breast and the accuracy of your oven. If you overcook it, the chicken will be dry, so check it at 45 minutes and see how it looks. The internal temperature should be 165°F and the juices should run clear. Only check it close to the end of the cooking time, however, or the juices will run out and it will be dry.
For a complete meal, serve it with a Green Salad and steamed broccoli.
What Goes Into This Recipe
You will need chicken, packaged stuffing mix, onion, celery, eggs, butter, sage, garlic, spray oil, salt, and pepper. Parchment paper is extremely helpful for easy clean-up.
What stuffing mix should you use? I love the Pepperidge Farm Herb Seasoned Stuffing Mix.
Although I add a few ingredients to the stuffing mix when I make it, you can simply follow the basic directions on the package, and it will be yummy. Chopped onion and celery make it more robust. You can use the whole package to serve a family or divide it into half-cup servings and save some for another day.
Chicken breasts. This recipe works with a whole, bone-in chicken breast or two split, bone-in chicken breasts. See notes for boneless, skinless chicken.
Substitutions & Variations
Boneless, skinless chicken breasts can be substituted for bone-in chicken. I would marinate the chicken breasts in olive oil and garlic for at least an hour before placing them on top of the stuffing. Bake for a little less time (30-45 minutes) until the chicken and the stuffing both reach a temperature of 165°F.
Gluten-free stuffing mix can be substituted for wheat-based stuffing mix. You can substitute it without changes to the recipe. The best gluten-free stuffing mix I have found is Aleia's Best Taste Ever Savory Stuffing.
Storing
Store leftovers in a covered container in the refrigerator for up to three days.
FAQs
What's the difference between stuffing and dressing?
Stuffing is baked inside or under the poultry (or meat), while dressing is baked separately.
Why should I use bone-in chicken with the skin in this recipe?
The skin and bones add flavor when the meal is cooking. You can remove the skin before eating the chicken to reduce the amount of fat and calories if you so desire.
Can I use boneless, skinless chicken in this recipe?
Yes. It's best to marinate the chicken breasts in olive oil (or another light oil) for at least an hour before baking, however, to maintain the juiciness of the poultry. Also, you may need to bake it for a little less time.
Can I substitute gluten-free stuffing mix for wheat-based stuffing?
Yes. You can substitute it in equal parts and follow the recipe as stated.
Did you try this recipe? You can leave a star rating ⭐️⭐️⭐️⭐️⭐️ in the recipe card or a review down in the comments section. I always appreciate your feedback!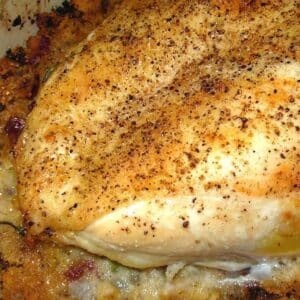 Simple Baked Chicken Breast with Stuffing
Get ready to tantalize your taste buds with a scrumptious dish that is sure to make your mouth water: baked chicken breast with stuffing! This dish is a perfect blend of tender, juicy chicken breast, and savory stuffing, baked to perfection in a mouthwatering seasoning that will leave you begging for more.
Ingredients
1

Pepperidge Farm Stuffing

2

stalks celery

cleaned and chopped

½

medium onion

diced; about ½ cup

2

eggs

4

tablespoons

melted butter

1

tablespoon

rubbed sage

½

cup

warm water

Baking spray

such as Pam

1

whole chicken breast

1

clove

garlic

minced

1

teaspoon

olive oil

½

teaspoon

black pepper

½

teaspoon

salt

Any other spices you like to add
Instructions
In a large bowl mix the stuffing (or GF bread cubes), celery, onion, eggs, butter, sage and warm water until thoroughly combined.

Line a roasting pan with parchment paper and spray it lightly with baking spray.

Dump the wet stuffing mixture into the bottom of the pan.

Lay the chicken breast over the top of the stuffing.

Drizzle chicken with olive oil.

Spread the garlic on the chicken.

Sprinkle the chicken with salt and pepper and any additional spices of your choosing.

Bake at 350°F about an hour until the chicken is done.
Notes
Note 1: If you would like to use boneless, skinless chicken breasts in this recipe, marinate the chicken for at least an hour in about ¼ cup olive oil before placing it on top of the stuffing to bake. Add minced garlic to the oil for added flavor. Remove the chicken from the oil before placing it on top of the stuffing. Leave it coated with oil, but allow the excess oil to drip back into the marinade before placing it on the stuffing. Throw the used olive oil marinade away. Note 2: Gluten-free stuffing mix can be substituted for wheat-based stuffing mix without additional changes to the recipe. Note 3: You can also use a whole chicken and stuff the inside with the dressing. However, cooking time will be longer, probably double (2 hours) this way.
Nutrition
Calories:
215
kcal
Carbohydrates:
2
g
Protein:
15
g
Fat:
16
g
Saturated Fat:
8
g
Polyunsaturated Fat:
1
g
Monounsaturated Fat:
5
g
Trans Fat:
0.5
g
Cholesterol:
148
mg
Sodium:
483
mg
Potassium:
280
mg
Fiber:
1
g
Sugar:
1
g
Vitamin A:
527
IU
Vitamin C:
2
mg
Calcium:
34
mg
Iron:
1
mg