Making cookies is a great activity with your family (including children) and friends. But if you never decorated cookies (like me), you might not know where to start: what supplies you need, the proper decorating techniques, which cookies are suitable to decorate and which ones are not, etc. So, I looked up the most popular cookie decorating books for beginners to help me get ready for the holidays (I want to decorate my cookies this year!).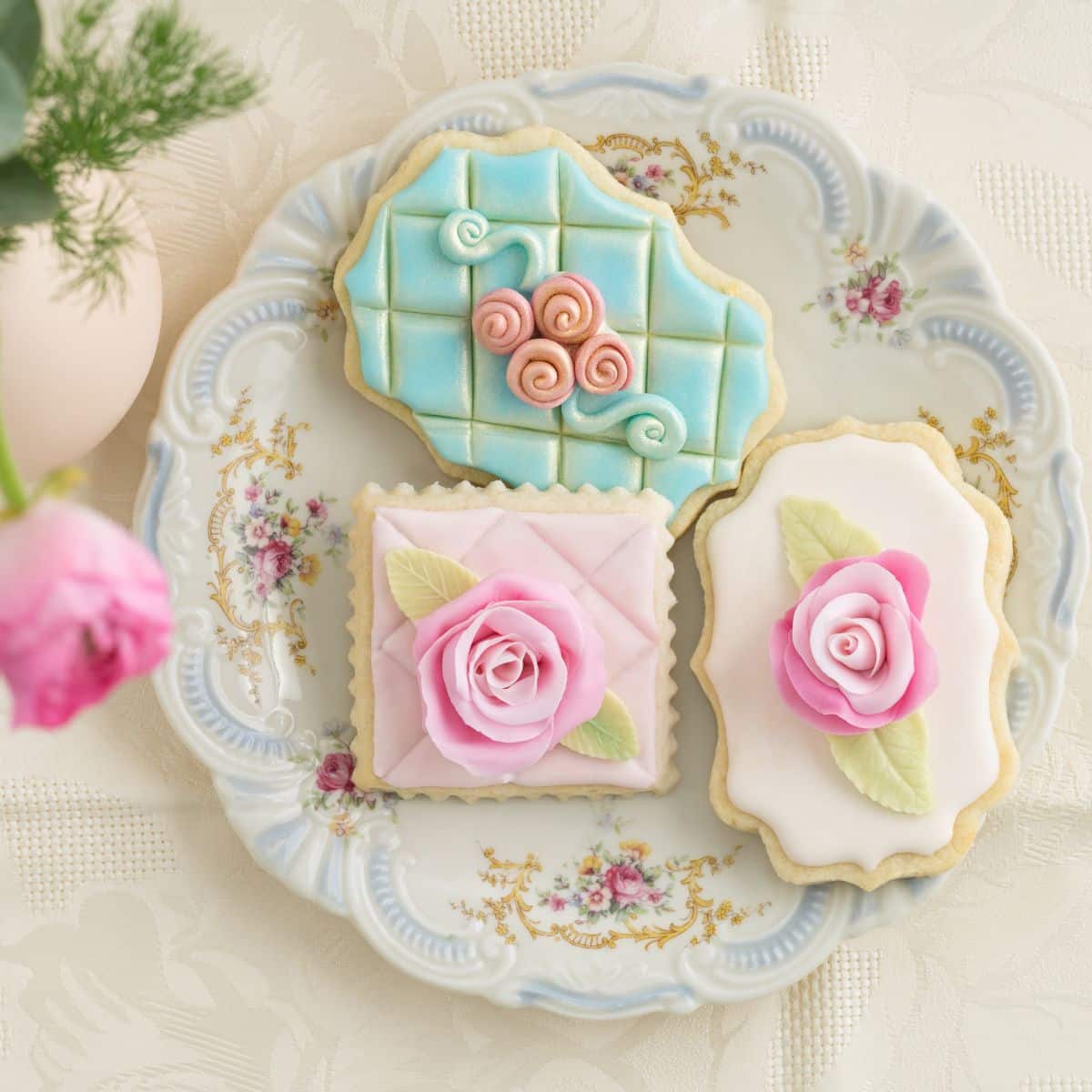 Best-Selling Cookie Decorating Books on Amazon
While you can look up cookie decorating guides at your local bookstore or the library, seeing what Amazon offers is a lot of fun. Many options can help expand your skill set and inspire your creativity.
Here are a few of the best-rated ones:
Creative Cookie Decorating: Buttercream Frosting Designs and Tips for Every Occasion
If you only want one book, this is the one to get: it's a beautifully illustrated hardcover book with ideas for any imaginable occasion: from birthday parties to weddings, holidays to baby showers, and everything in between. The book is filled with step-by-step instructions and stunning photographs that will inspire both novice and experienced bakers alike.
With a focus on buttercream frosting, the book teaches readers how to pipe and decorate cookies with intricate designs, vibrant colors, and delicious flavors. From simple swirls and rosettes to intricate patterns and detailed characters, this book has a design for every cookie lover.
The author also provides helpful tips and tricks for achieving the perfect consistency of buttercream frosting and mastering different piping techniques. Whether you're looking to impress guests at a special event or want to add a touch of creativity to your everyday baking, this book is a must-have for anyone who loves to decorate cookies.
Other popular books about decorating cookies
100 Best Decorated Cookies: Featuring 750 Step-by-Step Photos by Julie Anne Hession is a spiral-bound book with step-by-step tutorials and tips for creating beautifully decorated cookies. With over 100 ratings, this book will make an excellent addition to your collection.
Another top cookie decorating book is Decorating Cookies: 60+ Designs for Holidays, Celebrations & Everyday by Bridget Edwards. This paperback provides more than 60 cookie designs, suitable for various occasions, helping you to create eye-catching cookies for everyday fun or special celebrations.
The Crafted Cookie: A Beginner's Guide to Baking & Decorating Cookies for Every Occasion by Anne Yorks is designed to help you kickstart your cookie decorating journey. This book covers step-by-step tutorials for 50 creative designs, catering to cookie artists of all skill levels.
Get ready to be amazed by the incredible creations in Cookie Art: Sweet Designs for Special Occasions. Amber Spiegel, a world-renowned cookie decorator, will guide you through over 30 unique designs that transform ordinary cookies into something extraordinary. These projects are a fun way to enhance and refine your cookie-decorating skills. With Amber's expert guidance, you can turn any cookie into a true work of art.
If you're interested in more options, such as decorating cookies for a specific occasion, browse the Amazon's Cookie Decorating Book category, where you'll find a selection of highly-rated books to suit your needs.
Here's what you'll find in these books about decorating cookies:
Simple cookie recipes
Royal icing tips
Piping and flooding techniques
Color mixing and shading
Troubleshooting and tips
Design ideas for different occasions
Presentation
Cookie Decorating Techniques and Tutorials
In this section, you'll discover various techniques for decorating cookies. We've included quick descriptions of royal icing, flooding, piping, and using brushes. Let's dive in!
Royal icing
One of the most popular methods for decorating cookies is by using royal icing. This icing provides a smooth, hard surface that can be easily piped onto cookies. You can also use it for creating intricate designs, writing messages, or achieving a glossy finish.
You'll need powdered sugar, water, and egg whites (or meringue powder) to make royal icing. Follow the instructions in your chosen tutorial, and remember to adjust the consistency for different purposes. Thicker icing is perfect for piping, while a thinner consistency works well for flooding.
Flooding
Flooding is a technique used to create an even, smooth layer of royal icing on your cookies. You'll begin by outlining the shape of the cookie with a stiffer consistency of royal icing and then flooding the interior with a thinner consistency. This creates a seamless, professional appearance.
After you've allowed the flooded icing to dry, you can add details, designs, or patterns using other decorating techniques like piping or brushing.
Piping
Piping is a great way to create intricate cookie designs and patterns. Piping bags or even a simple plastic bag with a small hole cut into the corner can be used for this technique. With practice, you will be able to create stunning cookie art!
Follow a step-by-step tutorial to master the different types of piping, such as lines, dots, or scrollwork. Remember, patience is critical when learning this skill, so take your time and don't be afraid to practice.
Brushes
Using brushes is another creative way to add detail to your decorated cookies. You can use the brush to paint different colors or shades of royal icing, creating a beautiful and artistic effect.
Trying different brush techniques, such as stippling or dry brushing, can also help you achieve unique looks for your cookies.
Essential Cookie Decorating Supplies
Cookie cutters
When starting your cookie decorating journey, one of the key supplies you'll need is a set of cookie cutters. They come in various shapes and sizes, allowing you to create unique and personalized designs. You can find basic shapes, plaques, or even themed cutters for special occasions. Investing in high-quality cutters will ensure sharp and clean edges on your cookies.
Here are just a few of the available cookie cutter shapes:
Food coloring
Adding color to your cookies is essential in bringing your designs to life. When selecting food coloring, it's important to choose a quality product, such as gel or powder food coloring. These provide vibrant colors and mix quickly with your icing without affecting the consistency. Using various colors allows you to create intricate and eye-catching designs.
Home baking supplies
Aside from specialty cookie decorating tools, you'll also need basic home baking supplies. Some essential items include:
Mixing bowls
Measuring cups and spoons
Silicone baking mats or parchment paper
Rolling pin
Baking sheets
Having these items on hand ensures that your cookie decorating process runs smoothly from start to finish.
Templates
Templates are another helpful cookie decorating supply, especially for beginners. Templates provide a guided outline for your design, making it easier to achieve uniform and professional results. You can find templates online or create your own by tracing or drawing your desired shapes onto parchment paper, which can then be placed directly on your cookies.
With these essential cookie-decorating supplies in your arsenal, you'll be well on your way to creating stunning, professional-looking cookies. Don't forget to also check out some cookie decorating books for inspiration and helpful tips for mastering this delightful art.