Naturally Gluten Free Buckwheat Pancakes are tasty and satisfying, yet low-calorie.
Gluten Free Buckwheat Pancakes
Hi. It's Lois in the kitchen at Recipe Idea Shop, suggesting you make Buckwheat Pancakes soon. Despite a name that includes the word "wheat," Buckwheat is a whole grain, sometimes called kasha, that is naturally gluten-free. I love these pancakes. The seem like they have more substance than regular pancakes, but I'm not sure that's really true.
Buckwheat is good for you, too. (But don't tell anyone or they will never eat them.) Buckwheat is sugar-free (although it does contain carbohydrates, of course), low-fat, sodium-free, and cholesterol-free. One-quarter cup of buckwheat contains 100 calories, 1 g of fat, 22 g of carbs, 3 g of fiber and 2 g of protein.
Try these easy-to-make Buckwheat Pancakes with Blueberry Compote. So good!
Check out the recipe.
You can use a pancake griddle or one of these
cool crepe pans
to make these pancakes!
Gluten Free Buckwheat Pancakes Recipe
Serve these pancakes with Pure Vermont Maple Syrup!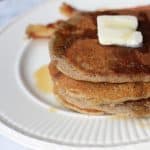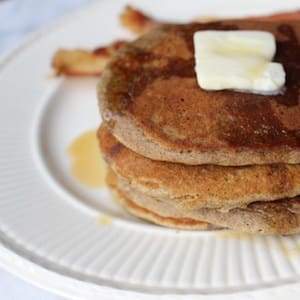 Gluten Free Buckwheat Pancakes
Packed with flavor, Buckwheat Pancakes are naturally gluten free.
Ingredients
Dry Ingredients
1

cup

buckwheat flour

1

teaspoon

Rumford's Baking Powder

2

tablespoons

sugar

1/2

teaspoon

salt

1

tablespoon

cinnamon

optional
Wet Ingredients
1

egg beaten

1

cup

milk

2

tablespoons

melted butter
Instructions
In a large bowl, mix the buckwheat flour, baking powder, sugar, salt and cinnamon.

Add the egg, milk and butter and beat to thoroughly combine.

Heat an electric griddle to 375F degrees.

Spray griddle with Pam cooking oil or use another oil to grease the griddle.

Ladle batter in 1/4-cup increments onto the griddle.

Cook pancakes until they begin to bubble and grill side starts to brown. (1-2 minutes)

Turn each pancake over and cook for another 1-2 minutes until golden brown.

Serve with syrup, jellies or powdered sugar.
Recipe Notes
Makes 12 pancakes. Each serving is 3 pancakes.
Note: Many of the links included throughout Recipe Idea Shop are affiliate links, which means if you follow them and you buy something, we will get a small commission. It doesn't cost you a penny more, and you can still use your Amazon Prime (Shop Amazon — Give the Gift of Amazon Prime) account to buy. This posting includes affiliate links.
Gluten Free Buckwheat Pancakes Nutrition Information
Want More Recipes Like This?
If you want more delicious recipes, please sign up for our free cookbook.
Pin & Share!
Please Pin and share our recipes. And tell us what you think in the comments.
You May Also Like These Recipes From Recipe Idea Shop
BEFORE YOU GO, DID YOU GRAB YOUR FREE COOKBOOK?
[mc4wp_form id="5109″]