This vegetarian Grilled Portabella Reuben Sandwich us super tasty. You won't even miss the corned beef.
Portabella Reuben Sandwich
Hi. It's Lois in the kitchen at Recipe Idea Shop, telling you about a fabulous vegetarian Portabella Reuben Sandwich (also known as Portobello Reuben Sandwich) we are planning for supper again later this week. Happy St. Patrick's Day!
St. Patrick's Day generally conjures up an image of Corned Beef and Cabbage, and I've given you two Corned Beef recipes lately, Baked Corned Beef and Slow Cooker Corned Beef. What do you do with all that left-over meat? Make a Reuben, right?
But what if you are vegetarian? This Portabella Reuben Sandwich is such a good sandwich—even if you aren't a vegetarian. If you like the high-fat, corned beef version, I think you will love this lower fat alternative. I my opinion, it is to-die-for. And I made mine gluten free with Udi's Gluten Free Rye Style Bread. Great bread!
The original Portabella Reuben Sandwich recipe is from the Moosewood Restaurant New Classics cookbook. It's terrific. Although we like it a lot the way the Moosewood cookbook suggests (baked, not grilled), we like it much better grilled with a little butter spread on the outside of the bread and then grilled on our Cuisinart Griddler. It is so much more flavorful that way. But it does add calories and fat.
Here's How You Do It
Someday, I will get my act together and photograph every step. Here are the basic steps (really, it's not hard to make once you get everything together; you just layer it)…
Get your ingredients together.
Slice and roast the mushrooms.
Make the dressing.
Layer the ingredients on the bread. Grill and eat.
Okay, so I agree, this seems like the most difficult part. And—silly me—I forgot to take pictures of that part! But you can do it. The recipe is pretty clear, I think. If you need help, just contact me and I'll walk you through it.
Tools You Really Need
Of course, you need a good set of knives, cutting board, measuring cups and spoons, and a baking sheet with a lip. But I suggest you get a griddle, too. We love our Griddler.
Portabella Reuben Sandwich Nutrition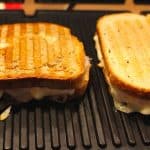 Portabella Reuben Sandwich
Scrumptious and lower-fat alternative to Corned Beef Reuben Sandwich.
Ingredients
Easy Russian Dressing
1/2

cup

diced tomato

(about 1/2 a medium tomato)

2/3

cup

prepared mayonnaise

2

tablespoons

chopped scallions—white and tender green parts only

(2 scallions)

2

teaspoons

prepared horseradish

2

teaspoons

apple cider vinegar

1

teaspoon

salt

1/2

teaspoon

ground black pepper

3

drops

Tabasco sauce

2

teaspoons

tomato paste

1/8

teaspoon

lemon juice
Portabella Reuben Sandwich
8

slices

plain or toasted Udi's Gluten Free Rye Style Bread or standard rye bread

4

large

portabellas

(rinsed and dried, about 8 ounces)

3

tablespoons

olive oil

2

garlic cloves

(minced)

1

dash

salt

1

dash

ground black pepper

1

cup

drained sauerkraut

1 1/2

cups

grated or sliced Swiss cheese

2

tablespoons

Russian Dressing

(recipe included)
Instructions
Easy Russian Dressing Directions
Combine all the dressing ingredients in a small food processor or blender and purée until smooth and creamy.

Store in the refrigerator for up to one month.
General Portabella Reuben Sandwich Directions (use for both options)
Preheat the oven to 450F degrees.

Combine the oil, garlic, salt and pepper in a small bowl and set aside.

Remove the stems from the portabellas and slice the caps into 1/2- to 1/4-inch-thick slices. Brush the portabella slices with the oil mixture and arrange on a baking sheet that you have covered with parchment paper.

To roast, bake mushrooms on one side for 4 to 8 minutes, then turn with a spatula and bake for 4 to 8 minutes more, until tender and juicy.
Option 1: Putting It Together and Grilling the Sandwich
Heat a skillet or a grill to medium hot (about 350F degrees)

Spread the butter on one side of each of the 4 slices of bread.

On the other side, spread the Easy Russian Dressing and place buttered side down on the grill. Layer each slice with 1/4 cup of the sauerkraut, 1/4 of the portabella slices, and a generous 1/3 cup of the cheese (or 1-2 slices).

Top each sandwich with a second slice of bread (on which you have spread Russian Dressing and buttered the other side.

Grill for about 4 minutes per side, until the cheese melts and the outside of the bread is nice and toasty brown.

Serve immediately.
Option 2: Baking the Sandwich
Reduce the heat to 400F degrees.

Follow all the instructions for grilling the reuben, but do not butter the outside of the bread.

Bake the sandwich for about 4 minutes, until the cheese melts.

Serve immediately.
https://recipeideashop.com/portabella-reuben-sandwich/
Note: Many of the links included throughout Recipe Idea Shop are affiliate links, which means if you follow them and you buy something, we will get a small commission. It doesn't cost you a penny more, and you can still use your Amazon Prime (Shop Amazon — Give the Gift of Amazon Prime) account to buy. Don and I love our Amazon Prime account. This posting includes affiliate links.
Portabella Reuben Sandwich Nutrition
WHAT'S NOT TO LOVE?
Trust me, you're gonna love this recipe. But don't stop there…subscribe to our email newsletter and get a free cookbook.
Pin & Share!
Please Pin and share our recipes. And tell us what you think in the comments.
You May Also Like These Recipes From Recipe Idea Shop
BEFORE YOU GO, DID YOU GRAB YOUR FREE COOKBOOK?