Gluten Free Buttermilk Pancakes. Easy. Tasty. A family favorite.
Gluten Free Buttermilk Pancakes
Hey. Don here. Since Lois seems to be getting increasingly sensitive to gluten, we tried my family's pancake recipe with gluten free flour. I had some leftover buttermilk to use up and I love these made-the-night-before Buttermilk Pancakes. They were just as delicious as when they are made with wheat flour. Try them with Sautéed Apples. Yum.
We find the Bob's Red Mill flour blends to be the easiest to work with. The baking mix has a little stronger flavor and it has the texture of Bisquick, but it's good for pancakes and anything that you add chocolate to. The 1-to-1 Baking Flour is great for cakes because it's a little lighter in texture and flavor.
These Gluten Free Buttermilk Pancakes turn out great every time. You are gonna love them. We sure do.
Check out the recipe.
Serve these pancakes with pure maple syrup and maybe some fruit.
We buy our Bob's Red Mill Gluten Free Baking Mix and Bob's Red Mill 1-to-1 Baking Flour at Amazon. Do you?
Gluten Free Buttermilk Pancakes Recipe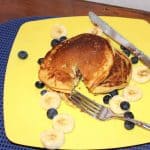 Gluten Free Buttermilk Pancakes
Flavorful, wonderful pancakes. This recipe is a family favorite.
Ingredients
2

tablespoons

sugar

2 1/2

cups

Bob's Red Mill Gluten Free Baking Mix

1/2

teaspoon

salt

1

teaspoon

baking powder

1

teaspoon

baking soda

2

cups

buttermilk

2

beaten eggs

2

tablespoons

melted butter
Instructions
Mix all the dry ingredients.

Sift twice to add air to the mix.

Add the buttermilk, beaten eggs and butter, and stir gently to combine.

Cover and refrigerate over night.

In the morning, stir the mixture and cook on a hot ungreased griddle, using about 1/4 cup per pancake.

Let the pancakes form lots of bubbles before turning them over to cook the other side (about 5 minutes).

Cook for another 2-3 minutes until golden brown.
Note: Many of the links included throughout Recipe Idea Shop are affiliate links, which means if you follow them and you buy something, we will get a small commission. It doesn't cost you a penny more, and you can still use your Amazon Prime (Shop Amazon — Give the Gift of Amazon Prime) account to buy. This posting includes affiliate links. 
Gluten Free Buttermilk Pancakes Nutrition Information
Want More Recipes Like This?
If you want more delicious recipes, please sign up for our free cookbook.
Pin & Share!
Please Pin and share our recipes. And tell us what you think in the comments.
You May Also Like These Recipes From Recipe Idea Shop
BEFORE YOU GO, DID YOU GRAB YOUR FREE COOKBOOK?
[mc4wp_form id="5109″]