Gluten Free Coconut Cream Pie. OMG. So scrumptious. Creamy. Full of coconut flavor. Flaky, tasty, gluten free crust. Yum!
Gluten Free Coconut Cream Pie
Hi. It's Lois at Recipe Idea Shop, telling you about my super good Gluten Free Coconut Cream Pie that I made for a dinner party on Friday. Everyone loved it!
A1/A2 Milk
Although I cannot eat commercial cow's milk (containing the A1 protein), I own a part of a local A2 milking herd and I get my A2 milk fresh from the farmer. It is filled with luscious cream that rises to the top, and it tastes SO good. I used my A2 raw milk to make the custard part of the pie. A1 milk makes my joints hurt. Thankfully, A2 does not cause problems for me. (Read about A1/A2 proteins; read more about A1/A2 proteins.)
I'm from rural Wisconsin where, when I was a kid, the dairy farmers raised Guernsey and Jersey cows (which produce high butterfat, lower volume milk), so when I found out I couldn't drink/eat A1 dairy products (which is the only product available at most grocery stores and is produced mostly by Holsteins and cross-bred cows bred for volume), I was devastated. I do love my milk.
Cream Filling
I had never made a Coconut Cream Pie, or any cream pie, for that matter. I used a family recipe for the custard, Homemade Vanilla Pudding (Jackie's Pudding). It's an easy custard to make; you simply have to be patient and stir it constantly so it doesn't burn. Don's method of warming the egg/sugar mixture before putting it into the hot milk worked perfectly. Thankfully, it made custard instead of scrambled eggs. If you put the cold egg/sugar mixture directly into the hot milk, it curdles (and looks like scrambled eggs). So don't do that!
I found three different recipes for Coconut Cream Pie and read them all carefully. Each one had slightly different ingredients and method. I ended up toasting all the coconut before mixing it into the pudding (saving some to garnish the top). I think it enhanced the flavor a bit. Most of the recipes suggested using sweetened, flaked coconut and did not say to toast it, except for the garnish. So you can really do it either way. I only buy unsweetened flaked coconut, so that's what I used.
Pie Crust
I used Don's Gluten Free Shortbread Pie Crust for my crust. It's super easy, with only three ingredients, and you don't have to refrigerate it before simply pressing it into the pie plate to bake. No rolling involved. And it's quite tasty. Not the same as a flaky, regular pie crust, but still extremely good. It's more the texture of a shortbread cookie. Nice and crisp. Gluten free baking is a bit different and I'm not sure you could achieve a flaky crust with gluten free flour.
BTW, I really liked the Bob's Red Mill Gluten Free 1-to-1 Baking Mix in the pie crust. It was very light tasting, and not a bit grainy. (I do find that this same flour is not as good in cakes, however. For cakes, I use Bob's Red Mill Gluten Free All Purpose Baking Flour.)
What's Your Fav?
What's your favorite way to make a Coconut Pie? With toasted coconut or not toasted? Have you found a flaky gluten free pie crust? Do you put whipped cream on top of your pie? That seemed mighty decadent to me. Please share your thoughts in the comments.
If you like coconut, you're gonna wanna eat this. Check out the recipe…
Gluten Free Coconut Cream Pie Recipe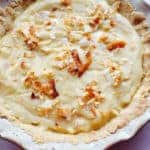 Gluten Free Coconut Cream Pie
Absolutely scrumptious coconut pie!
Total Time
1
hour
25
minutes
Ingredients
Gluten Free Shortbread Pie Crust Ingredients:
1

cup

Bob's Red Mill Gluten Free 1-to-1 Baking Flour

1/4

cup

turbinado sugar

or granulated

1/2

cup

butter

softened (or 1/2 cup Crisco for dairy free)
Coconut Custard Ingredients:
1-1/2

cups

whole milk

2

egg yolks

reserve egg whites to make meringue for the top of the pie if you want

1/3

cup

turbinado sugar

or granulated

1

teaspoon

vanilla

1

cup

unsweetened

flaked coconut
Instructions
Gluten Free Shortbread Pie Crust Directions:
Heat oven to 350F degrees

Cream butter and sugar.

Blend in the flour, 1/2 cup at a time, until the mixture resembles coarse meal.

Press the shortbread mixture into one 9-inch pie plate, covering the bottom about 1/4 inch thick.

Press the mixture up the sides of the pie plate, making sure the joint between the bottom and the sides is pressed together well.

Bake at 350F degrees about 15-20 minutes until the crust is golden brown.

Let it cool before filling it with custard.
Note: If you are using the crust for a baked pie (such as pumpkin), remove it from the oven when it is just starting to brown as it will cook longer when you bake the pie.
Coconut Custard Directions:
Lightly broil the flaked coconut until it is just starting to brown. Set aside.

In a separate dish, mix the egg and sugar. Set aside.

Use a heavy bottomed pan to make the custard. You need to constantly watch it and stir it so it doesn't burn!

Put the cornstarch in the bottom of the pan. Add the milk. Stir until the cornstarch is dissolved.

Begin heating the cornstarch and milk mixture over medium-low heat.

As the milk and cornstarch mixture heats up, gradually raise the heat to medium (or medium-high if you are brave and vigilant), stirring all the while.

When the milk mixture is about 100F degrees, add 4 tablespoons of the hot milk to the egg/sugar mixture; then stir this mixture into the pot.

Continue heating, stirring constantly until the pudding boils.

Reduce the heat and continue cooking and stirring for several minutes until the pudding thickens.

Stir in the vanilla and most of the toasted coconut, reserving a couple tablespoons full as a garnish.

Pour the pudding into the baked pie shell.

Place a piece of plastic wrap directly on top of the pudding to prevent a film from forming.

Let cool to room temperature; then refrigerate for at least 2 hours before serving.

To serve, cut slices and garnish with the reserved toasted coconut. Some people add whipped cream as a garnish, too.
https://recipeideashop.com/gluten-free-coconut-cream-pie/
Note: Many of the links included throughout Recipe Idea Shop are affiliate links, which means if you follow them and you buy something, we will get a small commission. It doesn't cost you a penny more, and you can still use your Amazon Prime (Shop Amazon – Give the Gift of Amazon Prime) account to buy. This posting includes affiliate links. 
Gluten Free Coconut Cream Pie Nutrition Information
Want More Recipes Like This?
If you want more delicious recipes, please sign up for our free cookbook.
Pin & Share!
Please Pin and share our recipes. And tell us what you think in the comments.
You May Also Like These Recipes From Recipe Idea Shop
BEFORE YOU GO, DID YOU GRAB YOUR FREE COOKBOOK?
SaveSave
SaveSave
SaveSave
SaveSave