This creamy, delectable vegan pumpkin pudding has that amazing pumpkin flavor that everyone loves in the fall. The cinnamon, vanilla, and maple syrup give it just the right sweetness to remember those happy times when Grandma made you a special treat.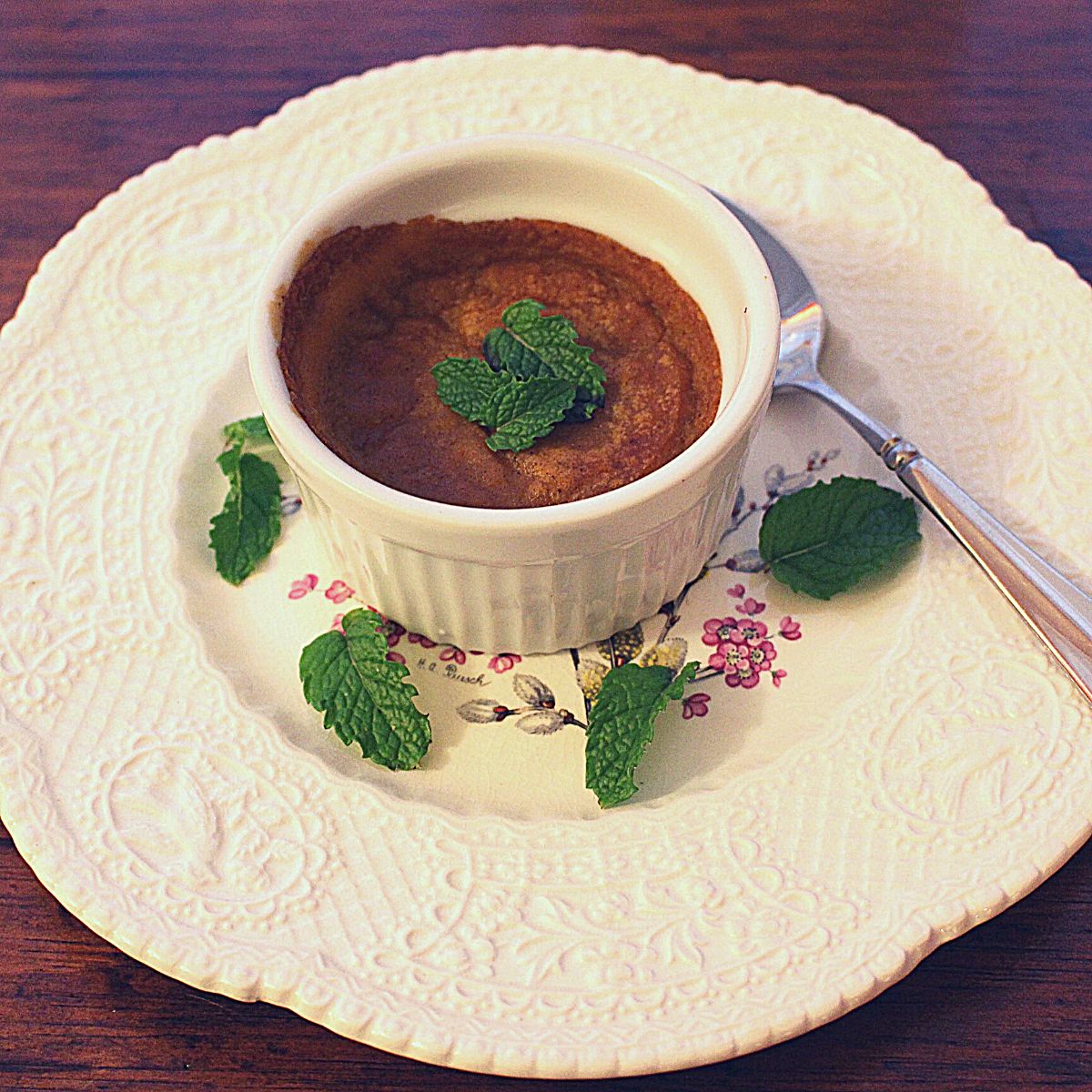 Now you can make it yourself with just 15 minutes of prep and an hour in the oven. And it's so easy to make. There's no crust to worry about as there is with a pie! And it only has 8 ingredients.
In the fall and around Thanksgiving, fresh pumpkins are readily available and inexpensive. Since we love fresh pumpkins so much here, we make pudding, pie, muffins, and soup with them. We even like pumpkin roasted and added to a salad.
Jump to:
Why You'll Love This Recipe
I know you're going to love this recipe because everything about it says "comfort food." Here are a few other reasons to love it:
Awesome taste and texture. Vegan pumpkin pudding is creamy and amazing. The combination of flavors is perfect with just the right sweetness.
Easy to make. The recipe calls for only 8 ingredients. The simple recipe is mostly a whip-pour-and-bake process. It lets you make pumpkin pie without the crust!
So good for you. It's vegan, gluten-free, and nut free so you won't have to worry about food allergies. Cinnamon has anti-inflammatory properties. And pumpkin is a highly nutritious, nutrient-dense, and low-calorie vegetable.
Ingredients
There are only 8 ingredients in this delicious pudding. And it's likely you will have some of them in your pantry.
arrowroot powder
oat milk
fresh pumpkin
ripe banana
vanilla
ground cinnamon
pure maple syrup
sea salt
See the recipe card for quantities.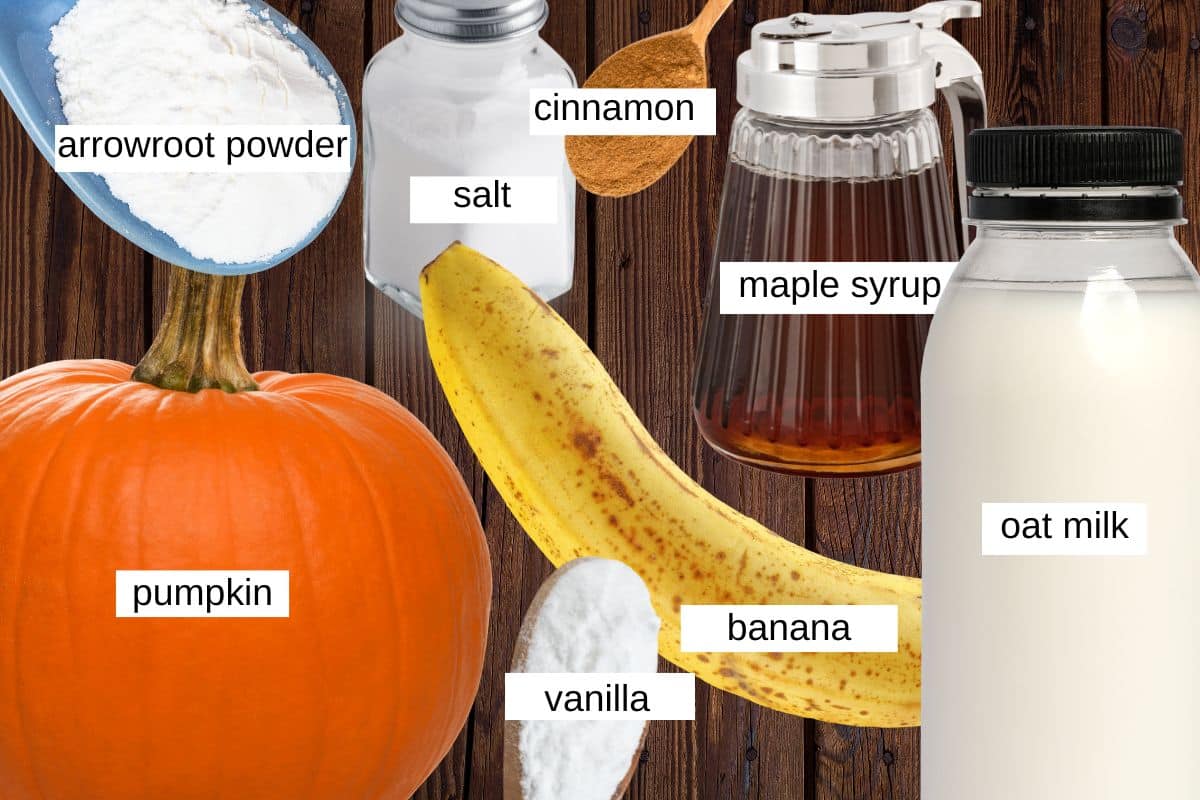 Ingredient notes
Arrowroot. Arrowroot is a thickening agent. It's made from a starchy root vegetable. Similar to cornstarch, it is a powder that you dissolve in a liquid to help thicken sauces and puddings. It is flavor-neutral but nutrient-packed, containing lots of folate (B9). It is not a common allergen, so it is a good choice for thickening savory or sweet dishes.
Oat milk. Oat milk is a creamy, plant-based, milk alternative. It is a terrific choice for vegans because it is the same consistency as cow's milk. Few people are allergic to it.
Steamed or roasted pumpkin. Pumpkin is like any squash. Peel it, remove the seeds, cube it or slice it, and cook it. You can roast it or steam it.
Ripe banana. One banana without the skin. It can be any stage of ripeness as long as it's soft.
Vanilla. A little vanilla is so good, isn't it? Be sure to use pure vanilla extract, not vanillin.
Cinnamon. Cinnamon is a tasty spice that adds a depth of flavor to this pudding. It's a spice that most people have in their pantry because it can be used in so many recipes.
Maple syrup. Pure maple syrup adds a wholesome sweetness to vegan pudding.
Sea salt. Sea salt is unadulterated salt with nothing added. And it's so flavorful. A little bit goes a long way.
Substitutions And Variations
Pumpkin. You can make your life easy by using canned pumpkin. Remember to choose a plain pumpkin, not pumpkin pie filling.
Salt. It is not absolutely necessary to use sea salt. Any salt will do. If you are not allergic to corn, you can substitute regular iodized table salt (table salt generally has an anti-caking agent in it that contains cornstarch).
Spices. Try adding a little nutmeg or cardamom to this pudding. Mmmmm.
Honey. Instead of maple syrup, use honey. You'll get the same amount of sweetness with a little different flavoring.
Milk alternative. If you don't want to use oat milk, you can substitute any plant-based milk alternative. Coconut milk is delicious in this recipe. I especially like the full-fat coconut milk because it's so rich.
How To Make This Recipe
Be sure to get all your ingredients together before starting the recipe! It makes the process go much more smoothly. Plus, you will be sure to have everything you need.
How to prepare the fresh pumpkin
If you don't already have steamed or roasted pumpkin, there are a few ways to prepare it: steam, roast, or microwave.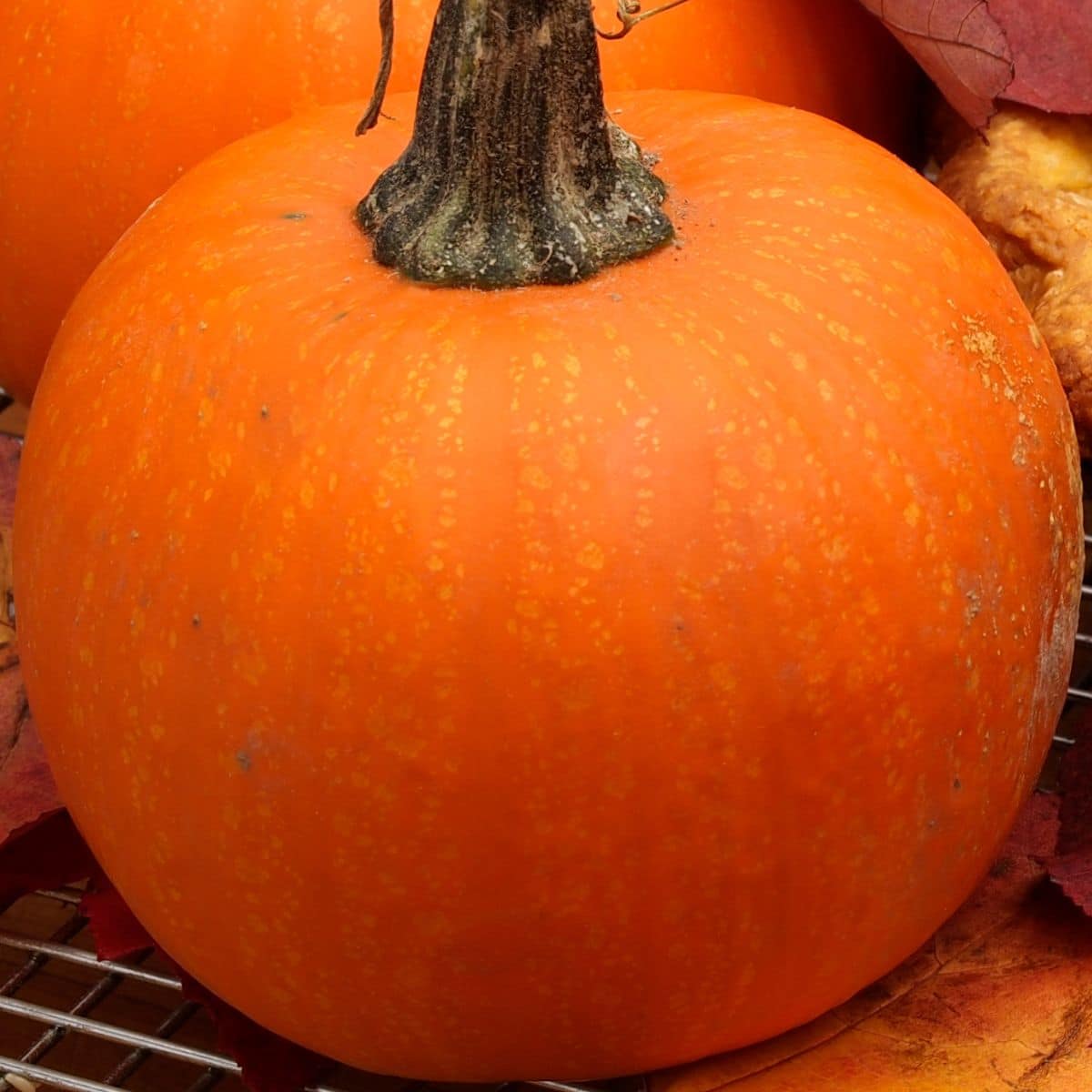 The easiest method, in my opinion, is to microwave the pumpkin whole: just stab it in a few places, set it on a microwave-safe plate, and microwave for 5 minutes per pound of pumpkin. A small pie pumpkin (which is one of the best for this recipe) should take about 10 minutes to cook this way.
Let the pumpkin cool for a few minutes, cut it in half to remove the seeds, and then peel the skin. To puree it, whiz it in your favorite blender for half a minute and you're done!
If you'd rather steam it, peel the pumpkin and cut it in half. Scrape all the stringy center parts out, including the seeds. Throw away the seeds and stringy stuff or set the seeds aside to roast later.
Cube the pumpkin flesh and put it in a steamer basket to cook until soft. You only need a cup of mashed pumpkin for the recipe. About two cups of raw pumpkin will cook down to about one cup of mashed pumpkin. Save the rest of the cubes to roast or use in another recipe.
When the pumpkin cubes are soft (but not mushy), pureé them in a blender or a food processor. The blender works better because later in the recipe you will need to transfer the contents to ramekins. It allows you to simply pour the pumpkin pudding mixture into the ramekins.
Now you are ready to "start" the recipe.
Add ingredients and blend the pudding. If you have just blended the pumpkin, leave it in the blender. There is no reason to wash it between steps. If you are using canned pumpkin or pumpkin you have steamed previously, dump it into a clean blender.
Add the banana, vanilla, cinnamon, maple syrup, and salt. Blend until smooth.
In a 4-cup measuring cup dissolve the arrowroot in the oat milk. Just dump the arrowroot into the oat milk, and whisk until dissolved.
Pour the milk mixture into the blender and blend on low until smooth.
Prepare and fill the ramekins. Grease 8 ramekins with canola oil or spray them well with an olive oil spray. Fill each ramekin about ¾ full with the ready-to-bake pudding.
Prepare a water bath for the pudding-filled ramekins. Place the filled ramekins in a shallow pan or casserole dish. They must sit flat. Pour water into the pan, surrounding the ramekins. (This is called a water bath.) The water should be about ½ inch below the top of the ramekin. Do not get water into the ramekins!
Bake. Carefully transfer the pan to your preheated 350F degree oven and bake for about one hour, until a knife inserted in the pudding comes back out clean. The pudding will be "solid" and won't jiggle when it is done. It will also be a beautiful golden brown color.
Let cool. Let the pudding cool to room temperature before serving or storing it in the refrigerator.
Hint: If the arrowroot doesn't dissolve completely, warm the powder/milk mixture in the microwave for 30 seconds. Then stir again.
Storage
You can store vegan pumpkin pudding for up to a week in the refrigerator. But it's unlikely it will last that long because everyone is sure to love it.
Recipe FAQs
Do I have to use fresh pumpkin in this recipe?
No. You can use canned pumpkin as an alternative. Be sure it is simply pumpkin, not pumpkin pie mix.
How can I blend the mixture so it is smooth?
You can use an immersion blender, a standard blender, an electric mixer, or a food processor to make sure the pudding is very smooth.
Why should I use a water bath for my pudding?
A water bath allows the pudding to cook indirectly and gently at an even temperature. It also adds moisture to the oven, which prevents the top from cracking.
How do I prevent a "skin" from forming on the top of the pudding?
Before you refrigerate the pudding, place a piece of plastic wrap directly on top of the pudding. This will prevent drying the pudding, which is what the skin is.
Other Fall Sweets To Try
Did you try this recipe? You can leave a star rating ⭐️⭐️⭐️⭐️⭐️ in the recipe card or a review down in the comments section. I always appreciate your feedback!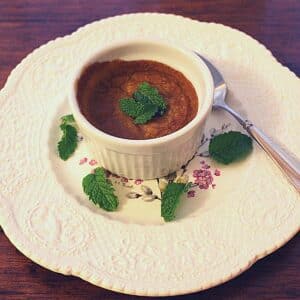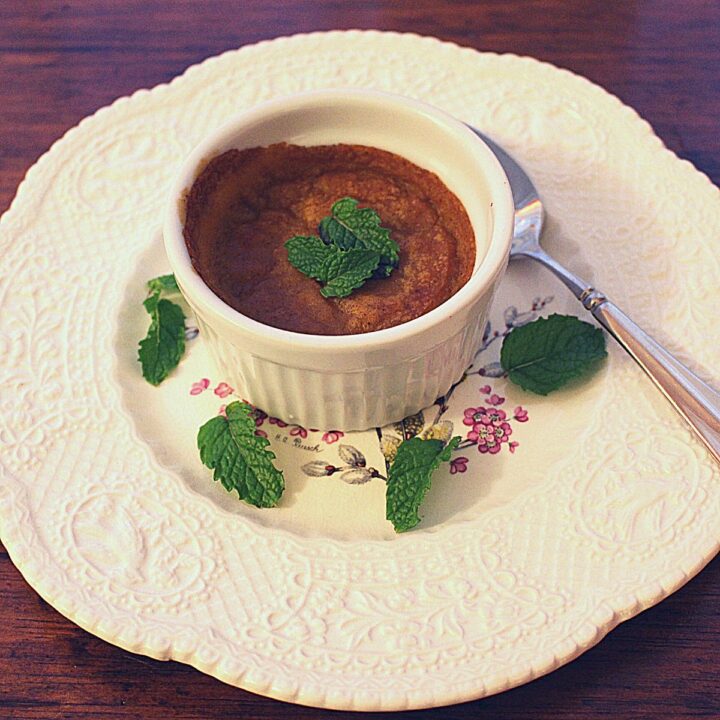 Vegan Pumpkin Pudding Recipe
Creamy homemade pumpkin banana pudding
Ingredients
¼

cup

arrowroot powder

2

cups

oat milk

1

cup

fresh pumpkin

steamed and pureed, flesh only

1

very ripe banana

1

teaspoon

vanilla

½

teaspoon

ground cinnamon

¼

cup

pure maple syrup

¼

teaspoon

sea salt
Instructions
Prep and microwave your pumpkin.

While the pumpkin is cooking, get everything else ready.

In a medium bowl, mix the arrowroot with the oat milk until dissolved.

Add all the other ingredients and blend it well with an immersion blender (or a mixer).

It will be about the texture of a cream soup.

Ladle the puree into 8 greased ½-cup ramekins.

Bake in the oven at 350F degrees in a water bath for about one hour, until the pudding is thick and doesn't jiggle when you touch it. The top will be a nice, golden brown.
Notes
While you can use a carving pumpkin, the best pumpkin for this recipe is the pie pumpkin: it'll be sweeter and blend into a much smoother pudding.
To make a water bath, set the ramekins in a cake pan or another pan with a 3-inch side. Pour hot water into the pan, surrounding the ramekins, but about 1 inch or so below the top of the ramekin.
Nutrition
Calories:
102
kcal
Carbohydrates:
17
g
Protein:
2
g
Fat:
3
g
Saturated Fat:
2
g
Polyunsaturated Fat:
0.1
g
Monounsaturated Fat:
1
g
Cholesterol:
7
mg
Sodium:
105
mg
Potassium:
251
mg
Fiber:
1
g
Sugar:
11
g
Vitamin A:
1365
IU
Vitamin C:
3
mg
Calcium:
99
mg
Iron:
0.2
mg