Gluten Free Dairy Free White Bread is the BEST recipe I have found for GF bread that actually tastes like bread. This single-rise bread is excellent and easy. Mix it with your electric mixer.
Gluten Free Dairy Free White Bread tastes like real BREAD.
If you are gluten free, I know you know what I mean. Most gluten free bread doesn't taste like real bread. Let me tell you about my recent adventures in making Gluten Free Dairy Free White Bread. I could eat this bread all day long. The texture is just a little different than wheat bread, a bit more gummy, but really good. I am so thrilled to be able to eat good bread again.
If you need an egg-free bread, you can substitute ground flaxseed meal for the eggs in this recipe. It works perfectly. The ratio is 1 tablespoon ground flaxseed meal plus 3 tablespoons water per egg. I include this as an option in the recipe.
Gluten Sensitivities and Celiac Disease
If you have celiac disease or love someone with this disease, you know how difficult it is to get great tasting gluten free baked goods. And eating gluten should never be an option for someone with celiac disease. It will shorten your life.
Luckily, I am only sensitive to gluten, not allergic. Since it causes health problems for me, I generally make all my own foods from scratch. I have been working with my Amazing Gluten Free French Bread recipe, which is truly superior, trying to make a loaf bread that has the right texture all the way through it.
The Process
This recipe is the result of my trials and errors. You have to use lots more yeast and bake it longer than my recipe for Amazing Gluten Free French Bread, but it's SO good. And you can make it in a French bread pan if you want a skinny loaf of bread.
With gluten free bread, you don't double rise it. If you try to punch the bread down and let it rise a second time, it doesn't rise at all the second time. It's super easy to make as a single-rise loaf. A good quality mixer is a must since you have to whip Gluten Free Dairy Free White Bread on high for three minutes. Whipping the batter adds air to the dough. You do this instead of hand-kneading the bread.
When you put the dough in the loaf pan, it's a sticky, gloppy mess, similar to Banana Bread dough. The crust doesn't get quite as brown as homemade wheat bread, but it's still crusty and delicious. Spraying the top of the bread with baking spray helps it to brown.
If you are good at cutting homemade bread, you might get 20 slices from a loaf. If you have my cutting skills, it's likely you will get about 18 slices.
Use For French Bread & Pizza Dough
If you prefer a skinny loaf like French bread, you can make this bread that way. It's super good. When I make it this way, I spray the sides of the oven with water 2 minutes before putting the bread in the oven. Then I put it in the oven, close the door, and wait 1 minute. I open the door and spray the top and sides of the oven with water again, and then continue baking for about 35 to 40 minutes until the crust is nice and brown and the bread sounds hollow when you thump it.
You can also use this recipe for pizza crust. Make it the same way you do for a loaf of bread, but instead of putting it in a bread pan, put it on an oiled pizza pan or a baking sheet. Then bake it at 350°F for 18-20 minutes until it is nicely browned. Take it out of the oven and add your toppings. Bake it again for 15-20 minutes. You will have a nice, thick-crust pizza.
What You Need
For this recipe, you need measuring cups and spoons, a good quality stand mixer, and one bread loaf pan. Whatever tools you buy, be sure to buy the best you can afford. You will never be sorry. You also need both gluten free flour and almond flour. The almond flour is critical to helping the bread rise. I'm not sure why, but if you substitute another GF flour, it will not rise as well.
Gluten Free Dairy Free White Bread Recipe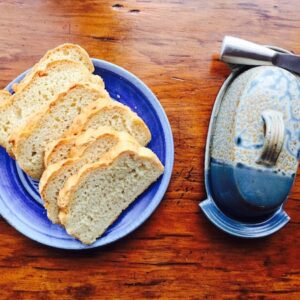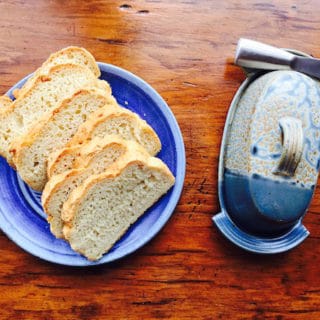 Gluten Free Dairy Free White Bread Recipe
This Gluten Free Dairy Free White Bread is the closest version of BREAD I have found. Excellent flavor and texture.
Ingredients
¼

cup

active dry yeast

2

teaspoons

of honey or sugar

1½

cups

warm water

not too hot, make it like bathwater

2

cups

Bob's Red Mill Gluten Free One-to-One Baking Flour

1

cup

almond flour

1

tablespoon

xanthan gum

optional, already included in Bob's Red Mill Flour, but I add it

1½

teaspoons

sea salt

2

large eggs

or 2 tablespoons ground flaxseed meal plus 6 tablespoons water

2

tablespoons

olive oil

1

teaspoon

apple cider vinegar

Oil or baking spray
Instructions
In a 2-cup measuring cup or bowl, combine the water, sugar, and yeast.

Stir to dissolve the sugar (or honey). I use a wire whisk to do this.

Cover the cup with a clean cloth and set it aside until it is nice and bubbly (about 5 minutes).

Using the wire whip attachment (not the dough hook or paddle) and the mixing bowl of your Kitchen Aid stand mixer, combine the flour, xanthan gum, and salt, and mix to combine.

Add the yeast mixture, vinegar, oil, and eggs to the mixing bowl and mix on low to combine.

Scrape down the sides once.

Beat the dough on high for 3 minutes.

Spray a loaf pan with baking spray.

Scrape the dough into the loaf pan and smooth the top.

Set it in a warm, draft-free location to raise about 30-45 minutes, or until the loaf has raised about half again as much as it was. It won't double like regular bread dough. NOTE: Do not cover the bread with a cloth as you would with wheat dough. It will rise and stick to the cloth.

Heat the oven to 375°F.

Spray the top of the loaf with baking spray (optional, to help it brown).

Open the oven and spray the sides and top with water. Close the oven door and wait 2 minutes. (You can skip this if you are using a regular loaf pan, but if you are using a French bread pan, this will help make the bread crusty.)

Place the loaf in the oven on the middle rack.

After 1 minute, open the oven and spray the sides and top of the oven with water again. (Skip this step if using a regular loaf pan.)

Bake the bread for 45-50 minutes (loaf pan) until the bread is starting to brown and sounds hollow when you tap it. If I am using a French bread pan, at 40 minutes, I remove it from the pan and put it back in the oven for 5 minutes to harden the sides a bit.

Take it out of the oven and cool it on a wire rack.
Notes
Note 1: This is a single-rise bread! No kneading. Note 2: For egg-free bread, eliminate the 2 eggs and substitute 2 tablespoons ground flaxseed meal plus 6 tablespoons water.
Nutrition
Calories:
115
kcal
Carbohydrates:
13
g
Protein:
5
g
Fat:
6
g
Saturated Fat:
1
g
Polyunsaturated Fat:
0.3
g
Monounsaturated Fat:
2
g
Trans Fat:
0.002
g
Cholesterol:
18
mg
Sodium:
220
mg
Potassium:
41
mg
Fiber:
3
g
Sugar:
1
g
Vitamin A:
26
IU
Vitamin C:
0.01
mg
Calcium:
26
mg
Iron:
1
mg
Recipe Nutrition Information
This recipe is GF, DF, SF, CF (use sea salt), EF (use flaxseed meal), V*
The information shown is an estimate provided by an online nutrition calculator. It should not be considered a substitute for a professional nutritionist's advice.
Nourish Your Body & Soul
I encourage you to care of yourself by eating satisfying, nourishing food that is good for your body and makes you feel healthy. Protect your spirit by living authentically, moving your body, and taking time to replenish and rest. I think you might also like these recipes & posts from Recipe Idea Shop:
Rate, Pin & Share!
Please Rate our recipes and posts, and Pin and Share them on social media. Comments are welcome, too!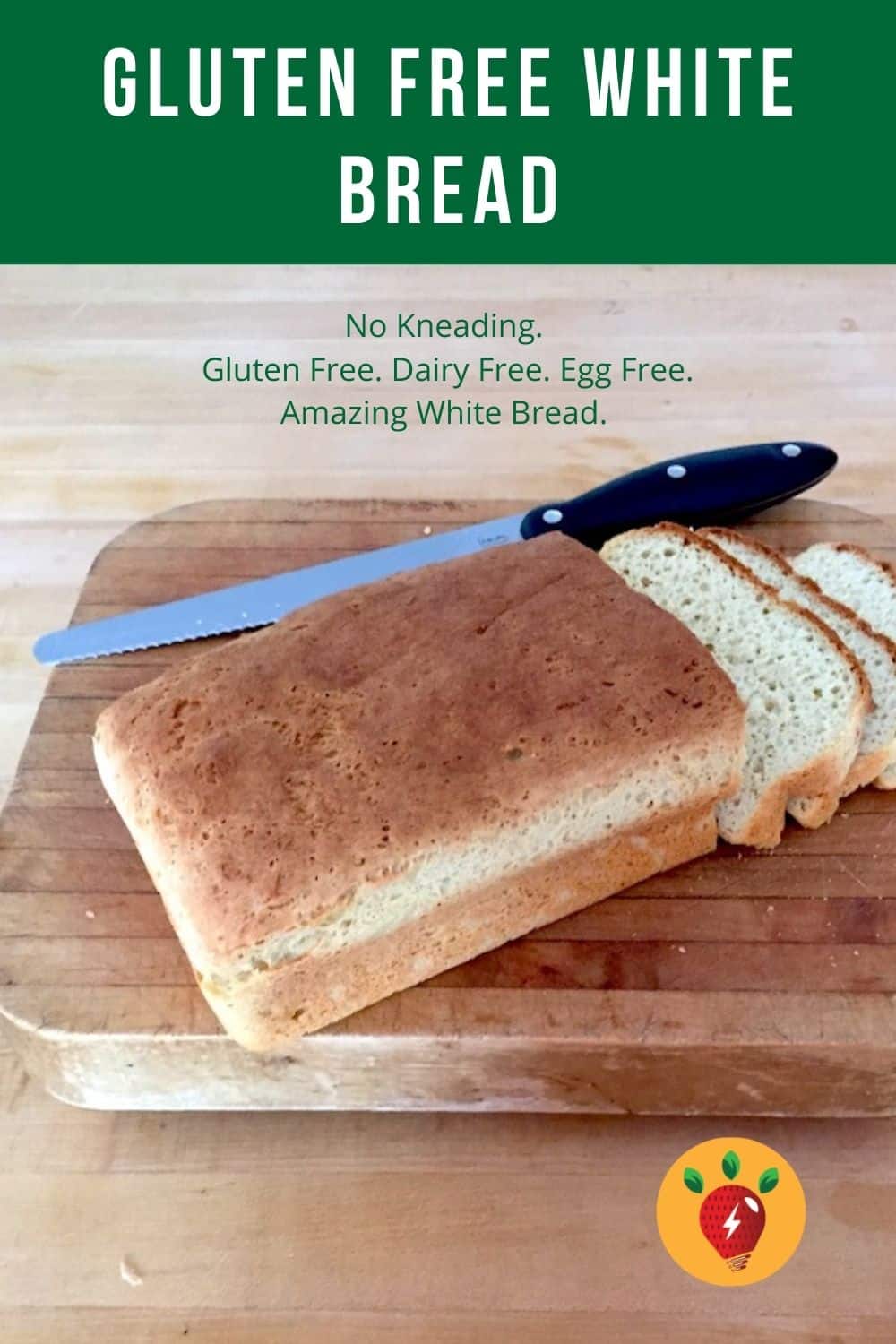 Gluten Free Dairy Free White Bread that actually tastes like bread. Can be egg free. Single rise.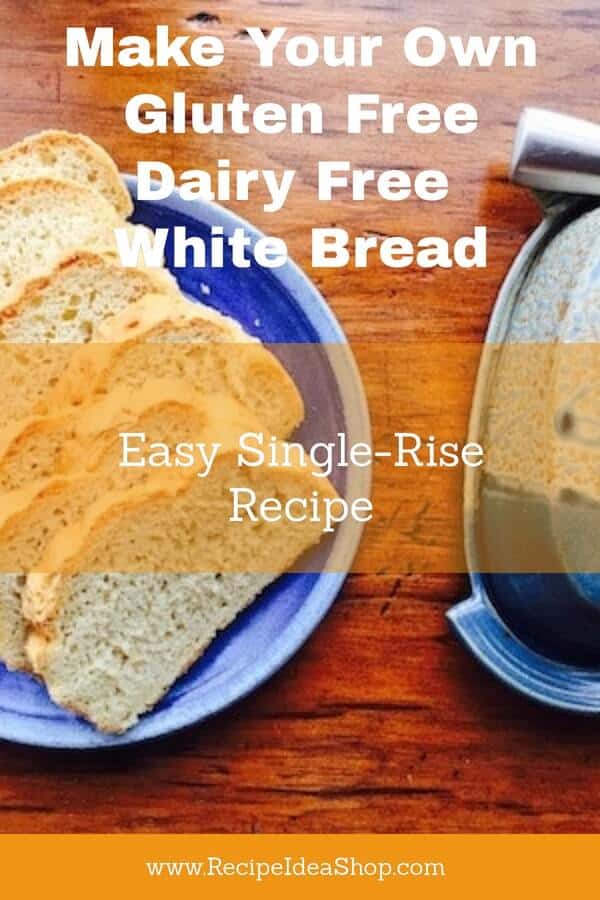 *Allergen Key
GF = Gluten free | DF = Dairy free | NF = Nut free | SF = Soy free | EF = Egg free | CF = Corn free | V = Vegetarian | VG = Vegan
Note: If you have serious allergies or sensitivities, to be considered free of these allergens, you need to use products specifically marked "gluten free," etc. There can be cross-contamination in facilities.
Disclaimer: The author is not a health professional or nutritionist. She is offering her research and personal reflections about her health journey and is not providing any type of medical or nutritional advice. This post is for informational purposes only. It is offered as a tool for people to discover their own suspected food allergies, intolerances and sensitivities. Readers are highly encouraged to read, write, and reflect on the ideas presented. Consult your healthcare professional before initiating any dietary or exercise program.
This recipe was originally posted on Recipe Idea Shop July 28, 2017 and updated October 7, 2021.