Homemade Peanut Butter Cookies are melt-in-your-mouth amazing. Super delicious and gluten free! Everyone is gonna love them and they will never guess they are gluten free. But tell them. Then they won't eat them, and you can have more!
These Homemade Peanut Butter Cookies are better than your mom's.
This Homemade Peanut Butter Cookie recipe is my all-time favorite version of this cookie standby. We might have to make some today since June 12 is National Peanut Butter Cookie Day. Now that's something to celebrate.
These cookies are not as heavy as the traditional Old Fashioned Peanut Butter Cookies recipe. Because you use half white sugar and half brown sugar, these gluten free peanut butter cookies have the texture of Pecan Sandies (you know, store-bought the cookies you loved as a kid). But if you use all brown sugar, they are a little more chewy, and still flaky and amazing.
Recipe Options
I know you're going to feel sorry for me. I had to make these cookies 5 times (sampling them every time) before I decided on the best version to share with you! I loved all of them and I'm going to give you two options.
Lots of Homemade Peanut Butter Cookie recipes call for rolling them in granulated sugar before flattening them with a fork. It does make a prettier cookie, but I personally do not like my cookies to be super sweet. So if you like them a bit sweeter, roll them in sugar before baking them. I also liked them with slivered almonds on top. My absolute favorite is with the chocolate chips on top because, well, chocolate.
If you like a little "flakier" cookie, use half granulated white sugar and half brown sugar. I like mine a bit flaky and a bit chewy, so I used all brown sugar. Both are super good.
How To Make Them
The recipe is simple, like most cookies. Mix the sugars and egg. Add the flour and other dry ingredients. Thoroughly mix. Shape. Flatten. Bake. Eat. Yum.
What You Need
You will need a mixer, either a stand type or handheld type (affiliate link), along with mixing bowls, measuring cups and spoons, a fork, cooling racks, and a good baking sheet. I prefer the jelly roll type of cookie sheet. Whatever you buy, buy the best you can afford so it lasts a lifetime. And be sure to get yourself one of the silicone baking sheets to help with easy clean up.
Homemade Peanut Butter Cookies Recipe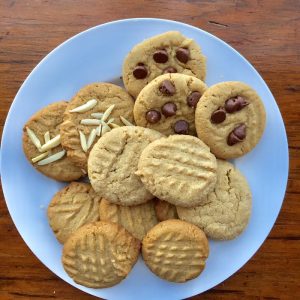 Homemade Peanut Butter Cookies (Gluten Free)
These are melt-in-your-mouth delightful Homemade Peanut Butter Cookies.
Ingredients
½

cup

butter

1

cup

creamy peanut butter

1

teaspoon

vanilla extract

1

cup

dark brown sugar

or ½ cup white + ½ cup brown

1

egg

1 ¼

cup

gluten free flour

1

teaspoon

baking soda

1

teaspoon

baking powder

¼

teaspoon

salt
Instructions
Cream the butter, peanut butter, vanilla, and brown sugar.

Beat in the egg.

Add the flour, soda, baking powder and salt. Give the dry ingredients a quick stir to mix them before beating them into the sugar mixture.

Beat the dry ingredients mixture into the sugars until thoroughly combined.

Roll the dough into 1-inch balls and place on a baking sheet, three across and five down (that is, 15 balls spaced evenly over the baking sheet).

Flatten the cookies with a fork in a crisscross pattern.

Bake at 300 degrees for 15 minutes until turning just a bit brown, but still somewhat soft. Bake longer if you like them extra crispy.

Remove cookies to a cooling rack and when cool, store in an air-tight container.
Nutrition
Make the Dough
Roll in Balls
Flatten and Bake
Store in a Cookie Jar
What's your favorite cookie jar (affiliate link)? I love this one!
Recipe Nutrition Information
This recipe is GF, SF, V*
The information shown is an estimate provided by an online nutrition calculator. It should not be considered a substitute for a professional nutritionist's advice.
Nourish Your Body & Soul
I encourage you to care of yourself by eating satisfying, nourishing food that is good for your body and makes you feel healthy. Protect your spirit by living authentically, moving your body, and taking time to replenish and rest. I think you might also like these recipes & posts from Recipe Idea Shop:
Rate, Pin & Share!
Please Rate our recipes and posts, and Pin and Share them on social media. Comments are welcome, too!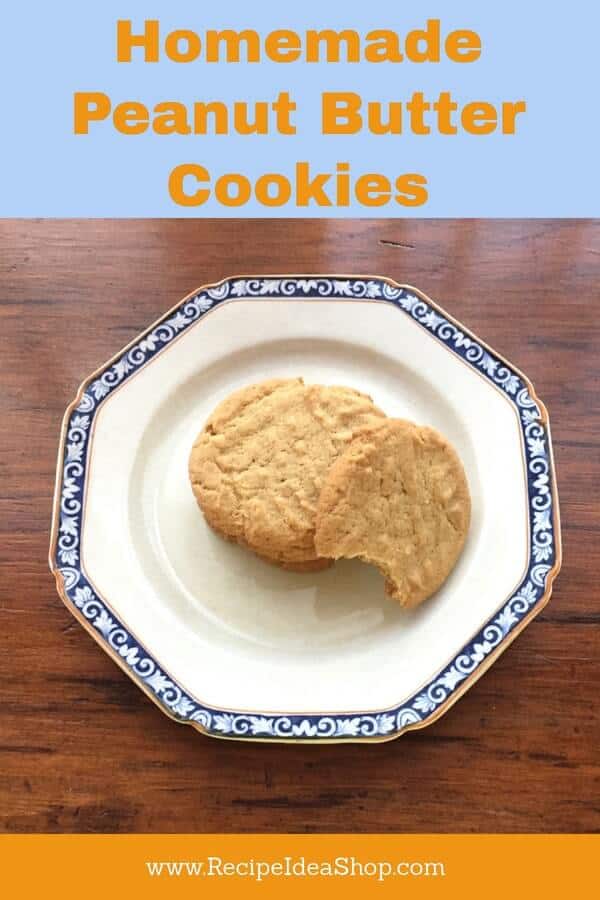 *Allergen Key
GF = Gluten free | DF = Dairy free | NF = Nut free | SF = Soy free | EF = Egg free | CF = Corn free | V = Vegetarian | VG = Vegan
Note: If you have serious allergies or sensitivities, to be considered free of these allergens, you need to use products specifically marked "gluten free," etc. There can be cross-contamination in facilities.
This post was first published on Recipe Idea Shop October 22, 2018 and updated September 28, 2021.
Last Updated on May 24, 2022 by Adriana