Ever wonder how to keep raspberries from molding? You might be surprised to know a little vinegar rinse can do the trick!
Raspberries are a delicious and healthy treat, but they can be notoriously difficult to keep fresh. One of the biggest problems is that raspberries are very prone to molding. However, there are a few simple steps you can take to help keep your raspberries fresh for longer.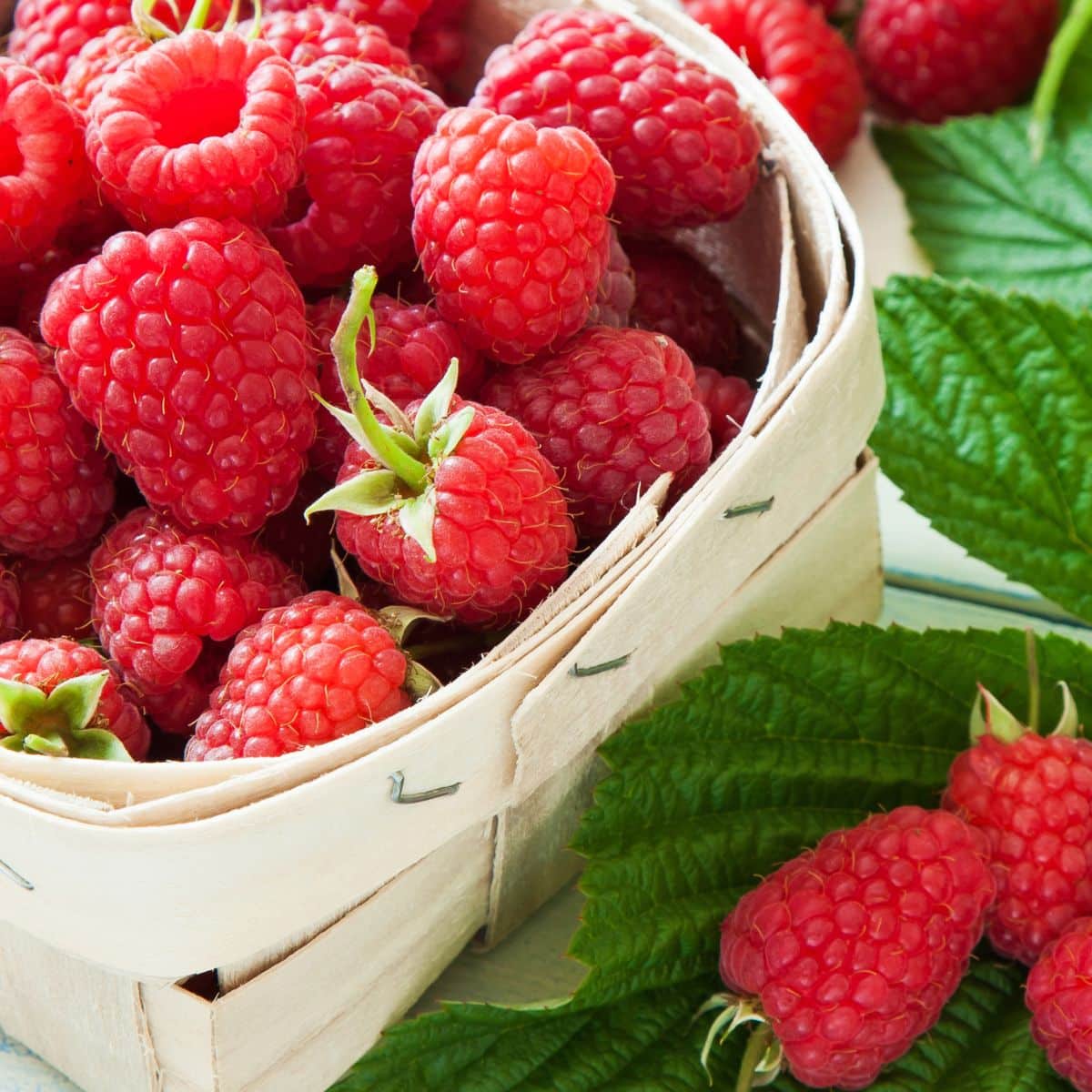 How to Keep Raspberries from Molding - 4 Simple Tips
Berries are delicious, but they're also kind of delicate. Fresh strawberries, blueberries, and blackberries can all go bad very quickly once you bring them home. Raspberries, in particular, can mold before you even get them home from the market.
It seems like raspberries have such a short shelf life, even compared to other berries. There's nothing more tragic than paying $4—$6 for a pint of local raspberries, only to look in the fridge the next day and find that fuzzy mold growing on their insides. Right? But it's happened to the best of us. Here are some ways to prevent this.
1. Inspect the raspberries before you buy them
Look for any that are bruised or moldy, as these will only spoil the batch.
2. Store the raspberries in a clean, dry container in the fridge
Be sure to remove any damaged or moldy berries before storing them, as they will contaminate the others.
3. Eat raspberries as soon as possible after buying them
Raspberries are delicate and perishable, so it's best to enjoy them while they're at their freshest.
4. Wash them with diluted vinegar to prevent moldy berries
What if you buy fresh berries just starting to hit the farmer's market? Let me tell you how to keep them fresh. Here's a tip I'm sharing on how to prevent them from getting moldy quickly: make a vinegar wash to rinse them in.
That's right - vinegar! Simple white vinegar you probably already have available in your kitchen will work just fine.
Here's how to do it.
When you get your berries home, prepare a mixture of one part vinegar (white or apple cider work best) and ten parts cold water.
Dump the berries into the mixture and gently swirl around.
Drain, rinse if you want (though the mixture is so diluted you can't taste the vinegar), and pop in the fridge. The vinegar kills any mold spores and other bacteria that might be on the surface of the fruit, and voilà! It's a miracle.
Raspberries will last a week or more, and strawberries go almost two weeks without getting moldy and soft. (This also works to remove the wax from apples.)
So go forth and stock up on those pricey little gems, knowing they'll stay fresh as long as it takes you to eat them now that you know how to prevent moldy berries.
What You Need
You need a measuring cup and measuring spoons, a bowl, and a colander. And vinegar, of course.
Some paper towels can also be helpful for drying the berries after your rinse. And then you want to place them in an airtight container and store them in the fridge.
How to Keep Raspberries Fresh
Now you know how to wash raspberries with vinegar, which is a great way to keep them fresh. Here are some other things you can do to keep your raspberries fresh.
First, take a look at your raspberries and discard any that are bruised or moldy.
Then, gently rinse the raspberries in vinegar as explained above and pat them dry with a clean towel.
Put the raspberries in a single layer on a paper towel-lined plate or baking sheet and pop them in the fridge.
When you're ready to enjoy your raspberries, simply remove them from the fridge and enjoy! Just be sure to eat them within a day or two for the best results.
With these simple tips, you can enjoy peak-season raspberries all summer long!
FAQs
Here are some common questions people ask about how to keep raspberries from molding.
Why do my raspberries mold so fast?
Raspberries are highly perishable, which means they begin to decompose as soon as they're picked. This process is accelerated by warm temperatures and high humidity, both of which encourage the growth of mold spores. In addition, raspberries are very fragile, and even gentle handling can damage the fruit and make it more susceptible to mold. Finally, raspberries are often stored in containers with other fruits, which can speed up the spoilage process. When raspberries are packed tightly together, they release ethylene gas, which speeds up the ripening process and leads to mold growth.
How do you store raspberries so they don't get mushy?
Raspberries are a delicate fruit that can quickly become mushy if not handled properly. The best way to store raspberries is to place them in a single layer on a plate or tray, and then put them in the fridge covered up. If you need to stack the raspberries, be sure to use parchment paper or another type of liner in between the layers to prevent them from sticking together. When raspberries are stored properly, they can last for up to a week.
Can you eat moldy raspberries?
No, it's not recommended. Moldy berries can cause diarrhea, vomiting, and cramps. In severe cases, it can even lead to death. So, if you see mold on your raspberries, it's best to throw them out.
What happens if you eat moldy raspberries?
Eating just a few moldy raspberries could make you very sick, so it's not worth the risk. In some cases, moldy raspberries can also cause respiratory problems, such as coughing and difficulty breathing. If you suspect you have eaten moldy raspberries, it is best to contact your healthcare provider.
Why are raspberries fuzzy?
Raspberries get their fuzzy texture from tiny, needle-like structures called trichomes. Trichomes are found on lots of different plants, and their primary purpose is to protect the plant from predators like insects and animals. In the case of raspberries, trichomes also help the fruit to retain its moisture.
Raspberry Recipes You Should Try
Rate, Pin & Share!
Please Rate our recipes and posts, and Pin and Share them on social media. Comments are welcome, too!