Gluten Free Jalapeño Cornbread. A tasty cake-like, gluten-free bread to accompany stews, meats or fish. Watch out, though, or you can easily eat WAY too many calories.
Gluten Free Jalapeño Cornbread
Hi. It's Lois in the kitchen. I decided to make cornbread tonight to go with the Roasted Ratatouille for supper. I love cornbread. It is easy to make and takes a mere 15-20 minutes to bake. It's the perfect side for any Sunday supper.
Tonight, since I didn't have all the ingredients that my normal Cornbread recipe calls for, I substituted multiple ingredients and made it gluten-free. And it was delicious!
I used the cast iron corn sticks mold (also know as a cornpone pan) to make it and the little cakes were great. I also made mini muffins with the remainder of the batter. Yum!
Normally, I use my 10-inch cast iron skillet to make cornbread, but the cast iron corn sticks mold we inherited from Don's mom works so much better because the edges of the Jalapeño Cornbread get nice and crispy. I loved that.
The center is moist, and the outside is crispy. And since the corn sticks mold was well seasoned, the little cakes just popped right out when Don loosened them lightly with a knife.
I suggest you get your own cornpone pan.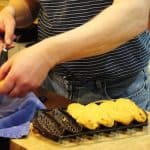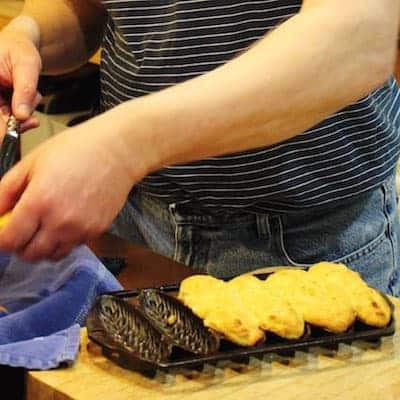 Jalapeño Cornbread
Delicious gluten-free, cake-like cornbread. You will love it!
Ingredients
1 1/4

cups

yellow cornmeal

1/4

cup

yellow corn flour

(maiz, or gluten free flour)

1/2

cup

oat flour

1/2

teaspoon

salt

1

teaspoon

sugar

3

teaspoon

baking powder

(I prefer Rumford brand)

3

eggs

1

cup

milk

1/2

cup

plain yogurt

1/3

cup

melted butter

1

teaspoon

diced jalapeño

(or more if you like it spicy)
Instructions
Spray or oil a cast-iron frying pan or a cornpone pan and put it in the oven to heat.

Heat oven to 400F degrees.

In a large mixing bowl, mix all of the dry ingredients.

Melt the butter and set aside to let it cool.

Pour the milk and yogurt into the butter; add the eggs and jalapeno and mix well.

Pour the wet ingredients into the dry mixture and mix well.

Pour the batter into the hot cast iron skillet, muffin tins, or a special cast iron cornpone pan and bake at 400F degrees for 18-20 minutes until the bread pulls away from the sides and the top is turning golden brown.
https://recipeideashop.com/jalapeno-cornbread/
Note: Many of the links included throughout Recipe Idea Shop are affiliate links, which means if you follow them and you buy something, we will get a small commission. It doesn't cost you a penny more, and you can still use your Amazon Prime (Shop Amazon — Give the Gift of Amazon Prime) account to buy. Don and I love our Amazon Prime account. This posting includes affiliate links. 
Jalapeño Cornbread Nutrition
Want More Recipes Like This?
If you want more delicious recipes, please sign up for our free cookbook.
Pin & Share!
Please Pin and share our recipes. And tell us what you think in the comments.
You May Also Like These Recipes From Recipe Idea Shop
BEFORE YOU GO, DID YOU GRAB YOUR FREE COOKBOOK?
[mc4wp_form id="5109″]