James Beard's Pancakes. Light, fluffy, heavenly pancakes.
James Beard's Pancakes are really good. A family favorite.
Hi. It's Lois in the kitchen at Recipe Idea Shop. I started cooking at a young age. First, I fried eggs and boiled hot dogs. Then I moved up to such important stuff as pancakes. And like most cooks, I made a few mistakes...and learned from them.
When I was about 12, I decided to make pancakes for my sisters and a couple of cousins who were visiting. I was so proud of myself. I found the recipe, and made the pancakes from scratch. The only trouble was that instead of being 1 or 2-inch fluffy pancakes, each one rose to about 6 inches! And they tasted awful.
Since I was the oldest, I made everyone eat them anyway. I, of course, tasted them and then didn't join the feast. When my mom came home, I found out that the canister that I thought was flour was really powdered milk. 🙂
I have since learned how to make delicious pancakes, using the proper ingredients. I use James Beard's ingredient list in my recipe, James Beard's Pancakes. I think you're gonna love them. I do.
What You Need
You'll need a bowl, measuring cups and spoons, a wire whisk or an electric mixer, and a good pancake griddle.
James Beards' Pancakes Recipe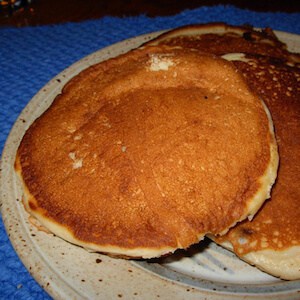 James Beard's Pancakes
Ingredients
2

cups

flour

1

tablespoon

sugar

4

teaspoons

baking powder

1

teaspoon

salt

2

eggs

lightly beaten

1 ½

cups

milk

¼

cup

melted butter
Instructions
Mix all dry ingredients in a large mixing bowl.

Melt the butter, add the milk to the butter and then add the eggs. Mix to combine.

Add the wet mixture to dry ingredients and stir until combined.

Drop a gravy ladle full of batter (about ¼ cup for each pancake) on your hot, lightly greased griddle (350F degrees) and cook until lots of bubbles form.

Then turn the pancake over and cook it a minute or two longer until golden brown.

Serve with butter, maple syrup and jam. Delicious!
Notes
Note: The ingredient list comes from James Beard's recipe, but the method does not.
Nutrition
Recipe Nutrition Information
The information shown is an estimate provided by an online nutrition calculator. It should not be considered a substitute for a professional nutritionist's advice.
RATE, PIN & SHARE!
Please Rate our recipes, and Pin and Share them on social media. Comments are welcome, too!
You May Also Like These Recipes From Recipe Idea Shop