Homemade Granola is easy and so tasty. We love it as cereal, with yogurt or on top of ice cream.
Homemade Granola
Hi. It's Lois in the kitchen, telling you about our Homemade Granola. Don and I have been improving this delicious breakfast recipe for more than 25 years. It is a combination of many granola recipes that Don gathered over the years, along with some recent modifications by me. It is filled with goodness, and gluten-free! We store it in a canister on our counter and frequently eat it for breakfast or a snack.
My favorite granola used to be made commercially made by Manitowoc Natural Ovens in Wisconsin, but they don't make it anymore. This granola, however, comes in a close second. The flavoring is similar, but the texture is different. If I could only figure out how to get some of it to "clump together" like the commercial version, I would be Oh! So happy!
Eat with milk and a banana for breakfast. Or try a bit of the granola on top of ice cream. It's like a party in your mouth!
Step By Step Recipe
Gather all your ingredients.
Put the oatmeal, seeds, nuts and spices in a big mixing bowl.
Measure the oil, honey, maple syrup, and vanilla, and whisk to blend. Tip: if you microwave it before whisking for about 20 seconds, it will be easier to mix together. Pour this mixture into the bowl of dry ingredients.
Mix to combine.
Spray a lasagna pan with a bit of oil. Dump the mixture into the pan and smooth it into one layer. If you don't have a lasagna pan, you can use a baking sheet, but you will need to bake it for less time.
Stir periodically (see recipe) to make sure the granola bakes evenly. When it's done, take it out of the oven and cool it. When cool, add the lemon zest and stir. Store in an air-tight container.
WHAT YOU NEED
You need measuring cups and spoons, a large, deep pan like a lasagna pan (affiliate link), and a big mixing bowl. And of course, a canister to keep it in.
Homemade Granola Recipe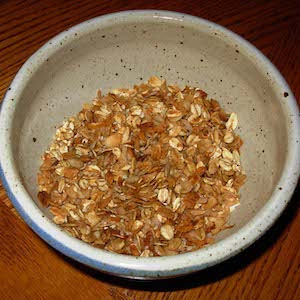 Homemade Granola Recipe
Gluten free and full of aromatic spices, this Homemade Granola recipe is a keeper.
Ingredients
8

cups

raw oatmeal

gluten free

½

cup

sunflower seeds

½

cup

slivered almonds

½

cup

pumpkin seeds

½

cup

sliced cashews

1

cup

flaked coconut

get the unsweetened

3

tablespoons

cinnamon

1

teaspoon

ground nutmeg

1

teaspoon

ground ginger

½

cup

honey

½

cup

pure maple syrup

1

teaspoon

vanilla

¼

cup

canola oil

zest of one lemon

baking spray
Instructions
Heat the oven to 350°F.

In a very large mixing bowl, mix all of the dry ingredients except the lemon zest.

Pour the honey, syrup, vanilla and oil into a 2-cup measuring cup or small bowl.

Heat this syrup mixture for 20 seconds on high in the microwave to make it easier to mix. Stir.

Pour this syrup mixture over the dry ingredients and stir to coat.

Spread the granola evenly in a lasagna pan or a large baking pan. It should be no more than 3" deep. (I always spray the pan with oil before dumping in the granola.)

Bake for 15 minutes at 350°F.

Stir thoroughly and return to oven.

Bake for 10 minutes, stir.

Bake for 10 minutes, stir.

If it is not a golden brown yet, bake for another 5 minutes, stir. Continue baking for 5 minutes at a time until it is the color and crispness you like.

Remove from oven and stir.

Let cool completely and stir in the lemon zest.

Store in an airtight container.
You May Like These Recipes & Posts From Recipe Idea Shop
RATE, PIN & SHARE!
Please Rate our recipes and posts, and Pin and Share them on social media. Comments are welcome, too!