Iranian Yogurt Pancakes are tangy and deliciously different than American pancakes. You will be sitting down to eat in 20 minutes or less.

Iranian Yogurt Pancakes are not quite as sweet American pancakes.
Don here. Did you know September 26 is National Pancake Day? Yup. They have a day for everything. These Iranian Yogurt Pancakes are as easy as any pancake. The yogurt makes them a bit tangy. I think you will love them.
While looking for another Middle Eastern recipe, I found this pancake recipe in The New York Times Bread and Soup Cookbook (great cookbook!). It sounded so good, I had to make it.
Thick Batter
These are very different from the traditional pancakes we usually make. The batter is thicker, too thick in fact, with the Greek yogurt, to pour onto the griddle. I thinned the batter by adding a little sour cream. This made it less like biscuit dough and more like a batter.
Still, I spooned them on the griddle in globs. When they warmed, they rose high and spread wide, so leave more space between them than you think is needed. I also found that a bit lower temperature than normal for pancakes (300°F vs. 350°F) worked better to cook them through without burning.
They were delightful. I had a few bites plain with just a dab of butter. Since I used Greek yogurt I think they had a stronger, heavier taste than traditional pancakes. Adding some fragrant apple syrup made this a delectable breakfast.
What You Need
For best results, you will need a good pancake griddle. We have a regular flat pancake griddle and the Griddler, but we love, love, love the Griddler.
Iranian Yogurt Pancakes Recipe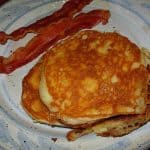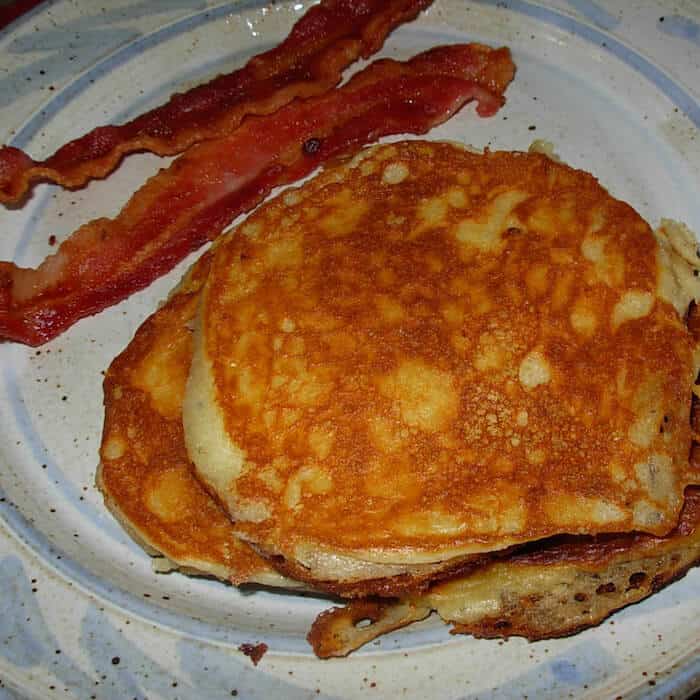 Iranian Yogurt Pancakes
Ingredients
3/4

cup

flour

1

tablespoon

sugar

1

teaspoon

baking soda

1

pinch

salt

6

tablespoons

butter

2

eggs

(separated)

1

cup

plain Greek yogurt

1/2

cup

sour cream
Instructions
Combine the dry ingredients (flour, sugar, baking soda, salt) and sift together into a small bowl.

Melt the butter.

Separate the eggs: yolks into a suitable mixing bowl big enough for the whole recipe; whites into a bowl to be beaten.

Mix the yogurt into the slightly beaten egg yolks.

Blend the dry ingredients into the yogurt-egg mixture.

Beat the egg whites until they stand in peaks, and then gently fold them into the batter.

Drop the batter onto a hot, greased griddle (about 300°F). These pancakes expand in diameter so leave plenty of space between them.

Cook over medium heat until bubbles form throughout (about 4-5 minutes); then turn the pancakes over and cook for a few minutes more until nicely browned.

Serve with your favorite breakfast meat, syrup, jam or other topping
https://recipeideashop.com/iranian-yogurt-pancakes/
Recipe Notes
Note: If you use gluten free flour, they do not raise as easily, looking a bit like crepes. They need to be cooked longer to be cooked throughout.
Affiliate Disclosure: Many of the links included throughout Recipe Idea Shop are affiliate links, which means if you follow them and you buy something, we will get a small commission. As an Amazon Associate I earn from qualifying purchases. It doesn't cost you a penny more, and you can still use your Amazon Prime account to buy. Don and I love our Amazon Prime account. This posting includes affiliate links.
Recipe Nutrition Information
This recipe is NF, SF, CF, V*
The information shown is an estimate provided by an online nutrition calculator. It should not be considered a substitute for a professional nutritionist's advice.
WHAT'S NOT TO LOVE?
Trust me, you're gonna love this recipe. Up your recipe repertoire. Add this recipe to your collection. But don't stop there…subscribe to our email newsletter and get a free cookbook and a printable grocery shopping list.
DID YOU GRAB YOUR FREE COOKBOOK & Grocery List?
RATE, PIN & SHARE!
Please Rate our recipes, and Pin and Share them on social media. Comments are welcome, too!
*Allergen Key
GF = Gluten free | DF = Dairy free | NF = Nut free | SF = Soy free | EF = Egg free | CF = Corn free | V = Vegetarian | VG = Vegan
Note: If you have serious allergies or sensitivities, to be considered free of these allergens, you need to use products specifically marked "gluten free," etc. There can be cross-contamination in facilities.
You May Also Like These Recipes From Recipe Idea Shop