Smoked Salmon Omelet, such a delightful breakfast. Making an omelet is easier than you think.

Smoked Salmon Omelet
A Smoked Salmon Omelet is pretty easy and so, so delicious. I'll describe the process for you.
Have you ever been at a hotel or restaurant where there is a chef making omelets in the food line? Watch them. They make it look so easy. Because it is. What does the chef do?
How to Make an Omelet
Step 1: S/He takes a sauté pan and puts it over a medium-low flame, dumps in a little oil, adds all the goodies you want inside your omelet and cooks them to perfection.
Step 2: Then the chef dumps the cooked onion, mushrooms, whatever you ordered, in a small bowl and sets it aside. The sauté pan goes back on the burner. The chef adds a little more oil, heats it and pours in the eggs. As the eggs cook, s/he lifts the side of the eggs and tilts the pan to allow the still-liquid eggs to flow off the side and to the bottom of the pan, slowly cooking the eggs all the way through.
Step 3: The chef flips the eggs when they are almost set, cooking the part that previously was the top of the omelet, puts the vegetables and meats onto it, adds a bit of cheese and folds the omelet to a half-moon shape.
Step 4: He lets the omelet cook another minute or so and then slips it out of the pan, onto your plate. Voilà! Omelet.
What You Need
I know, I say this all the time, but if you're gonna cook, you should have good tools or you will be super frustrated. There's nothing like making a delicious omelet and having the darn thing stick in the pan.
Get yourself a good set of pans, a full set of quality knives, lots of measuring cups and measuring spoons. Fill in with all the other cool stuff you find as you can afford it. If you buy quality tools, they will last you a lifetime.
Smoked Salmon Omelet Recipe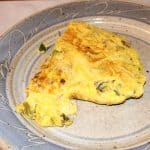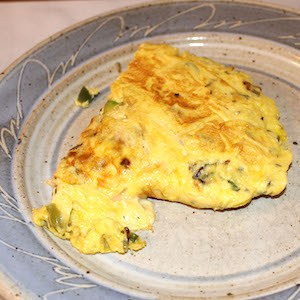 Smoked Salmon Omelet
Packed with flavor, this Smoked Salmon Omelet is tasty and easy.
Ingredients
2

tablespoons

canola or olive oil or butter

1/4

cup

yellow onion

(diced)

1/4

cup

green peppers

(diced)

4

large eggs

1/4

cup

milk

1 1/2

teaspoons

Herbes de Provence

1/8

teaspoon

ground nutmeg

1/4

teaspoon

salt

1/4

teaspoon

pepper

2

ounces

smoked salmon

1/4

cup

shredded Pecorino Romano or Parmesan Cheese
Instructions
In a small skillet or omelet pan, heat half the oil until hot.

Add the onion and sauté until the onions begin to look soft.

Add the green pepper and continue cooking until the onion is transparent and the peppers are soft. Remove the onions and peppers to a small dish. You will add them back a little later.

In a medium bowl, whisk the eggs, milk, herbes de Provence, nutmeg, salt and pepper until frothy.

Heat the remaining oil in the skillet until it is hot. Then pour in the egg mixture and cook over medium or medium-low heat until set.

Don't let your pan get too hot, or you will brown the omelet more than you might like. Keep an eye on how the underside is coming along.

As you cook the eggs, lift the sides up with a spatula and tilt the skillet to allow the eggs that are as yet uncooked to flow around the cooked part. This helps to get all the eggs evenly cooked. Keep doing this until the eggs are almost firm.

Turn the almost set eggs over in the pan to finish cooking.

Sprinkle the onion and pepper mixture over one-half of the omelet. Add the smoked salmon evenly over the omelet and sprinkle on the cheese.

Fold the half of the omelet that is plain over the one with the goodies and continue to cook it until the cheese starts to melt and the salmon is hot, maybe 1 minute.

If you are making this entire recipe, it serves 2, so cut the omelet in half before you serve it.

Slide the omelet(s) off the pan onto a plate and garnish with tomatoes or some herbs.
https://recipeideashop.com/smoked-salmon-omelet/
Affiliate Disclosure: This website may contain affiliate marketing links, which means we may get paid commission on sales of those products or services we write about, including Amazon. Editorial content is not influenced by advertisers or affiliate partnerships. This disclosure is provided in accordance with the Federal Trade Commission's 16 CFR § 255.5: Guides Concerning the Use of Endorsements and Testimonials in Advertising.
Recipe Nutrition Information
This recipe is GF, NF, SF, CF (use sea salt)*
The information shown is an estimate provided by an online nutrition calculator. It should not be considered a substitute for a professional nutritionist's advice.
You May Like These Recipes & Posts From Recipe Idea Shop
SIGN UP FOR UPDATES TO GET TIPS, RECIPES & FREE GIFTS
Trust me, you're gonna love our recipes and tips. Trust me, you're gonna love our recipes and tips. Sign up for our email updates to get free gifts, recipes, and tips for identifying and avoiding foods that are sabotaging your health.
RATE, PIN & SHARE!
Please Rate our recipes, and Pin and Share them on social media. Comments are welcome, too!
*Allergen Key
GF = Gluten free | DF = Dairy free | NF = Nut free | SF = Soy free | EF = Egg free | CF = Corn free | V = Vegetarian | VG = Vegan
Note: If you have serious allergies or sensitivities, to be considered free of these allergens, you need to use products specifically marked "gluten free," etc. There can be cross-contamination in facilities.
This recipe was originally posted on Recipe Idea Shop February 28, 2019 and updated February 6, 2021.