Lemon Meringue Pie (a sweet and tart pie) can be made with a traditional crust or a graham cracker crust. The recipe is easy enough for a middle schooler to make.
Lemon meringue pie is a favorite at our house.
National Pi Day (3.14) is coming up soon. In honor of that clever day, I'm reposting my youngest daughter's favorite pie, Lemon Meringue Pie. What's yours? Don taught Vanessa how to make it herself when she was in middle school, and she makes an amazing pie.
There are two tricks to making it perfect. One, stir frequently so the lemon pudding doesn't burn. And two, be careful not to let any of the filling splash on you or you will get quite a burn.
Pie Crust
My mother always made her Lemon Meringue Pie with a Graham Cracker Crust. I like a graham cracker crust way better than a regular pastry crust, but our daughter likes a traditional crust. This recipe is originally from Joy of Cooking (affiliate link) by Irma S. Rombauer, Marion Rombauer Becker and Ethan Becker. It is one of our "go to" cookbooks; the other is James Beard's American Cookery (affiliate link).
Sometimes I use a premade pie crust from the dairy case at the grocery store. If you want a gluten-free crust, try Don's Shortbread Crust or The Best Gluten Free Pie Crust. Both are terrific. The nutrition label below is for The Best Gluten Free Pie Crust. I know you're gonna wanna eat this pie. I do! (But I don't eat much because I'm diabetic.)
Step By Step
Step 1: Gather the Ingredients
It was a good thing I did this step because I found out I didn't have any cream of tartar (affiliate link). I could have substituted white vinegar or baking powder, but I chose to go to the store to get cream of tartar.
Step 2: Whisk and Cook Filling
Using a medium heavy-bottomed sauce pan (or a double boiler), whisk together the sugar, salt and cornstarch.
Add the water, lemon juice, zest and egg yolks. Whisk briskly until there are no yellow streaks.
Add the butter and heat over medium high heat until it begins to bubble, stirring constantly with a wooden spoon. Turn the heat down to low and continue to cook until the filling is thick and smooth.
Step 3: Top with Meringue
Pour the filling into your prepared pie crust or into individual ramekins. Top with meringue (recipe below) and bake for 20 minutes at 350°F until the meringue is starting to brown.
What You Need
For this recipe, we use the following tools: measuring cups and spoons, wooden spoon, lemon zester, wire whisk, medium saucepan, rolling pin (if making your own pie crust), pastry blender, pie plate, electric mixer, and mixing bowls. But what you really want is a beautiful pie plate and some lovely dishes to serve your pie upon, right?
Lemon Meringue Pie Recipe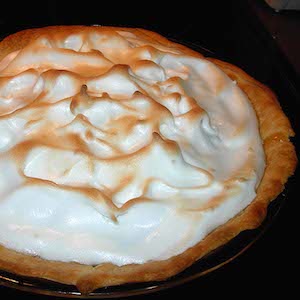 Lemon Meringue Pie
Tangy, sweet lemon pie
Ingredients
Pie
1

pre-baked pastry crust

¼

cup

sugar

⅓

cup

cornstarch

⅙

teaspoon

salt

1½

cups

water

½

cup

fresh lemon juice

from 2 to 3 lemons, strained

2 to 3

teaspoons

grated lemon zest

4

large egg yolks

save the whites for the meringue

2 to 3

tablespoons

unsalted butter

cut into small pieces
Meringue Topping
4

large egg whites

room temperature

¼

teaspoon

cream of tartar

½

cup

powdered sugar

½

teaspoon

vanilla
Instructions
Pie
Whisk the sugar, salt and cornstarch together thoroughly in a medium saucepan.

Add the water, lemon juice and zest, blending well.

Whisk in the egg yolks.

Keep whisking until there are no yellow streaks.

Add butter.

Stir constantly with a wooden spoon.

Bring mixture to a simmer over medium heat.

Then cook for 1 minute. The filling should be very thick (like pudding).

Pour the filling in the pie crust and top with Meringue (directions below).

Bake for 20 minutes at 350F degrees or place the pie under the broiler (on high) for about 5 minutes until the meringue is nicely browned. Watch it carefully so it doesn't burn.
Meringue Topping
In a separate bowl, beat egg whites and cream of tartar on high until soft peaks form.

Gradually beat in the sugar until the peaks are stiff but not dry.

Add the vanilla and beat until combined.

Immediately spread the Meringue Topping over the pie and bake as noted above.
Recipe Nutrition Information
This recipe is GF, NF, SF, V*
The information shown is an estimate provided by an online nutrition calculator. It should not be considered a substitute for a professional nutritionist's advice. The nutrition here is for one-sixth of the pie. Because I'm diabetic, I eat no more than half a serving, but I don't deny myself a few bites!
You May Like These Recipes & Posts From Recipe Idea Shop
RATE, PIN & SHARE!
Please Rate our recipes, and Pin and Share them on social media. Comments are welcome, too!
*Allergen Key
GF = Gluten free | DF = Dairy free | NF = Nut free | SF = Soy free | EF = Egg free | CF = Corn free | V = Vegetarian | VG = Vegan
Note: If you have serious allergies or sensitivities, to be considered free of these allergens, you need to use products specifically marked "gluten free," etc. There can be cross-contamination in facilities.
This recipe was originally posted on Recipe Idea Shop July 17, 2019 and updated April 5, 2021.