Sweet Potato Bourbon Pie. So. Scrumptious. What wouldn't be when you add bourbon? Easy too.
Sweet Potato Bourbon Pie is more robust than traditional Sweet Potato Pie.
Oh, yes, it's the holiday season again. Don here, telling you about Sweet Potato Bourbon Pie with a Gingersnap Crust. Each Thanksgiving Lois and I gather at my sister-in-law's home with family and friends. I get the delightful chore of baking the pies for dessert.
A few years ago, I added this delicious pie to the collection. When the pie shell was filled, there was about a cup of filling left that I baked in a ramekin.
The grandkids got to enjoy it a day early. Little Brennan (age 3 at the time) started out with a grumpy face and a declaration that he did not like sweet potato pie. After he was convinced to at least have a taste, Brennan ate more than his fair share of the sweet potato ramekin.
Gluten Free Ginger Snap Crust
I purchased a gluten free ginger snap crust for the pie, mostly because Lois eats gluten free, but also for the interesting flavor it brought to the pie. There are only a couple of tablespoons of bourbon in the pie and the alcohol burns off as you cook it. So don't worry about adding alcohol to your pie.
This recipe is based on one by Elizabeth Karmel that I found in an Associated Press story in our local paper the Daily News-Record.
What You Need
For this recipe, you will need measuring cups and spoons, a food processor, and a pie plate. As long as you are buying a pie plate, get a nice one. And get yourself a great coffeemaker. Our daughter just bought one that makes coffee two ways, with the individual cups and a whole pot. It's great.
Sweet Potato Bourbon Pie Recipe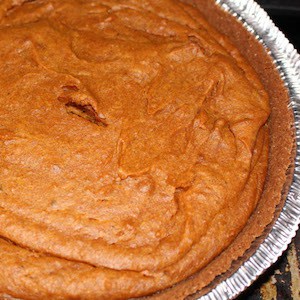 Sweet Potato Bourbon Pie
Ingredients
2

lbs

sweet potatoes

5

Tablespoons

unsalted butter

(melted)

3

large eggs

¾

Cup

heavy cream or half and half

2

Tablespoons

bourbon

1 ¼

teaspoons

Madagascar Bourbon Pure Vanilla Extract

¼

Cup

granulated sugar

½

Cup

packed dark brown sugar

1

teaspoon

cinnamon

¼

teaspoon

kosher salt

½

teaspoon

grated nutmeg

¼

teaspoon

ground ginger

pinch

of ground cloves

1

unbaked pie crust

(10", homemade or purchased. I used a Gluten Free Ginger Snap Crust.
Instructions
Peel and slice the sweet potatoes about ½ inch thick slices.

Dress the sweet potatoes very lightly with olive oil and roast in a 350°F degree oven until they are soft and begin to brown; 30 to 40 minutes.

Let them cool to room temperature.

When the sweet potatoes are cool, place them in a food processor and run for a minute or two until they are smooth.

Add the melted butter, eggs, bourbon and vanilla while the food processor is running.

Stop the food processor and scrape down the sides.

Add the sugars, cinnamon, salt, nutmeg, ginger and cloves.

Run the processor until all ingredients are combined and the mixture is fluffy.

Preheat the oven to 450F degrees.

Fill the pie crust of your choice with the mixture.

Bake at 450°F for 15 minutes then reduce the heat to 350F and bake for about another 40 to 50 minutes.

The pie is done when a sharp knife inserted in the center comes out clean.

Let the pie cool to room temperature.

Serve with whipped cream or just plain for a tasty dessert.
https://recipeideashop.com/sweet-potato-bourbon-pie/
Notes
You can do the first 8 steps ahead and refrigerate the filling for several days if you wish.
Recipe Nutrition Information
The information shown is an estimate provided by an online nutrition calculator. It should not be considered a substitute for a professional nutritionist's advice.
RATE, PIN & SHARE!
Please Rate our recipes, and Pin and Share them on social media. Comments are welcome, too!
You May Also Like These Recipes From Recipe Idea Shop