Louisiana Chicken Gumbo really hits the spot on a cold day. It's a terrific rainy day meal. You're gonna love it whether it's raining or not.
Authentic Louisiana Chicken Gumbo has just the right amount of spiciness.
This Louisiana Chicken Gumbo recipe came from my friend Elizabeth Cottrell. October 12 is National Gumbo Day, so naturally, I had to repost this amazing recipe. And because. Chicken. Gumbo.
This Louisiana Chicken Gumbo recipe came from Elizabeth's mother-in-law, Ellen Cottrell. Though born in Mississippi, Ellen Cottrell married a Louisiana man and lived all her married life in southwest Louisiana, in the heart of Cajun country.
File or Not?
Ellen used Gumbo File (powdered Sassafras) in her recipe, but those of us who do not live in Louisiana cannot generally find this spice in the supermarket. I left it out of my recipe because it's hard to find locally, but you can get it online. (affiliate link). The recipes I looked at called for varying amounts of Gumbo File powder. I would start with 1-2 teaspoons of it. If you add it, be sure to comment below to let us know how you liked it.
The Process
In Louisiana, they use a whole chicken and cut it up after cooking to serve a piece with each bowl. Elizabeth prefers to remove the skin and bones when the gumbo has cooled and return the meat to the gumbo. It's so much easier to eat. That's the way I do it when I use a whole chicken, too.
I substituted chicken Andouille sausage for the Kielbasa and I took the easy way out, using boneless, skinless chicken tenders instead of a whole chicken (which the original recipe called for). I cubed the raw chicken and sauteed it with the Andouille sausage until both were fully cooked. I added the meats into the sauce at the end when I added the peppers mixture. The recipe is terrific, a little complicated because there are multiple steps, but still fairly easy. But it's so worth the effort.
This Chicken Gumbo doesn't call for any seafood, a surprise to my husband Don, but he loved it. It's also good to know not all gumbos have okra and tomatoes. I'm not fond of okra. Are you?
I know you're gonna wanna eat this. I do!
What You Need
For this recipe you need measuring cups and spoons, a knife, cutting board, some good pans and maybe a rice cooker. But what you really want is some beautiful dinnerware, am I right?
Authentic Louisiana Chicken Gumbo Recipe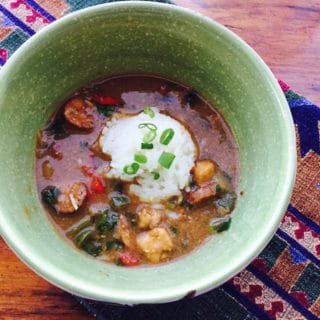 Louisiana Chicken Gumbo
Not all gumbo uses okra and tomatoes. Try this flavorful Louisiana version.
Ingredients
1½

pounds

boneless skinless chicken tenders

diced

1

lb.

smoked sausage

like Kielbasa or chicken Andouille (cut into round slices

6

tablespoons

shortening

6

tablespoons

flour

6

cups

hot water

1

yellow onion

minced

¼

cup

celery

diced

1

chicken bouillon cube

2

teaspoons

Kitchen Bouquet flavoring

1

teaspoon

salt

or to taste

1¼

teaspoons

black pepper

⅙

teaspoon

cayenne pepper

1

green pepper

diced

½

cup

chopped parsley

1

cup

chopped green onion tops

3

cups

cooked rice
Instructions
Step 1: Meat
In a large skillet, sauté the sausage and chicken until the chicken is cooked through (all white).

Set aside (retain the juice, same bowl is okay)
Step 2: Veggies & Spices
Put the chopped onions and celery together in a 2-cup bowl and set aside.

Put the green peppers, green onion tops and parsley in a 2-cup bowl and set aside.

Put the salt, pepper, cayenne and bouillon cube in a small bowl and set aside.
Step 3: Roux
Heat shortening on high heat in a heavy pot.

Add flour and stir constantly until dark brown (this is a "roux" – the basis for many French dishes. It's easy to burn, so watch it and don't stop stirring!).
Step 4: Putting It Together:
Add chopped onions and celery and stir until slightly wilted.

Add water and mix well to dissolve roux.

Add spices and Kitchen Bouquet.

Cover and bring to steaming on high heat, then lower to simmer and continue to cook for about 20 minutes, stirring occasionally. The sauce should thicken somewhat.

Add chicken and sausage mixture (including juices) and the green pepper, parsley and onion tops mixture ten minutes before removing from heat.

Serve very hot over hot, cooked rice.
Notes
This recipe was based on Elizabeth Cottrell's recipe.
Recipe Nutrition Information
This recipe is GF (use GF flour), DF, NF, SF, EF*
The information shown is an estimate provided by an online nutrition calculator. It should not be considered a substitute for a professional nutritionist's advice.
Rate, Pin & Share!
Please Rate our recipes and posts, and Pin and Share them on social media. Comments are welcome, too!