Pizza Burgers. Make the mix; freeze it. Scoop some out whenever you want a Pizza Burger! Kids love this food. Make them as sliders and use them as appetizers at your parties.
Pizza Burgers, Easy Kids' Food that Feeds an Army
Hi. It's Lois in the kitchen at Recipe Idea Shop. I asked my daughter Erin for suggestions for the blog and she asked me to include my Pizza Burger recipe. This recipe was a favorite of mine when I was a kid. (In fact, every child I know—except Andrew, who is vegetarian—loves Pizza Burgers.)
My mother made Pizza Burgers and kept a batch in the freezer so we could just scoop out some of the topping, put it on a hamburger bun or an English Muffin and broil it for lunch, supper or anytime we wanted. Start to finish, just 25 minutes.
Get Yourself a Good Set of Pans
 Try Pizza Burger Portobellos
I made some of these Pizza Burgers over the weekend. But instead of putting them on buns or English Muffins, I used portobello caps. What a delight! I filled the caps with the meat mixture and baked them at 350F degrees for 20 minutes. They were really good!
Recently, I made Pizza Burgers and instead of using the bun or English muffin as the base, I used a large Portobello Mushroom cap. OMG! It was delicious. I baked it at 350F degrees for about 20 minutes.
The recipe contains a "secret" ingredient you'll never believe. What do you think it is?
Check out the recipe …
Pizza Burgers Recipe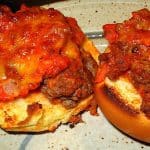 Pizza Burgers
Mini Pizzas that everyone loves. Try it on an English Muffin, hamburger bun or Portobello Mushroom cap!
Ingredients
1 1/2

pounds

lean hamburger

1

medium can Spam

2

cups

shredded cheddar cheese

(or Velveeta)

1

small onion

(chopped fine)

1

teaspoon

oregano

1

8-ounce

can tomato sauce

1

small can tomato paste

(6 ounce)

Salt and pepper

(to taste)

8

hamburger buns or English muffins or 16 Portobello Mushroom Caps
Instructions
Brown hamburger and onion.

Add salt and pepper.

Drain and cool.

Shred or grate Spam and mix with hamburger.

Stir in remaining ingredients until everything is thoroughly mixed.

Spread a thin layer (about 1/4 inch) on one side of a hamburger bun or English muffin and broil until cheese is melted and the top is a bit toasted (about 5 minutes).

Alternative: Spread a thin layer of meat mixture on a Portobello Mushroom cap and bake at 350F degrees for 20 minutes.

Eat hot.
https://recipeideashop.com/pizza-burgers/
Note: Many of the links included throughout Recipe Idea Shop are affiliate links, which means if you follow them and you buy something, we will get a small commission. It doesn't cost you a penny more, and you can still use your Amazon Prime (Shop Amazon — Give the Gift of Amazon Prime) account to buy. This posting includes affiliate links. Don and I love our Amazon Prime account.
Pizza Burgers Nutrition
Want More Recipes Like This?
If you want more delicious recipes, please sign up for our free cookbook.
Pin & Share!
Please Pin and share our recipes. And tell us what you think in the comments.
You May Also Like These Recipes From Recipe Idea Shop
BEFORE YOU GO, DID YOU GRAB YOUR FREE COOKBOOK?